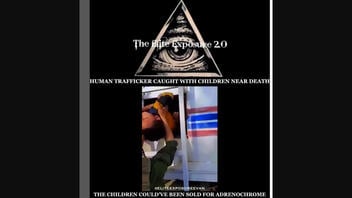 Does a video show children being saved from a human trafficker who may have been selling them for adrenochrome? No, that's not true: The video shows children being taken out of a truck by authorities after trying to leave a Syrian displacement camp and is not related to the QAnon adrenochrome conspiracy theory.
The claim appeared in a video posted to Instagram on August 2, 2022. The text in the video read:
The Elite Exposure 2.0
HUMAN TRAFFICKER CAUGHT WITH CHILDREN NEAR DEATH
THE CHILDREN COULD HAVE BEEN SOLD FOR ADRENOCHROME
The Elite Exposure 2.0
This is how the video looked on Instagram at the time of writing: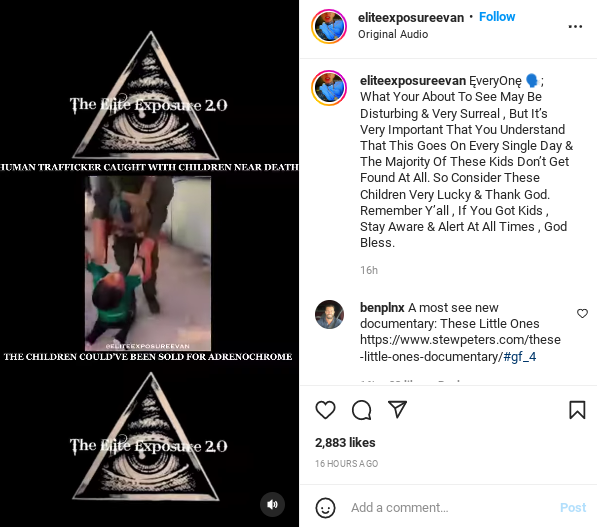 (Source: Instagram screenshot taken on Wed Aug 3 20:36:03 2022 UTC)
While Lead Stories could not independently verify the source of the clip used in the video, a longer version was posted in full on YouTube on September 20, 2020. Titled "police found iraqi woman and children in a water tank truck smuggling them😭😭😭," the full video not only shows several children being pulled out of the truck but also adults emerging from the truck.
Rudaw published an article titled "Horrifying video emerges of women, children smuggled out of al-Hol camp" on September 16, 2020. While the article is no longer posted on the active Rudaw website, an archived version of the article shows that the media outlet confirmed with Syrian officials that the children and women shown in the video were being smuggled from the al-Hol displacement camp in Syria.
Other articles published in 2020 that debunked false claims about the video can be found here and here.
Children being sold for adrenochrome is a conspiracy theory affiliated with QAnon. The theory details the unfounded claim that adrenochrome, a chemical compound, is a drug harvested from children so that it can be used by politicians, celebrities and other wealthy and elite figures during satanic rituals.
Other Lead Stories fact checks related to adrenochrome can be found here.