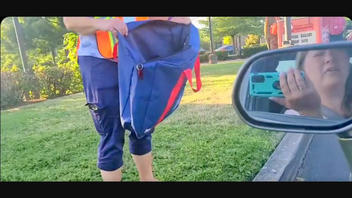 Does a video show election workers in Clark County, Washington, illegally closing ballot drop boxes "30 minutes prior" to the voting close time, insinuating that there is fraudulent activity involved with voter mail-in ballots? No, that's not true: The video shows a certified election worker giving a voter the appropriate legal options to submit their mail-in ballot. The Clark County auditor told Lead Stories that the staff in the video were following the standard protocol under Washington Administrative Code 434-250-100.
The claim appeared in a tweet (archived here) on August 3, 2022. The caption opened:
ILLEGAL: Clark County election workers closed the ballot drop boxes 30 mins prior to closing.

All citizens of Washington state are granted by law to drop their ballots by 8 pm on the dot!

WA-03 primary election is considered the most competitive in the state. Demand a revote!
This is what the post looked like on Twitter at the time of writing: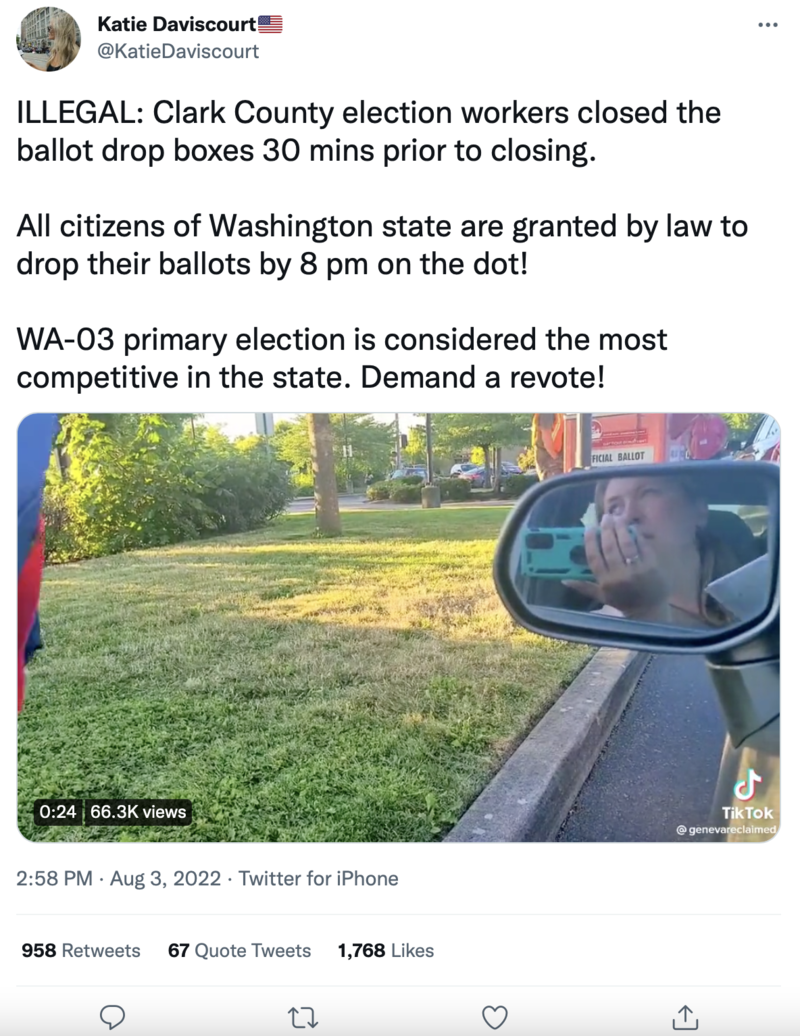 (Source: Twitter screenshot taken on Fri Aug 12 20:01:09 2022 UTC)
The post, which also appeared on Facebook, includes a video initially posted on TikTok that shows a woman driving up to a ballot drop box and recording her interaction with an election worker. The worker gives the woman the option of placing her ballot in a bag the election worker is holding or continuing to drive forward to drop it in the drop site ballot box.
The post claimed the video was proof of election fraud concerning a "WA-03 primary election." It's not.
Charles Boisner, director of external affairs at the Washington Secretary of State's office, responded to Lead Stories in an August 12, 2022 email:
In Clark County, there were two county election workers collecting ballots in an official, secure ballot-transfer bag as an alternative to submitting the ballot in the drop box to help alleviate crowding and traffic, and to ensure all voters were able to have their ballot submitted by the 8 p.m. deadline. The election workers were doing their job staffing the drop box site to help save time and relieve congestion, especially at a busy location.
He also wrote that what took place in this video was missing context as "it shows only one person's perspective."
Washington Administrative Code 434-250-100 mandates that each deposit site is staffed by two persons appointed by the county auditor and of different political parties whenever possible. They must adhere to staff deposit sites dates and times established by the county auditor and secure the ballot box as described in WAC 434-261-045.
In an August 12, 2022, email to Lead Stories, Cathie Garber, a spokesperson of Clark County Elections, told us this claim is "not true" and relayed this correspondence from Greg Kimsey, who serves as Clark County auditor:
State law requires that any voter who is in line at a ballot deposit site at 8:00 p.m. must be allowed to deposit their ballot. By giving voters the option of depositing their ballot with an election administrator (who is clearly identifiable by their badge and vest) the line moves much more quickly enabling election administrators to identify the vehicle that is last in line at 8 p.m. Voters who don't wish to deliver their ballots directly to election administrators are informed they have the option of depositing their ballot in the ballot drop box.

In Clark County, certified election observers are present at the end of election day at ballot drop boxes and when ballots are being retrieved from ballot drop boxes. At the time this video was made there were three certified election observers representing the Republican party, present. Certified election observers are identifiable by their required name badges. Whether voters deposit their ballot in a ballot drop box, or deliver it directly to an election administrator, all ballots are placed and secured in official ballot bags for delivery to the elections office. Certified election observers also have the ability to observe the delivery of official ballot bags to the elections office.

County Election Offices have the authority per Washington Administrative Code 434-250-100 to staff ballot drop box locations to provide assistance to voters who are returning their ballots. Voters who have concerns or questions regarding the election administration process are encouraged to contact the elections office.