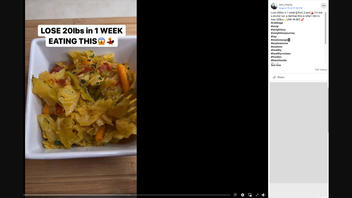 Will eating cabbage stew or soup cause a person to lose "20 pounds in one week"? No, that's not entirely true: A medical doctor specializing in weight loss told Lead Stories that a person would mostly lose water weight, but cannot lose fat that rapidly using this method. A Ph.D. clinical dietician told Lead Stories it is not a well-balanced method for weight loss, and it can lead to a nutrient deficiency. A registered dietician nutritionist also confirmed this, telling Lead Stories this particular diet is unbalanced.
The claim appeared in a Facebook post published on August 19, 2022. The caption, followed by 25 hashtags, opened:
Lose 20lbs in 1 week Part 2 next I'm not a doctor nor a dietitian this is what I did to lose 20lbs LINK IN BIO


This is how the post appeared at the time of writing: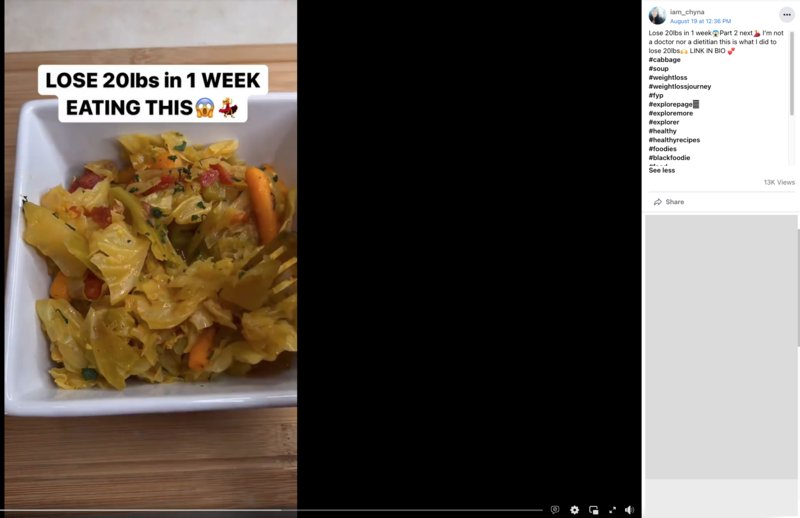 (Image source: Facebook screenshot taken on Tue Sept 06 18:19:23 2022 UTC)
The stew or soup displayed in the video of this post primarily consists of cabbage, onions, bell peppers, diced tomatoes, carrots, minced garlic, chicken broth, turmeric and other various seasonings.
Dr. Charlie Seltzer, a Philadelphia-based weight loss doctor who specializes in strength and conditioning told us in a September 6, 2022, email that the claim is not accurate:
If you only eat cabbage soup, you'll lose some weight (mostly water) and then gain it all back and probably then some. You cannot lose fat that rapidly. In addition, you are not addressing the issues that got you into trouble in the first place, which is necessary for permanent weight loss.
Lead Stories also reached out to Dana Hunnes, Ph.D., MPH, RD senior clinical dietitian at UCLA medical center, assistant professor at UCLA Fielding school of public health, and author of RECIPE FOR SURVIVAL (2022) with Cambridge University Press. She responded in a September 6, 2022, email saying that the meal prescribed in the post is one she would not recommend for weight loss:
Cabbage soup on its own is very low in calories and in overall nutrients (including protein). The weight loss that might occur in 1 week is likely to be primarily fluid weight, some fat mass, and also some muscle mass. This is not a well-balanced method for weight loss as it is too low in calories, will slow down your metabolism, and will not be sufficient in vitamins and minerals either, which could possibly (though not overly likely in 1 week) lead to a nutrient deficiency.
Bonnie Taub-Dix, a registered dietician nutritionist, explained to Lead Stories via a September 6, 2022 phone call that while cabbage soup itself is healthy, this particular diet is unbalanced, and a person misses out on too many nutritionally valuable food groups. She is creator of BetterThanDieting.com and author of "Read It Before You Eat It - Taking You from Label to Table."
Other Lead Stories fact checks about weight loss claims can be found here.