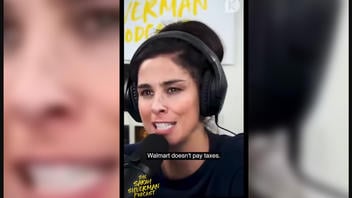 Is it true that Walmart doesn't pay taxes? No, that's not true: In 2022 Walmart paid nearly $4.76 billion in income taxes as recorded on the annual report filed with the U.S. Securities and Exchange Commission.
The claim appeared originally during an episode of the Sarah Silverman podcast (at 15:46 minutes in) that was posted on YouTube on August 19, 2021. A short clip of that episode was posted on Facebook on August 28, 2022 with the caption:
Posted @withregram • @sarahkatesilverman Walmart and the Waltons
This is how the post appeared at the time of writing: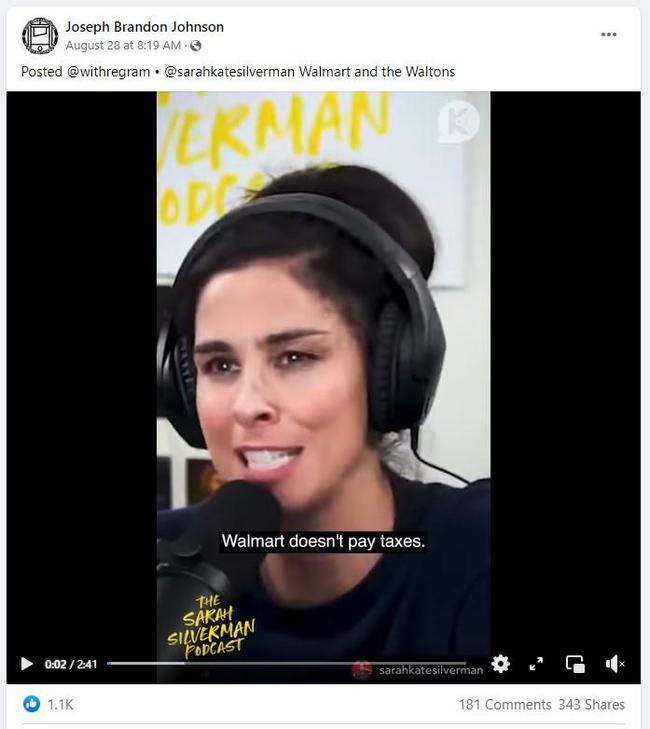 (Image source: Facebook screenshot taken on Tue Sep 06 14:36:59 2022 UTC)
Silverman makes several claims about Walmart and the Walton family in this podcast -- this fact check is focused only on the primary claim, voiced at the start of the 2:41-minute-long clip posted on Facebook. It begins:
Walmart doesn't pay taxes. Not only that, they're so goddamn cheap, the Waltons, these people, on top of being so fucking rich and not paying corporate taxes, they suck off the government teat.
Walmart does pay taxes. Information about Walmart's income taxes can be found in the Form 10-K that all publicly traded companies file annually with the U.S. Securities and Exchange Commission (SEC). Walmart's 86-page report for the fiscal year ending January 31, 2022 can be found in the archives of the SEC. On page 71 of the report (archived here), the 2022 total provision for income tax is listed at nearly $4.76 billion ($4.756 billion).
Investment websites offer a condensed and comparative analysis of Walmart's income tax year to year. According to macrotrends.net:
Walmart income taxes for the twelve months ending July 31, 2022 were $4.459B, a 24.69% decline year-over-year.
In 2021, the year Silverman did the podcast, the amount of income taxes Walmart paid was much higher:
Walmart annual income taxes for 2021 were

$6.858B

, a

39.53% increase

from 2020.
On the investment analysis website finbox.com, a chart shows the ups and downs of the Effective Tax Rate paid by Walmart Inc. from 2013 to 2022. The highest rate, paid in 2019, was 37.4% and the lowest, paid in 2020, was 24.4%.