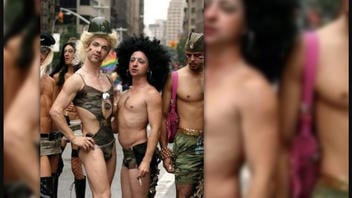 Was Ukrainian President Volodymyr Zelenskyy photographed shirtless and wearing an Afro wig at a gay pride event in the United States in the 1990s? No, that's not true: This photo has been digitally edited. The original photo was taken on June 25, 2006 at New York City's 2006 Pride March and does not show Zelenskyy.
The edited photo has been miscaptioned in several languages. The earliest instance Lead Stories found was a September 13, 2022 post on Twitter in Spanish (archived here). Greek-language websites (here and here) recycled the tweet, and, on September 16, 2022, it was posted on Facebook captioned in Italian. A September 15, 2022 copy of the Facebook post was captioned in English:
Zelensky Gay Pride Boston 1997
This is how the post appeared at the time of writing: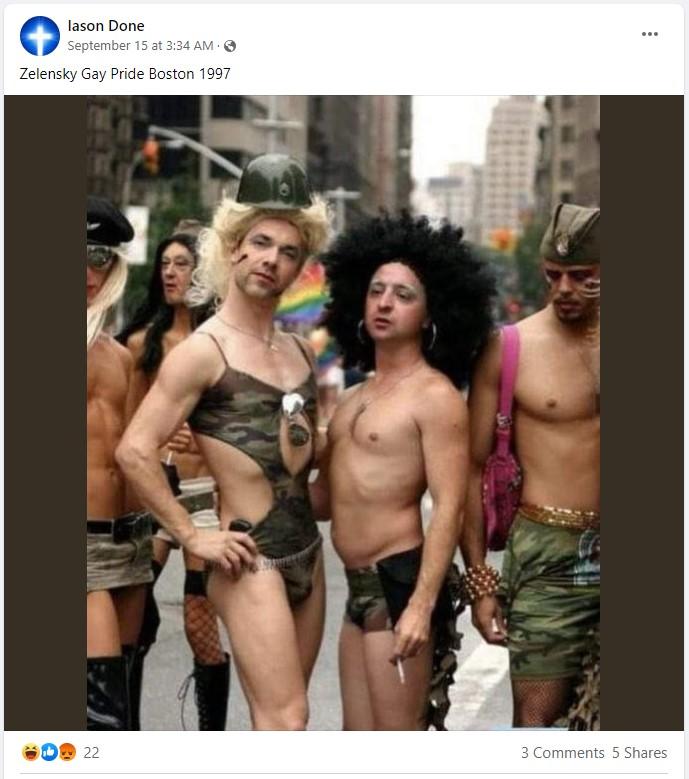 (Image source: Facebook screenshot taken on Wed Sep 21 16:15:22 2022 UTC)
The miscaptioned posts claiming this photo shows Zelenskyy have inconsistent details; the site varies between Boston and New York, while the date is either 1997 or 1999.
The original photo by photographer Thomas Hobbs was taken at the Pride March in New York City on June 25, 2006. The photo can be found on Flickr and has a Creative Commons license (Attribution-ShareAlike 2.0) that allows it to be shared and adapted.
The face of the person wearing the Afro wig is not the only face in this group photo that has been changed. Three faces appear to have been changed with a photo-editing program.

The composite image (below) shows a detail from the original photo on flickr.com and an inset showing the three edited faces as they appear in the Facebook post. Hobbs has additional photos (here and here) in the Flickr photo collection that show the person in the Afro wig. Lead Stories was not able to find the source images for the faces added to the original photo.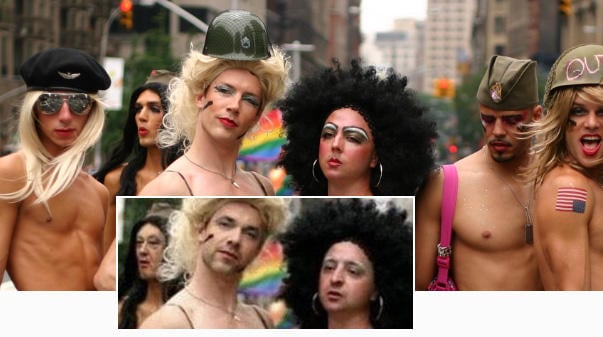 (Image source: Lead Stories composite image with flickr.com and Facebook screenshots taken on Wed Sep 21 18:48:19 2022 UTC)