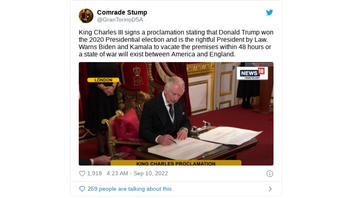 Did King Charles III sign a proclamation that former President Donald Trump actually won the 2020 presidential election in the U.S.? No, that's not true: The claim uses a screenshot of Charles signing documents related to his accession to the throne.
The claim appeared in a tweet (archived here) posted on September 10, 2022. The tweet included a picture of Charles signing documents and read:
King Charles III signs a proclamation stating that Donald Trump won the 2020 Presidential election and is the rightful President by Law. Warns Biden and Kamala to vacate the premises within 48 hours or a state of war will exist between America and England.
This is what the post looked like on Twitter at the time of writing: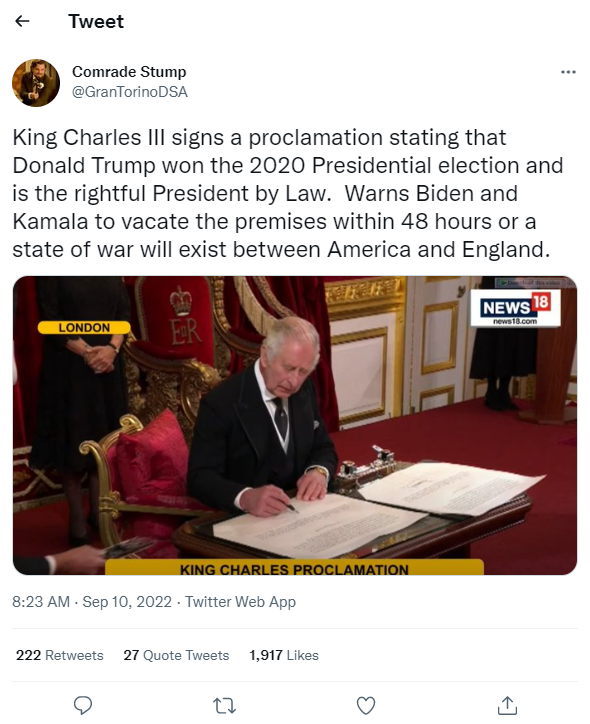 (Source: Twitter screenshot taken on Wed Sep 21 15:34:23 2022 UTC)
The picture used in the tweet, seemingly as evidence, is actually from a News18 broadcast of Charles' accession ceremony on September 10, 2022. The image was captured when Charles was signing an oath to uphold the Church of Scotland. A livestream of the event can be found on News18's Facebook page here. Other videos of Charles signing the oath during the accession ceremony can be found here, here and here.
A search of press releases from the British royal family from around the time of the 2020 U.S. presidential election to the date of this fact check do not show any results about Trump and the family's opinions about the election.

As a constitutional monarch, King Charles III has no authority to set the government's foreign policy.
Generally, the British monarch is expected to stay neutral about partisan matters, including campaigning for causes. In a BBC documentary honoring Charles' 70th birthday when he was still the prince of Wales, Charles stated that once he is proclaimed king, he would not be as public about issues he had previously spoken out about, such as environmental sustainability. More about the monarch's role and responsibilities can be found here.
Other fact checks related to the British royal family can be found here.