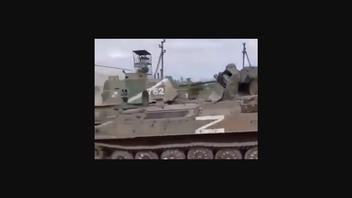 Does this video show Russian tanks abandoned in the Kharkiv Region during the September 2022 Ukrainian counteroffensive that overran Russian positions in northeastern Ukraine? No, that's not true: Lead Stories has corroborated open-source investigators' use of Google Maps satellite images to identify the long industrial building as being on the Russian-occupied Crimean Peninsula, more than 300 miles distant from Ukraine's September 6, 2022, counteroffensive.
The claim that this video documents materiel abandoned during a rapid Russian retreat appeared in several posts, including this September 11, 2022, Instagram video (archived here). It was captioned:
Fleeing Russian troops are just abandoning their vehicles and equipment as the Ukrainian counter-offensive is extremely strong.

#ukraine #russia #ukrainerussia #zelensky #putin #europe #meidastouch
This is what the post looked like on Instagram at the time of writing:
(Source: Instagram screenshot taken on Tue Sept 15 20:07:09 2022 UTC)
Similarly, the video, without a watermark, appeared in a
September 10, 2022, tweet
, on the @captainblackse1 account, captioned: "Russian generosity has no bounds! Look how many presents they left in Izium for Ukrainians to find!"
(Source: Twitter.com screenshot taken on Thu Sept 16 01:00:09 2022 UTC)
But a photo with the same background details (note towers and industrial building and treeline) with the same or similar tanks in the foreground was taken in Crimea, according to the @tanksenc Twitter account, one of several that re-posts photos and videos from the war to document military hardware uses by both sides.
"An MT-LBM 6MB has been spotted in a large repair base filled with artillery and support vehicles of the Russian military in Crimea; this is not the first appearance of this rare MT-LB upgrade with the BPPU 30mm-armed turret."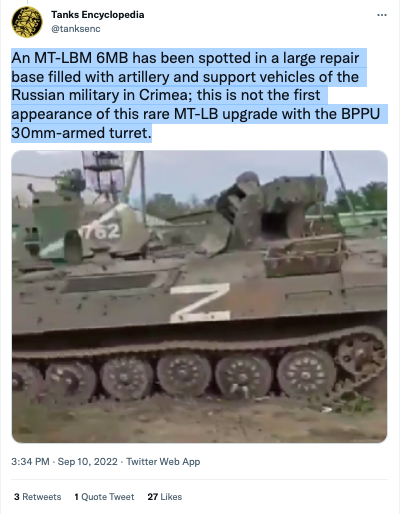 (Source: Twitter screenshot taken on Tue Sept 15 20:47:51 2022 UTC)
Lead Stories contacted accounts that posted the video, seeking to confirm the location of the damaged Russian tanks. The @tanksenc account replied: "... the footage was being shared intensely alongside the Izium footage but some reliable account (UA weapons tracker) confirmed it was from Crimea & there were some geo-locations going around." Izium was a scene of intense fighting in the Kharkiv battles. @uaweapons is another of the Facebook accounts tracking materiel use and using online documentation to debunk false claims.
Other accounts dismissing the claim that the video was taken in Kharkhiv include a
tweet
by @coupsure, operated by an experienced open source investigator named
Benjamin Pittet
, who wrote:
Interesting video but this was filmed in Crimea just south of Dzankhoi. Same place where that ammo depot exploded a few weeks back.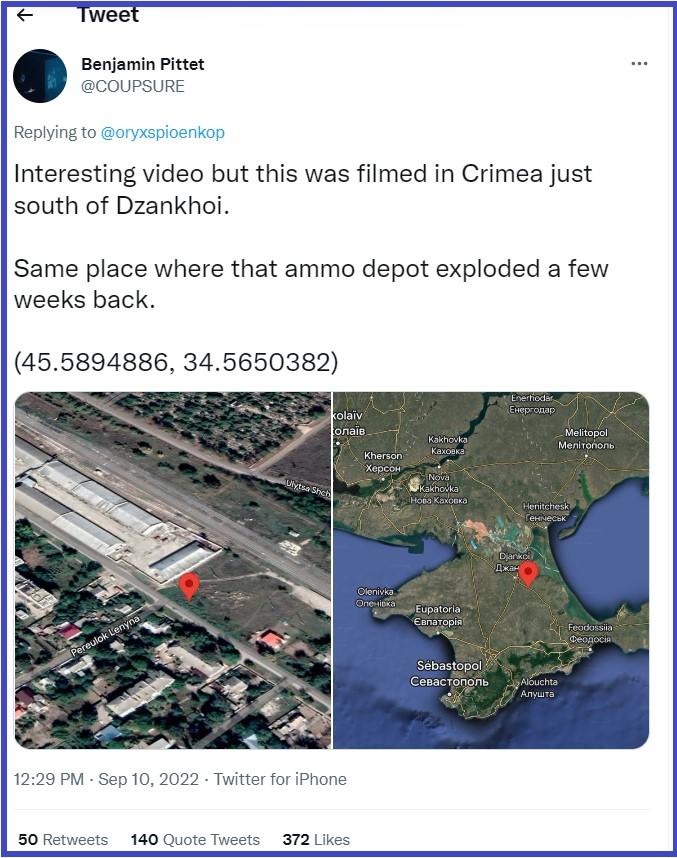 Using the coordinates Pittet's account posted,
Google Maps satellite view
showed a pre-war image of the approximately 1,700-foot-long white roadside industrial building seen in the video, flanked by empty land (filled with armored vehicles in the video) south of Dzhankoi, a town of more than 38,000 on the Crimean Peninsula.