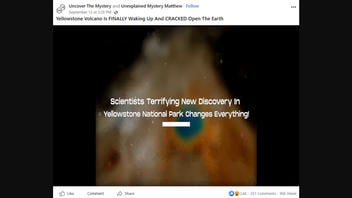 Is a major volcanic eruption with catastrophic global consequences in Yellowstone National Park imminent? No, that's not true. Though such an event is possible over the next thousands to millions of years, experts argue that it is extremely unlikely, particularly over the next few centuries. As of this writing, experts have not detected any signs of activity that suggest an imminent threat. Rather, the most likely type of eruption in the near future would be either a large hydrothermal explosion or a smaller, steady flow of lava like those seen in Hawaii.
Fearmongering posts surrounding the Yellowstone supervolcano have been popular on social media for years. On September 12, 2022, two Facebook pages, "Uncover the Mystery" and "Unexplained Mystery Matthew," posted a video (archived here) that overhyped such fears and falsely claimed that the Yellowstone volcano was "finally waking up" and had "cracked open the Earth."
This is what the Facebook post looked like at the time of this writing: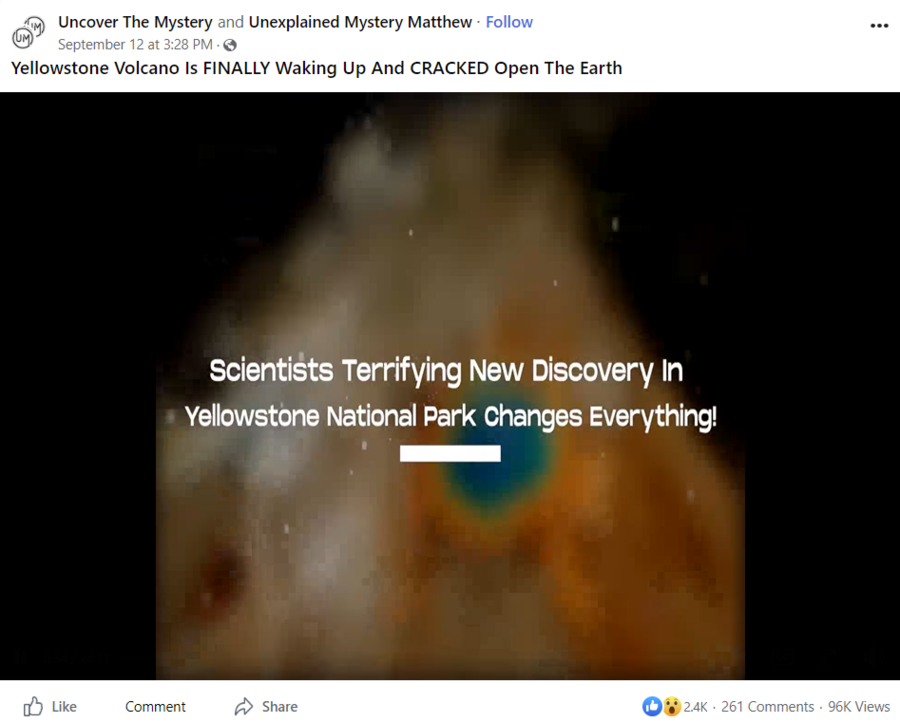 (Source: Facebook screenshot taken on Thurs September 12 15:30 2022 UTC)
Science contradicts the claim that a catastrophic eruption is imminent. Furthermore, there is no evidence to suggest that the volcano is "waking up," and certainly none that a seismic or volcanic event has "cracked open the earth."
More accurately referred to as the Yellowstone caldera complex or system, the volcano is located in Yellowstone National Park within the Rocky Mountain states of Idaho, Wyoming and Montana. (Fair warning: the term "supervolcano" has been described as a "colloquial term with no scientific definition.")
It's true that the region is seismically active and home to one of the planet's largest hydrothermal systems, including the world-famous Old Faithful Geyser. In fact, over 2 million years, three volcanic cycles, two of which were considered to be among the planet's largest volcanic events, have occurred within the Yellowstone Plateau volcanic field. However, it is extremely unlikely that the area will see an extreme eruption in the next several hundred years.
To create an eruption, a volcano must have both a sufficient supply of magma, as well as the existence of enough pressure to push that magma to the surface. Neither of these conditions currently exist in the region. In part, that's because the magma chamber under Yellowstone is mostly solidified, with between 5 and 15 percent of its contents molten, or in liquid form, according to the U.S. Geological Survey (USGS).
Additionally, the geological timing for such an explosive eruption simply doesn't add up. The USGS says that Yellowstone is not overdue for an eruption:
Volcanoes do not work in predictable ways and their eruptions do not follow predictable schedules. Even so, the math doesn't work out for the volcano to be "overdue" for an eruption. In terms of large explosions, Yellowstone has experienced three at 2.08, 1.3, and 0.631 million years ago. This comes out to an average of about 725,000 years between eruptions. That being the case, there is still about 100,000 years to go, but this is based on the average of just two time intervals between the eruptions, which is meaningless.

Most volcanic systems that have a supereruption do not have them multiple times. When supereruptions do occur more than once in a volcanic system, they are not evenly spaced in time.
In the unlikely event that a cataclysmic eruption were to happen, it is true that its effects could be felt well beyond the park boundaries. The USGS writes:
Such a giant eruption would have regional effects such as falling ash and short-term (years to decades) changes to global climate. Those parts of the surrounding states of Montana, Idaho, and Wyoming that are closest to Yellowstone would be affected by pyroclastic flows, while other places in the United States would be impacted by falling ash (the amount of ash would decrease with distance from the eruption site). Such eruptions usually form calderas, broad volcanic depressions created as the ground surface collapses as a result of withdrawal of partially molten rock (magma) below. Fortunately, the chances of this sort of eruption at Yellowstone are exceedingly small in the next few thousands of years.
As such, the volcano at Yellowstone is considered one with a "high threat potential" based on its qualitative risk to people and property, requiring the most robust monitoring coverage. To assess these threats, the Yellowstone Volcano Observatory as part of the USGS Volcano Hazards program keeps tabs on volcanic and earthquake activity in the region.
To sum it up, the USGS says: "Will Yellowstone's volcano erupt again? Over the next thousands to millions of years? Probably. In the next few hundred years? Not likely."