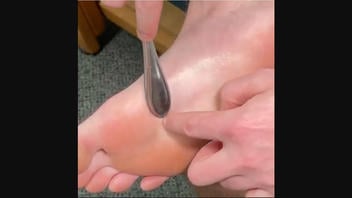 Does a video of a metal spoon being rubbed on a foot reveal a seven-second method to reverse Alzheimer's disease, the most frequent cause of dementia in the U.S.? No, that's not true: The video has nothing to do with a proven medical method to cure Alzheimer's. There is no cure for Alzheimer's, an expert told Lead Stories.
The claim appears in a post on Facebook on September 18, 2022, under the title "7 Second Method Fixed My Dementia and Restored Perfect Memory!!!" The post, featured on the Happy You Today Blog's page, includes a silent video without explanatory graphics. The text for the post states:
My doctor told me that Alzheimer's can not be fixed and that I should accept it and find home care... Thanks to this 7 Second Method my Alzheimer's vanished and I can play with my grandchildren again!
This is what the post looked like on Facebook at the time of writing:
(Source: Facebook screenshot taken on Tue Sep 20 20:26:46 2022 UTC)
The 16-second video shows a spoon being rubbed on the bottom of a foot in several directions. The video offers no explanation about what the spoon is doing to or for the foot. An online search results in similar videos that claim a massage of the foot with a spoon could help cure plantar fasciitis, an inflammation of foot tissue.
"There is no cure for Alzheimer's," Megan Witbracht told Lead Stories via email on September 21, 2022. She is associate director of education at the University of California Irvine Institute for Memory Impairments and Neurological Disorders. "In fact, there are no effective treatments to slow or stop Alzheimer's disease. There is no substantial evidence to suggest that Alzheimer's is caused by an infection. This company is using scare tactics to try and push their product."
The post's text links to a page from the website Healthforusnow.com that is headlined "7-Second Method Could Stop Memory Loss and Prevent Dementia." The text on the page states:
A medical insider and neuroscientist, Dr. Joshua Carr discovered a simple 7-Second Method that attacks the potential real cause of memory loss and Alzheimer's and it has nothing to do with the brain. This discovery was forbidden by pharmaceutical companies and drug manufacturers.
The site claims that Alzheimer's and memory loss are caused by the food people eat:
Dr. Anthony Capasso discovered that the problem of memory loss and Alzheimer's had nothing to do with age, genetics, or a lifestyle, instead, it's caused by something disturbing that's happening right now in your head. Little 'brain infection' is caused by the food that most people eat every day having no idea how harmful is to the brain.
Both the video posted on Facebook and a "show me the presentation" link on the Healthforusnow.com website go to another site, called GetNeuroTonix, that features an infomercial-style video. The person in the video promotes a "Brain Probiotic" product called NeuroTonix, tablets that, "backed by science," allegedly contain a mix of plants and minerals that improve "brain health."

The GetNeuroTonix website claims the NeuroTonix product is a "proprietary formula of 3.6 billion brain-supporting probiotic strains, along with 5 strong plant extracts, custom-made to boost the probiotic action." The website does not refer to a seven-second cure for Alzheimer's or any scientific evidence that the "7-Second Method" or the probiotic pills can cure the disease.
The National Institute on Aging explains what scientists currently believe may cause Alzheimer's:
Scientists don't yet fully understand what causes Alzheimer's disease in most people. The causes probably include a combination of age-related changes in the brain, along with genetic, environmental, and lifestyle factors. The importance of any one of these factors in increasing or decreasing the risk of Alzheimer's disease may differ from person to person.
The Alzheimer's Association notes there is "no cure for Alzheimer's" on their website. The organization states the possible causes for the disease:
Researchers believe there isn't a single cause of Alzheimer's disease. It likely develops from multiple factors, such as genetics, lifestyle and environment. Scientists have identified factors that increase the risk of Alzheimer's. While some risk factors -- age, family history and heredity -- can't be changed, emerging evidence suggests there may be other factors we can influence.