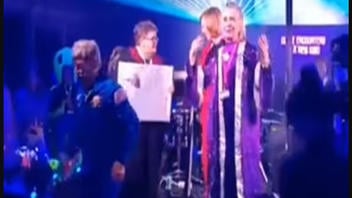 Does a "leaked video" show Hillary Clinton leading a space cult in an "annual Earth ritual"? No, that's not true: This video shows a space-themed birthday party that took place over Labor Day weekend 2022.
The video and an article published by nextnewsnetwork.com play on conspiratorial beliefs about Satan-worshiping elites but eventually reveal that the "annual ritual" was just a birthday party.
An article published by nextnewsnetwork.com (archived here) on September 6, 2022 links to a four-minute Next News Network segment published on YouTube. A screenshot of the Next News Network headline and a shorter clip of 32 seconds were posted on Instagram on September 7, 2022. The post was not captioned, but the account posted the first comment in all caps. It reads:
SATAN WORSHIPERS
This is how the video appeared on Instagram at the time of writing: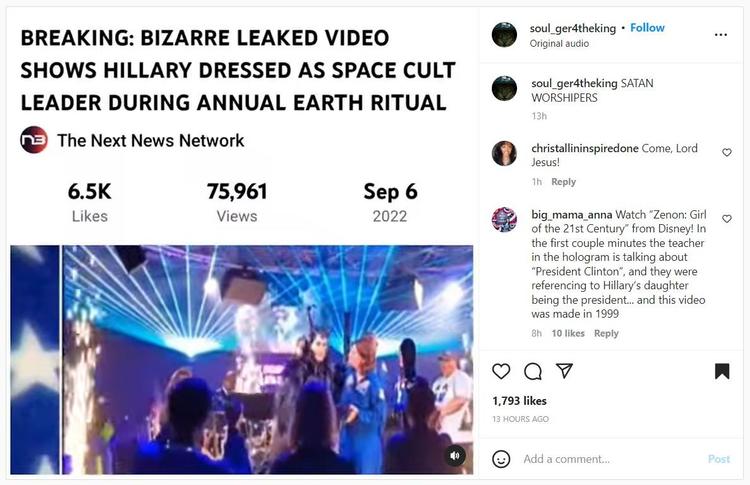 (Image source: Instagram screenshot taken on Thu Sep 08 14:34:29 2022 UTC)
The article posted by nextnewsnetwork.com titled "BREAKING: LEAKED VIDEO SHOWS HILLARY DRESSED AS SPACE CULT LEADER DURING ANNUAL EARTH RITUAL" is eventually forthcoming about the birthday celebration but adds a false demonic and pagan narrative to the party scenes.
The weekend's events were hosted by Ann Drake, who is chair and president of the Women's Leadership Center, an organization that describes its mission as promoting communication between female leaders in "public and private enterprise, global supply chain, engineering and technology, infrastructure and design, space and astrophysics" as well as in "creating global solutions to complex problems in a setting designed to foster conversation and collaboration."

Lead Stories did not find evidence that Clinton and Drake were ever classmates, as the article claims. It reads:
After further investigation the woman Hillary identified as 'Anne Drake' appears to be a former classmate - the annual ritual - celebrating Anne's birthday.

The celebration focused on women leaders and a soft launch of the Center, slated to be constructed in Williams Bay, Wisconsin, next to George Williams College of Aurora University and near Yerkes Observatory.
The Instagram post does not offer the full context of the video, and it has been edited to remove what little context there was that could inform the audience this is a birthday party. After a woman wearing what appears to be a horned costume of "Maleficent," the antagonist from Disney's updated version of "Sleeping Beauty" (pictured above), says some words, the video cuts.

In the longer version of the video posted on YouTube (at the 1:28 mark), the next cut shows Clinton calling Drake up to the stage. Drake is dressed in a red flight suit (pictured below) while another woman waiting to the side holds a flat rectangular object in white gift wrapping. Clinton, dressed in a purple robe, says:
Yes, Ann, will you come up, please?

[Offstage voice: Ann Drake!]

Ann Drake, yes. And, you know, there's a lot that's really wonderful about this gathering and this event tonight, to be brought together by Ann and to help her celebrate her birthday, but, more than that, as we just heard from Katie, really celebrate exploration and discovery and science and art. And isn't it nice to be in a place where people actually are doing that and doing it all together?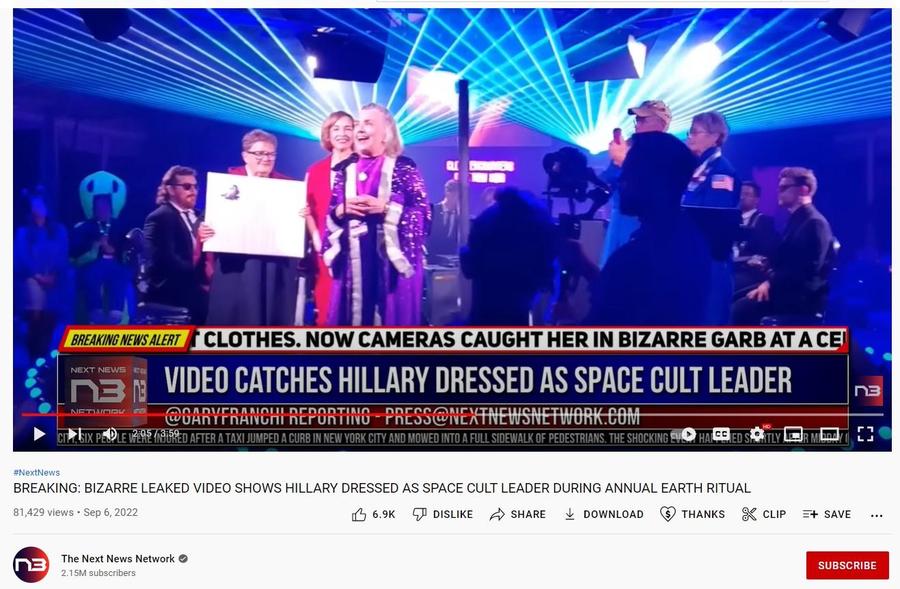 (Image source: YouTube screenshot taken on Thu Sep 08 17:14:07 2022 UTC)
An online invitation at laborday22.com describes the calendar of events over September 2-5, 2022 in Lake Geneva, Wisconsin. Some of the activities listed: a guided hike at a nature conservancy, an opportunity to play golf at the Geneva National Golf Resort, lunch at the Yerkes Observatory, a visit to the future site of the Women's Leadership Center and a sunset dinner cruise on Geneva Lake.
The invitation for the September 3, 2022 evening party at "Ann's Interstellar Tent" does not mention that it is Drake's birthday. The event is described this way:
Get ready for some extra special effects as Close Encounters of a NEW Kind continues. Come in your full space/future-focused themed full costume or theme-inspired attire - anything goes! Dance to 'out of this world' live music and join the celestial-inspired costume parade! We will award prizes for the best costumes, judged by one of our guests - a REAL Astronaut

On September 7, 2022, the Yerkes Observatory posted a tweet (archived here), captioned:
We're still buzzing with excitement! For our beloved Ann Drake's birthday party and celebration of women leaders, @HillaryClinton honored us with a visit! She took our tour, enjoyed a picnic on the South Lawn, and was gracious enough to snap this photo with our staff.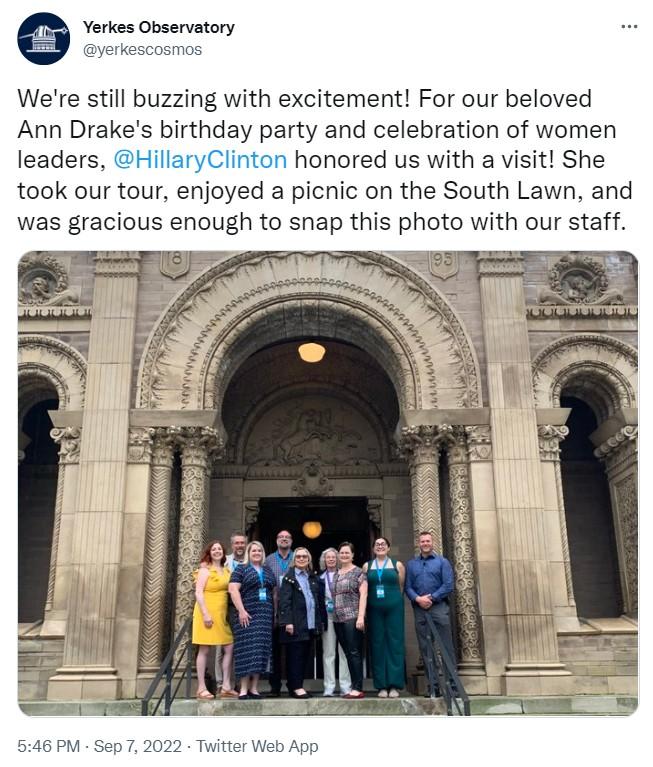 (Image source: Twitter screenshot taken on Thu Sep 08 16:45:55 2022 UTC)