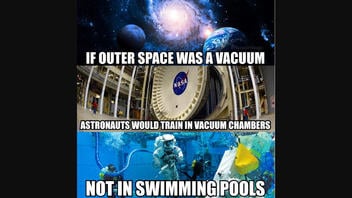 Do astronauts only train in swimming pools, and not vacuum chambers, because space is not a vacuum and "Outer Space is a hoax"? No, that's not true: A spokesperson at NASA told Lead Stories that its astronauts have "limited training" in vacuum chambers, which NASA has used for decades to test materials that go into space. Astronauts also train in a swimming pool to practice moving in a weightless environment, which is not the same as a vacuum.
The claim about astronauts appeared in an October 25, 2022, post on Instagram with the caption "Outer Space is a hoax 🥱 ••
#researchflatearth #flatearthmemes #flat #flattenthecurve #truth #truthhurts #facts #truthbetold #factsoflife #gta #gaming #pilotslife #pilotsofinstagram #science #fe #conspiracy #flatearth #earthisflat #redpillbluepill #redpilled #globelie #liar #experiment #tinfoilhat #nasa #spacex #spaceisfake #flatworldlogic #controllers #whylie".

Text on the posted image read:
IF OUTER SPACE WAS A VACUUM

ASTRONAUTS WOULD TRAIN IN VACUUM CHAMBERS

NOT IN SWIMMING POOLS

This is what the Instagram post looked like at the time of this fact check's writing: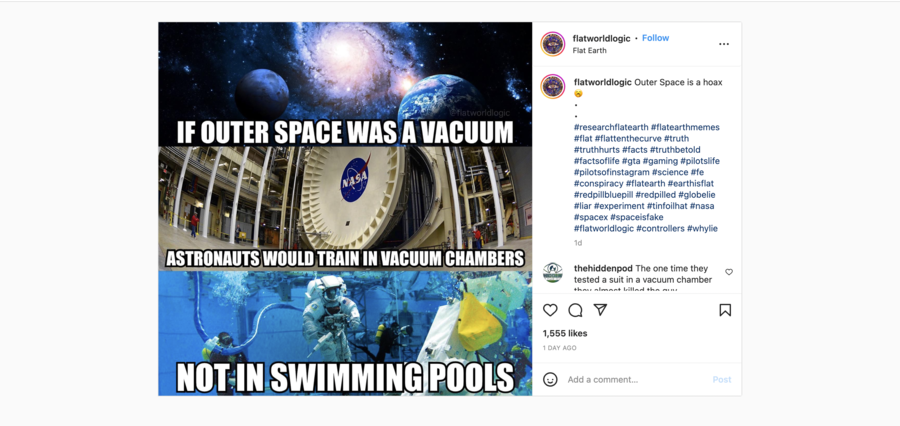 (Source: Instagram screenshot taken on Wed Oct 26 15:00:28 2022 UTC)
The post contains no cited sources for its claims. With its flat-Earth-related hashtags, the post's apparent implication is that there is no outer space because the Earth is flat. Earth is not flat, with Lead Stories debunking several such claims that can be seen here.
Lead Stories reached out to NASA regarding the claim. In an October 26, 2022, email, Daniel Huot, a public affairs officer at NASA, commented that the post misunderstands the difference between a vacuum, the absence of matter; and microgravity, extremely slight gravity.

"The majority of space is a vacuum," which means that materials that will go into space, like spacesuits or spacecraft, are tested in a vacuum chamber to see how "important processes," like heat transfer, change under those circumstances, Huot wrote.

A NASA vacuum chamber that has been used with astronauts since the late 1960s, and that earlier tested spacecraft systems for the Gemini and Apollo missions, can be seen here.
Huot stated in an October 27, 2022, email that astronauts themselves, in spacesuits, do have "limited training in vacuum chambers" in order "to get acquainted with the pressure changes that happen" in outer space. The suits, he said, are pressurized to 4.3 psi (pounds per square inch), far beneath a space station's internal pressure of 14.7 psi.
"But there is limited to no value in putting them in vacuum chambers for extended tests," Huot added. He explained:

Aside from experiencing the pressure differential that they're subject to when inside the large spacesuit, there is no training that could be done in the limited space of a vacuum chamber that would be more effective than training while neutrally buoyant to simulate microgravity in the pool.
The vacuum chamber has no connection to microgravity, or minimal gravity, which causes people and objects, as in outer space, to appear weightless.

Huot noted:
Just because you suck the atmosphere out of a chamber does not mean you are going to start floating. Gravity is an entirely separate force.


For that reason, astronauts train in a swimming pool as the best way to simulate microgravity.
NASA videos of an astronaut training in a vacuum chamber and an astronaut training in a swimming pool (the Neutral Buoyancy Lab) demonstrate that both of these settings are used to prepare astronauts for space missions.
Additional Lead Stories fact checks about astronauts can be found here.