STORY UPDATED: check for updates below.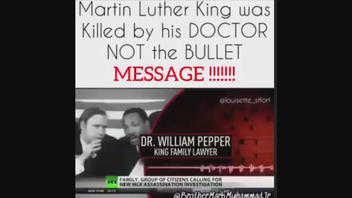 Was Martin Luther King Jr. "killed by his doctor" and "not the bullet" that wounded him? No, that's not true: The official autopsy confirms that King's cause of death was a fatal gunshot wound. The claim that King was killed by his doctor, not by James Earl Ray, is an old conspiracy theory.
The claim appeared in a Facebook reel on September 14, 2021. The caption opened:
MARTIN LUTHER KING WAS NOT KILLED BY HIS DOCTOR NOT THE BULLET
shop here www.divinelegacy365.com
This is what the post looked like at the time of writing: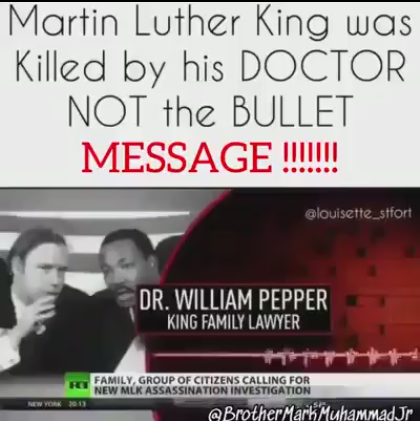 (Source: Facebook screenshot taken on Thur Oct 27 14:39:22 2022 UTC)
The news clip in the video was taken from a January 25, 2019, YouTube video titled, "Martin Luther King Jr. was killed by the DOCTOR, not the BULLET." It depicts a segment of a broadcast from RT, the Russian-controlled media outlet.
The man who makes the claim in the news clip is Dr. William Pepper, the attorney who represented James Earl Ray. An archived website identifies him as active in the 9/11 "truth" movement.
Bill Christian, the associate director of the office of communications and media relations at the Tennessee Department of Health, verified to Lead Stories in an October 27, 2022, email, that this link is the original King autopsy document. A 2019 article in the Journal of Vascular Surgery also analyzed King's injuries and treatment. The autopsy stated that his official cause of death was a "gunshot wound to the spinal column, lower cervical, and upper thoracic."
Congress published in 1979 its findings on the official cause of King's death, saying he was killed by a single gunshot wound fired by Ray, and an hour later pronounced dead at St. Joseph's Hospital.
Pepper represented the King family in a Tennessee civil suit in 1999 -- which does not hold the same weight as a criminal lawsuit -- when they sued a man named Loyd Jowers for King's death, charging he participated in a government conspiracy to assassinate King. At the conclusion of the four-week trial, the jury adopted a verdict finding that Jowers and "others, including government agencies" participated in a conspiracy to assassinate Dr. King. In its subsequent investigation, the Justice Department found no evidence of the government's involvement.
A 2020 Lead Stories fact check debunked the claims that King did not die from the bullet that hit him but from being smothered in the hospital. It was concluded that there was no evidence that he was "killed" in the hospital.
Lead Stories previously debunked the claim that the Federal Bureau of investigation and police admitted to playing a role in King's assassination. That story can be found here.
2022-10-28T00:09:21Z

2022-10-28T00:09:21Z

Updated to add the verdict in the Jowers case.