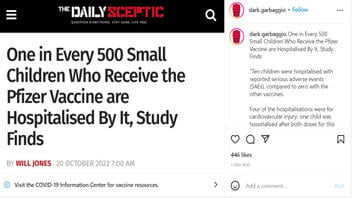 Is the Pfizer COVID vaccine responsible for hospitalizing 1 out of 500 small children under the age of 5? No, that's not true: There's no evidence to support that claim. The study used to back it says 10 children out of its 7,806 juvenile participants were hospitalized. But only the kids who received doses of the Pfizer shot (BNT162b2) above 3 micrograms required hospital care. The dosage of the vaccine approved by the Centers for Disease Control and Prevention is not above that level. It's 3 micrograms for children aged 6 months through 4 years.
The claim appeared on Instagram in a post published on October 20, 2022 under the title "One in Every 500 Small Children Who Receive the Pfizer Vaccine are Hospitalised By It, Study Finds." The post quotes an article from The Daily Sceptic website. It says:
'Ten children were hospitalised with reported serious adverse events (SAEs), compared to zero with the other vaccines.

Four of the hospitalisations were for cardiovascular injury; one child was hospitalised after both doses for this reason. Four were pulmonary (lung) related. Symptoms of the hospitalised children lasted an average of 12.2 days and a maximum of 60 days.'
This is what the Instagram post looked like at the time of this fact check's writing: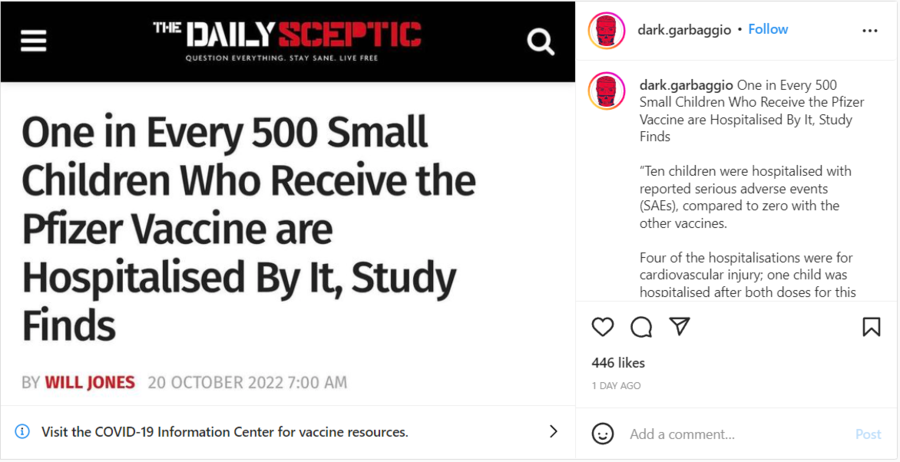 (Source: Instagram screenshot taken on Fri Oct 21 16:37:52 2022 UTC)
The vaccine study featured in The Daily Sceptic article and subsequent Instagram post was published on October 18, 2022 on the JAMA Network website and "[r]eported short-term safety data ... in children from birth to younger than 60 months [5 years]." The children received between one to three doses of between 3 to 10 micrograms (μg) of the Pfizer vaccine. Out of the more than 7,800 children who took part, 10 had "severe adverse effects" that required hospitalization. The study's results section stated that:
Symptoms requiring hospitalization (n = 10) were reported only at BNT162b2 dosages above 3 μg.
While those results are concerning for the families of the small number of children affected, kids under the age of 5 outside of the study are not being given the dosage that resulted in the need for hospital care for a tiny fraction of participants.
In a June 17, 2022 press release announcing that the Pfizer COVID vaccine had received emergency use authorization from the Food and Drug Administration for children aged from 6 months through 4 years old, the company spelled out the dosage that would be used and the reasons why:
The 3-µg dose was carefully selected as the preferred dose for children under 5 years of age based on safety, tolerability, and immunogenicity data.
Additional Lead Stories fact checks related to COVID-19 vaccines can be found here.