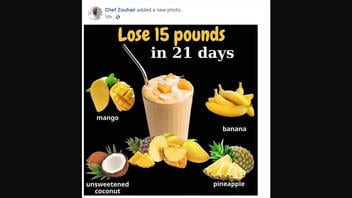 Can a drink made up of mango, banana, unsweetened coconut and pineapple enable a person to shed "15 pounds in 21 days"? No, that's not true: A clinical dietician told Lead Stories this diet is not recommended and adversely lowers a person's body muscle and metabolism. A medical doctor specializing in weight loss said all these fruits should be eaten in moderation and that significant weight loss is about consuming fewer calories than you burn.
The claim about rapid weight loss appeared in a meme on Facebook on October 12, 2022. Its text reads:
Lose 15 pounds in 21 days
Mango
Banana
Unsweetened coconut
Pineapple
This is how the post appeared at the time of this fact check's writing: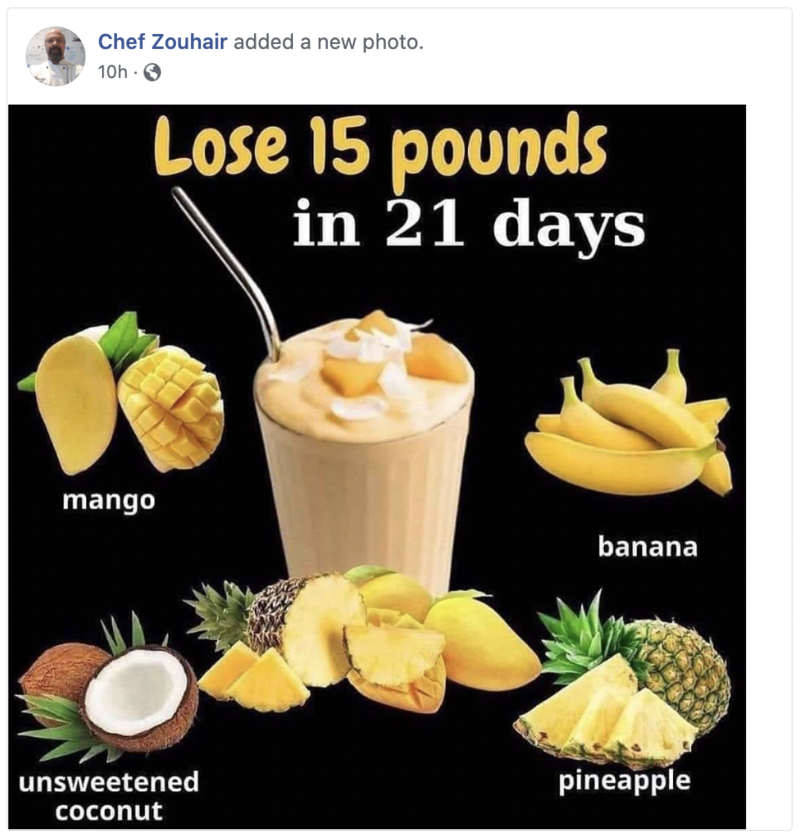 (Source: Facebook screenshot taken on Wed Oct 12 18:20:23 2022 UTC)
The post implies that these fruits have magical, weight-vaporizing abilities. No mention is made of exercise, lifestyle or diet.
For a sense of how these fruits impact the body, Lead Stories contacted Dana Hunnes, a senior clinical dietician at the Ronald Reagan UCLA Medical Center who holds a doctorate in community health sciences.

In an October 12, 2022, email, she said the drink prescribed in the post is one she would not recommend for weight loss:
The only inherent quality these fruits have w/ regards to weight loss (if they are the ONLY thing someone is consuming) is that they will be very low in calories compared to what the average person should be eating.

To lose weight at a healthy rate, people should be eating ~500 calories less per day than they need to maintain their weight (either 500 from diet or 250 from diet + 250 from exercise, or some other combination like that).

This type of diet might reduce intake by 1000-1500 calories/day which theoretically could lead to a 2-3 pound wt loss in 1 week, but the risk here is that you would also lose muscle, lowering your overall metabolism, making it that much easier to yo-yo (regain the weight + some) when stopping this.

It is not recommended.

It is also far too low in protein to even begin to maintain muscle.
The meme does not provide a recipe for the promoted fruit drink. The U.S. Department of Health and Human Services recommends that Americans over 21 consume between 1,600 and 3,000 calories per day.
Dr. Charlie Seltzer, a Philadelphia-based weight-loss doctor who specializes in strength and conditioning, similarly told Lead Stories in an October 12, 2022, email that the claim is not accurate:
This is another ridiculous claim. There is nothing special about these foods. In fact, all of them are pretty high in calories and should be eaten in moderation!
The listed fruits, if eaten individually, contain about 100 to 452 calories, according to multiple online calorie counters.
Seltzer continued:
There is nothing special in these foods (or any foods for that matter) that will cause significant weight loss. The only way to lose weight is to consume fewer calories than you burn.
Other Lead Stories fact checks about weight-loss claims can be found here.