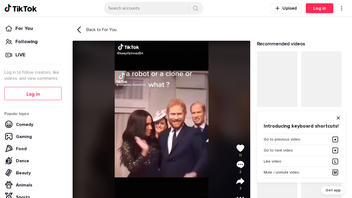 Is Meghan, Duchess of Sussex, the American wife of Britain's Prince Harry, "a clone or robot"? No, that's not true: The videos repeating this claim borrowed footage from the 2018 Madam Tussaud's live figures events, when actors put on latex masks to impersonate the real couple.
The claim about the former Meghan Markle resurfaced in a TikTok video (archived here) on September 6, 2022. It showed Harry and Meghan, as they are colloquially known, at the center of the frame, in front of "live" versions of Prince Harry's elder brother, William, now the Prince of Wales, and his wife, Catherine.

Accompanied by a suspense soundtrack, a female voice-over asks a single question:
A robot or clone or what?
The caption consisted of multiple hashtags:
#UnlimitedHPInk #GenshinTeleport #helpusgrow #roadto10k #livingthedriftlife #foryoupage #foryou #fyp #weird #strange #freaky #robot #clone #royalfamily #royals #harryandmeghan
Here is what the video looked like on TikTok at the time of writing: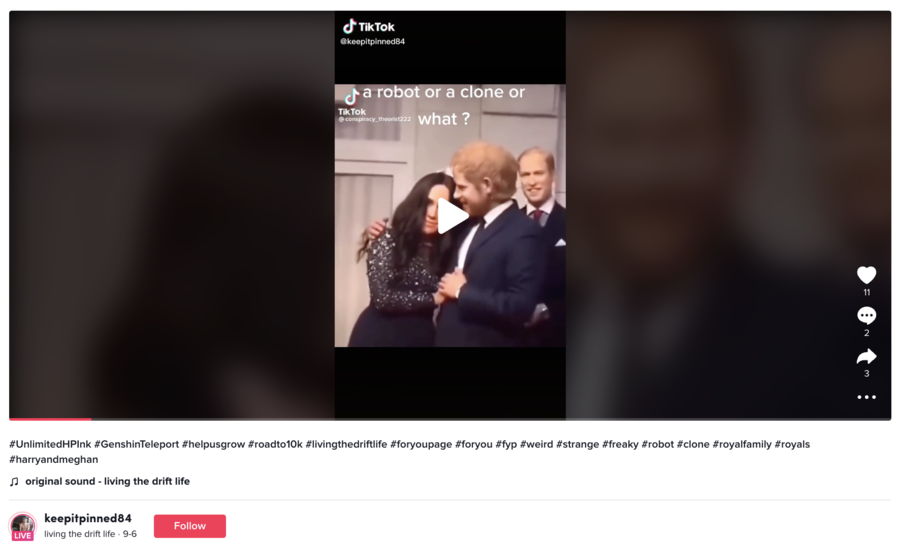 (Source: TikTok screenshot taken on Tue Oct 4 14:43:12 UTC 2022)
Similar claims have been shared on social media before. One of the earliest examples is a 2018 YouTube video. A TikTok video shared on Facebook used the same footage as in more recent posts. It was published under the title "Meghan Markle and prince Harry naging robot" in July 2020: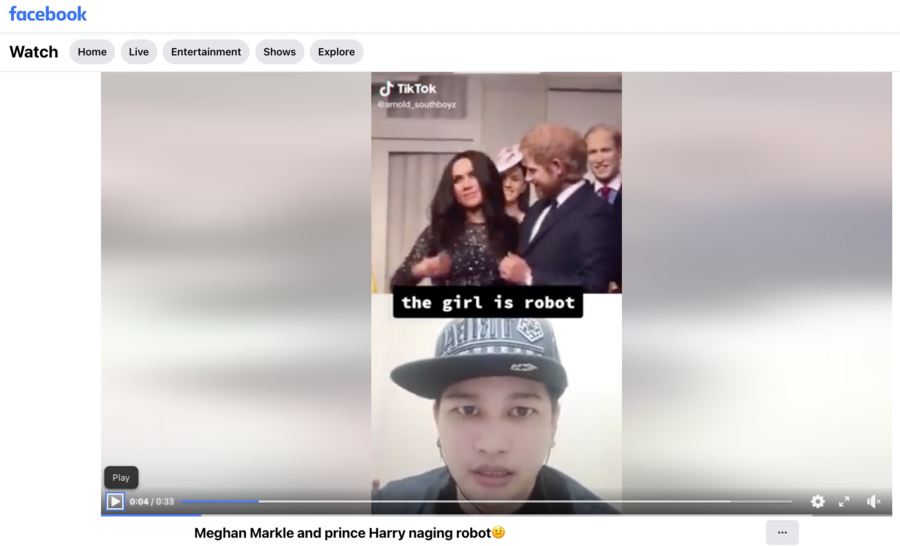 (Source: Facebook screenshot taken on Tue Oct 4 15:07:03 UTC 2022)
The claim reappeared in December 2021 and February 2022, and started trending by early October 2022, about a month after Queen Elizabeth II's death.
The event that preceded all these online rumors was the release of a promo video for a series of Madame Tussaud's live figures events.
The video opened with shots of wax sculptures of Harry and Meghan, which then started moving and ran up the stairs to join wax lookalikes of other members of the British royal family.
The TikTok video in question reused the footage from this same scene, but shot from a slightly different angle. This footage is still available on YouTube: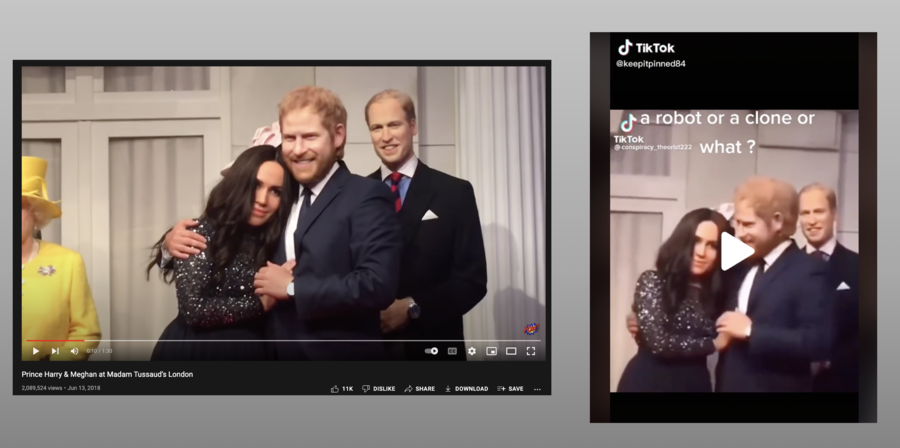 (Sources: YouTube screenshot taken on Tue Oct 4 20:25:17 UTC 2022; Facebook screenshot taken on Tue Oct 4 20:28:12 UTC 2022; composite image by Lead Stories)
According to the Madam Tussaud website, these "live figures" with motionless faces first appeared in 2018 on "Britain's Got Talent" show. The wording from the museum's press release made it clear that they were not the real Prince Harry and Meghan, officially known as the Duke and Duchess of Sussex:
This evening we brought our famous fun to life, as Their Royal Likenesses the Duke and Duchess of Sussex made a surprise appearance during the Britain's Got Talent live final.

In a world first, we unveiled 'Live Figures' modelled on the duo themselves that will allow fans to get one step closer to interacting with the newlyweds.
Describing an international tour of the performance, the CBS station for Philadelphia explained in December 2018 what was going on:
... these are live wax figures of Britain's Prince Harry and his wife Megan Markle. Two actors wore latex masks modeled after the royal couple. Megan's character even has a baby bump. The museum says visitors voted to have Harry and Megan as the museum's next live wax figure performance.

Additional Lead Stories fact checks related to the British royal family can be found here.