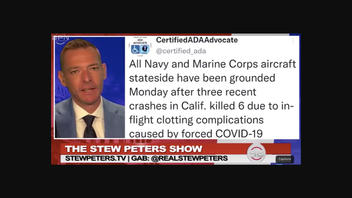 Are complications from COVID-19 vaccinations causing U.S. military pilots to crash, resulting in the U.S. Navy and U.S Marine Corps grounding all aircraft after crashes in California killed six people in September 2022? No, that's not true: According to a U.S. Navy Spokesperson, the entire claim is "untrue." There are also no such reports in reputable news sources of any such scenarios in California during that time period.
The claim appeared in a video episode of the Stew Peters Show (archived here) posted on Facebook on September 21, 2022, under the title "Crimes Against Humanity EXPOSED, Vaxxed Military Pilot Crashes, And Canadians March On Trudeau."
The claim appears at about 23:49 seconds into the video when Stew Peters says:
Well U.S. Navy Aircraft keep dropping out of the sky. There's been three crashes in the last month killing six total servicemen total It's not that the U.S. Navy is so panicked that it grounded all of it's aircraft for an entire day. On Sunday, the U.S. Navy announced a one-day emergency stand down, I guess, to review safety procedures for all of its craft. Of course, all three of these crashes are still under investigation.
While Peters was speaking this is the text that accompanied it at the time of writing: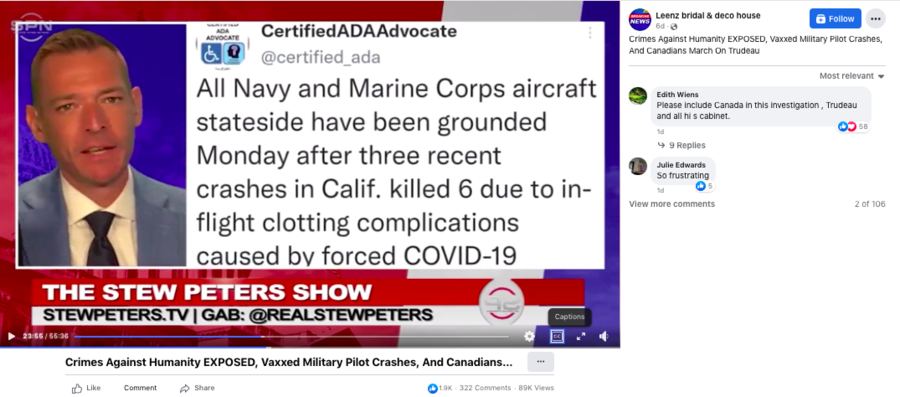 (Source: Facebook screenshot taken on Wed Sep 28 15:04:20 2022 UTC)
This Stew Peters video is a grab-bag of false conspiracy theories. This fact check addresses only the claims that are also seen in the scrolling graphic at about 23:53 in the video. Text in the graphic reads:
All Navy and Marine Corps stateside have been grounded Monday after three recent crashes in Calif. killed 6 due to in-flight clotting complications caused by forced COVID-19 vaccinations
The end of the graphic shows it's from a Twitter post dated June 12, 20022. But, Peters is using the claim as if the events happened in September 2022 and were due to complications from COVID-19 vaccinations.
The Navy did ground its Air Forces for a "safety pause" in mid-June 2022 after multiple military aircraft crashes in California, according to the Los Angeles Times. But none were linked to any issues due to COVID-19 vaccine issues
A U.S. Navy spokesman at the Pentagon, who asked not to be identified by name, spoke to Lead Stories by phone on October 3, 2022. Addressing the statement that military aircraft crashes were due to coronavirus vaccinations, the spokesman described the claim as "completely false."
Peters was removed from the streaming app, Spotify, for promoting "dangerous false, or dangerous, deceptive content about COVID-19 that may cause offline harm and/or pose a direct threat to public health" according to this report in The Daily Beast on February 3, 2022.
Lead Stories has published fact checks of previous claims regarding vaccines allegedly causing pilot deaths or flying problems, two examples can be found here and here.
More Lead Stories fact checks of assertions made on the Stew Peters show are collected
here
.