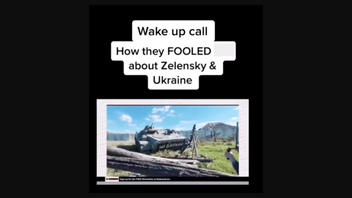 Does a video circulating on social media show evidence that war footage of Russian attacks on Ukraine was staged? No, that's not true: It took out of context the footage of actual film sets -- one clip dating from 2013 -- recycling the falsehoods that fact-checkers had debunked during the first days of the war.
The claim appeared in an Instagram post on October 23, 2022. The caption said:
Dont believe news they've lying again... they are trying to control you and keep you indoors, scared
The post contained a video whose built-in text clearly connected the author's message to Ukraine, proclaiming:
Wake up call

How they FOOLED

about Zelensky &

Ukraine
Here is what the post looked like at the time of writing: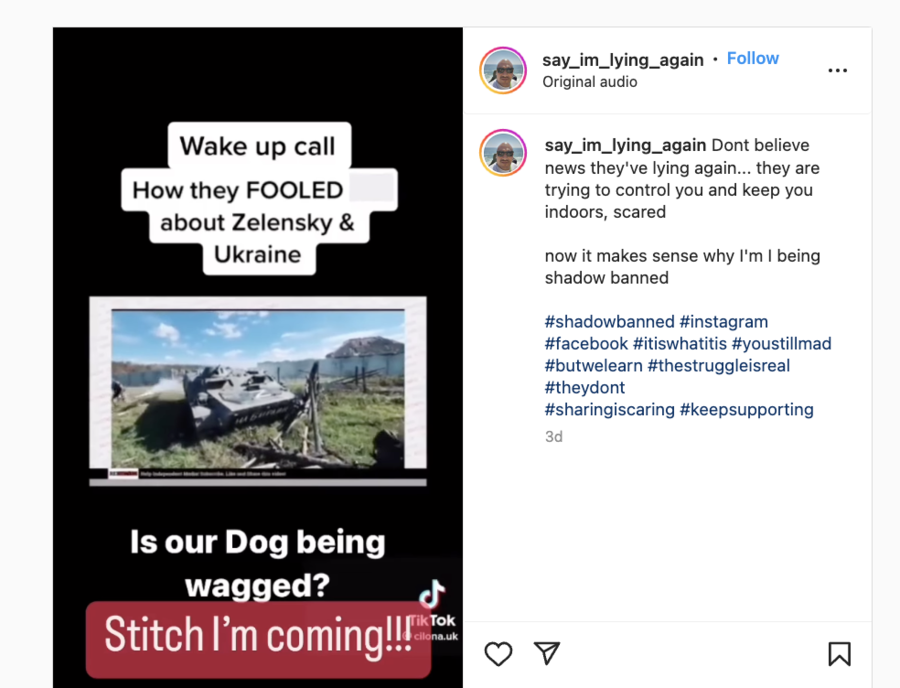 (Source: Instagram screenshot taken on Wed Oct 26 16:51:02 2022 UTC)
The video showed what appeared to be a series of backstage film scenes. The narrator compared it to a "Star Trek episode." At the end of the clip, a middle-aged man wearing a cap appeared on camera saying:
Those with eyes to see can see it. Those who are still asleep, what else do you need to see? You're watching a fucking movie!
This entry on Instagram was made by a user with the handle say_im_lying_again, whose bio says:
my account has been deleted 2times before 🤷🏽‍♂️ ' I took the red pill'
The post recycles the claims that started to circulate during the very first days of the war.
One of the earliest examples is a video published on February 28, 2022, on Weibo, one of China's major social media platforms. It contained the same shots of a running crowd that were reused in the newer Instagram post.
The footage had nothing to do with events in Ukraine. It was a backstage recording of the 2019 film "Invasion Planet Earth" shot in Birmingham's Victoria Square in 2013. Since then the clip (archived here) has been available on YouTube. On March 3, 2022, the film's director Simon Cox wrote on Twitter:
was shocked to see my footage being used like this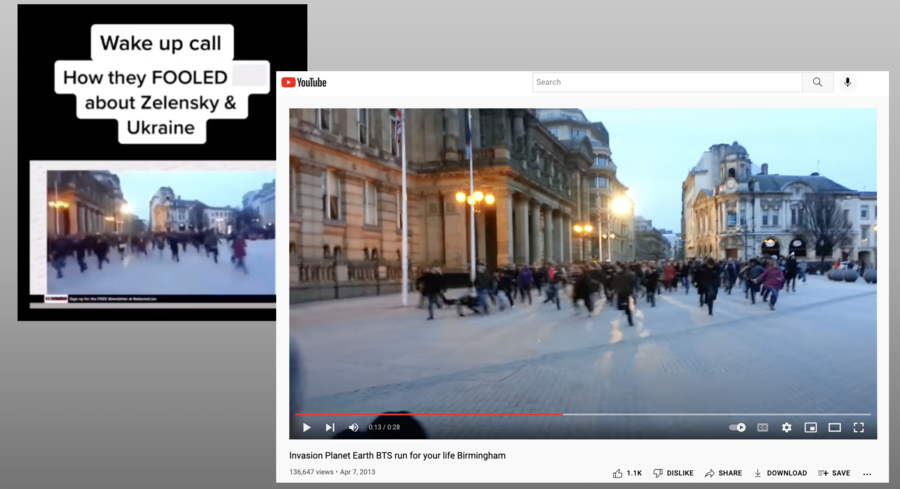 (Sources: Instagram screenshot taken on Wed Oct 26 17:38:55 2022 UTC; YouTube screenshot taken on Wed Oct 26 Screen 17:53:39 2022 UTC; composite image by Lead Stories)
A tank scene reused in the Instagram video contained a white inscription on the bottom of the tank, apparently referencing the last months of World War II when the Soviet army was advancing toward the German capital. It said, "На Берлин" ("To Berlin"). However, a higher-resolution version of the scene (see below) shows that the way the German capital's name was written -- "На БИрлин" -- did not correspond to its Russian (Берлин) or Ukrainian (Берлiн) spelling.
This spelling mistake drew a lot of attention on social media. On October 19, 2022, the film director explained his intentions on his Facebook page:
We have made this mistake on purpose. It is a collective image that shows the well-known ignorance and disorientation of the 'liberators': a horde of thugs thinks that they repeat the ' feats of the Dids [grandfathers]' and fight with NATO to protect Russian-speakers, but they cannot say two words without swearing.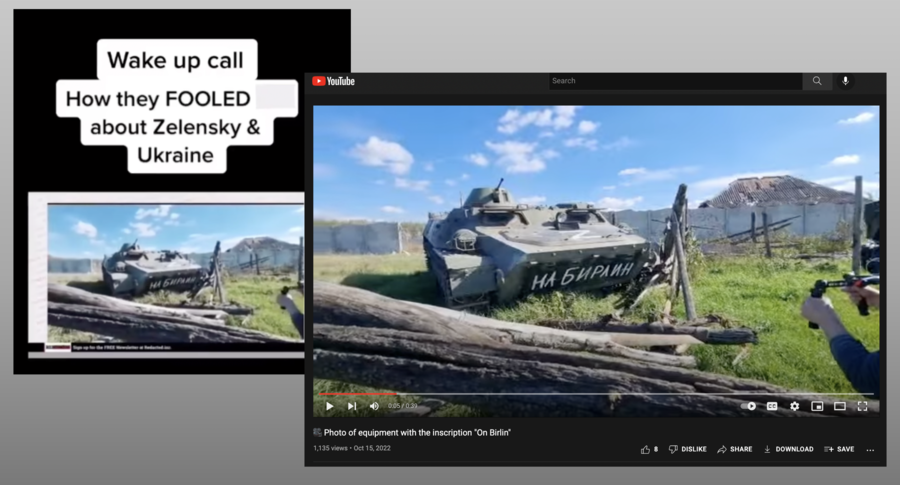 (Sources: Instagram screenshot taken on Wed Oct 26 18:47:58 2022 UTC; YouTube screenshot taken on Wed Oct 26 18:49:03 2022 UTC, the page was automatically translated to English; composite image by Lead Stories)
In reality, the tank scene was part of a production set for a movie titled "Ukrainian War Stories," Ukrainian news website dumskaya.net wrote on its Telegram channel on October 15, 2022. The movie's director, Vladimir Nagorny, reached out to the website, confirming that he was the person who made the deliberately misspelled Russian inscription saying "To Berlin."
However, the creators of the post on Instagram, published more than a week later, conveniently omitted this.
There is at least one example of a Ukrainian politician using this tank footage. On October 14, 2022, an image of the same tank was posted by Anton Herashchenko, an advisor and a former deputy minister at Ukraine's ministry of internal affairs. The caption claimed that the picture showed a Russian tank hit in 2022.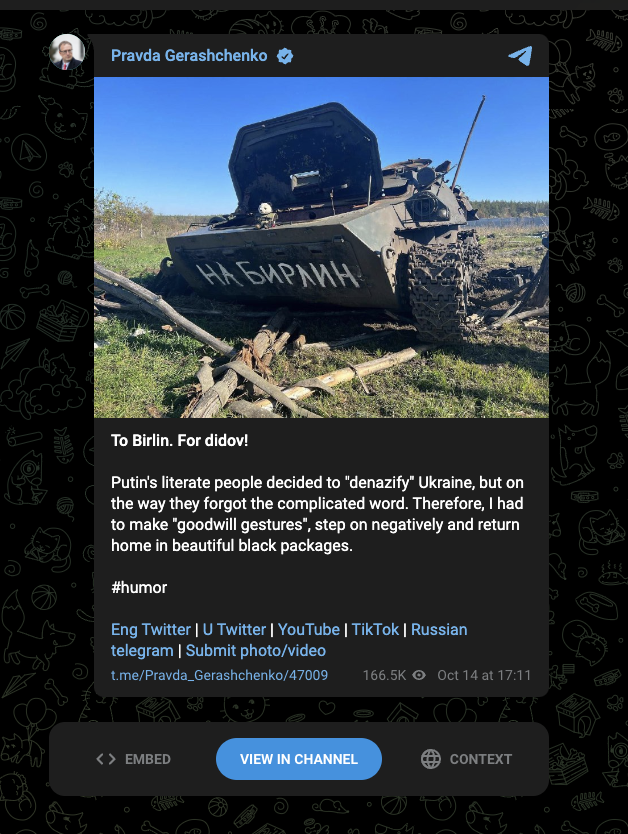 (Source: Telegram screenshot taken on Wed Oct 26 18:22:30 2022 UTC; the content was automatically translated to English)
Other Lead Stories fact checks about the 2022 armed conflict between Russia and Ukraine can be found here.