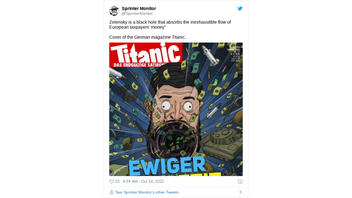 Did Titanic, a German satirical monthly magazine, release a cover in October 2022 that features an illustration of Ukrainian President Volodymyr Zelenskyy sucking money and resources into his mouth? No, that's not true: The October 2022 issue of Titanic does not feature Zelenskyy and the illustration has not appeared on any of the other issues' covers.
The claim appeared in a tweet posted on October 24, 2022. It featured an illustration of Zelenskyy sucking money, weaponry and even people toward his mouth like a vacuum. The illustration is attributed to Titanic and shows October 2022 in the upper right corner. The text accompanying the illustration read:
Zelensky is a black hole that absorbs the inexhaustible flow of European taxpayers' money'

Cover of the German magazine Titanic.
The illustration also appeared in tweets posted in different languages, including French, Italian, Russian and Spanish.
This is what the tweet looked like on Twitter at the time of writing: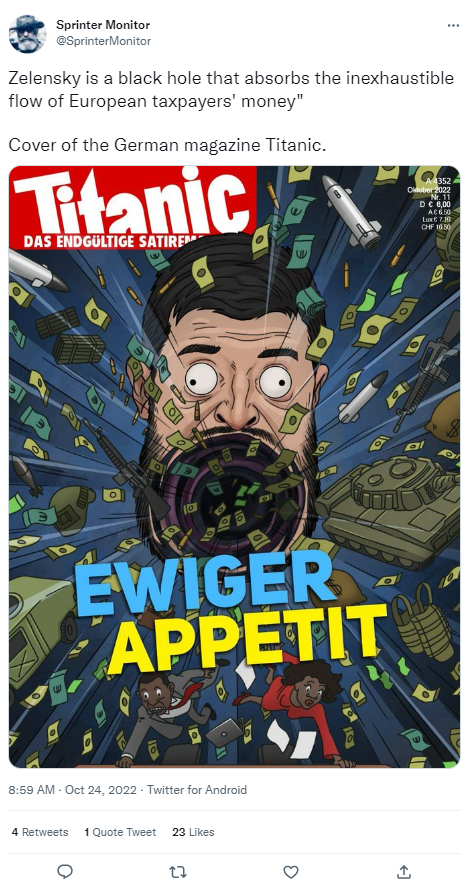 (Source: Twitter screenshot taken on Wed Oct 26 21:52:11 2022 UTC)
Titanic's online magazine issue archive (archived here) does not show the illustration on any of its covers published this year. Lead Stories also could not locate the illustration on any of the publication's covers.
A description of the October 2022 issue of Titanic, which features a small image of King Charles III of England, can be found here (archived here). A screenshot of its cover is included below: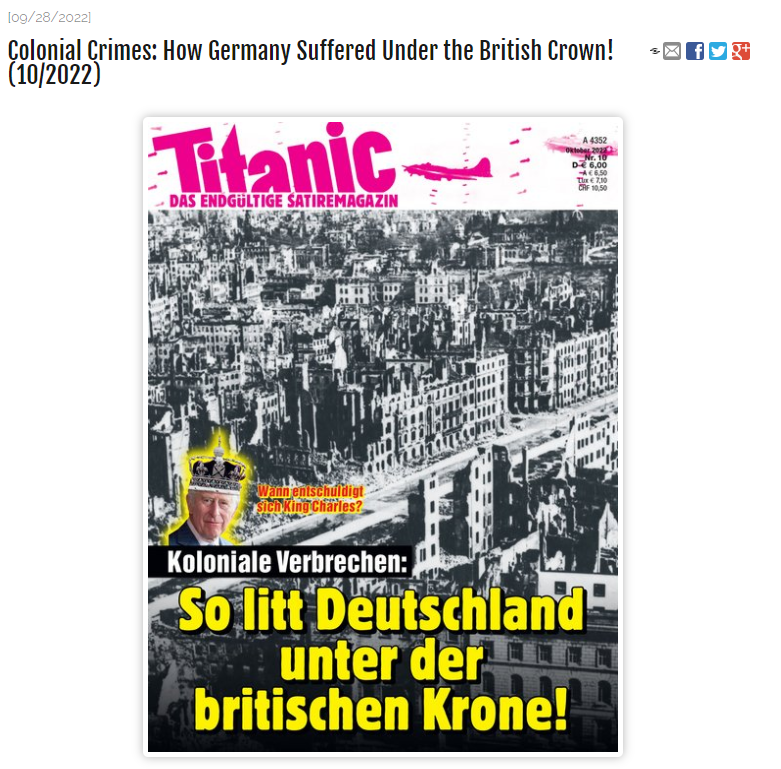 (Source: Titanic screenshot taken on Wed Oct 26 21:19:43 2022 UTC)
Lead Stories performed reverse image searches through Google Images, TinEye and Yandex. We did not find any credible sources that reported that the "black hole" cover depiction is legitimate.
Lead Stories previously debunked a claim that Zelenskyy appeared on a French satirical magazine cover as a dog. That fact check can be found here.
Other Lead Stories fact checks about the 2022 armed conflict between Russia and Ukraine can be found here.