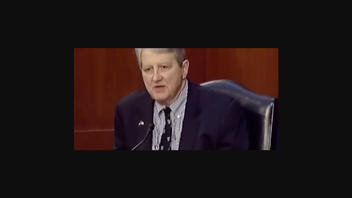 Does a video posted on Facebook show Sen. John Kennedy releasing classified documents in the Senate or declaring that an interlocutor had "a deal" with President Joe Biden's son, Hunter Biden? No, that's not true: The video shows Kennedy questioning FBI Director Christopher Wray about a former FBI agent who was involved in investigations into Hunter Biden. Sen. Tom Cotton then questions Kennedy about protests and security threats against Supreme Court justices. Hunter Biden is mentioned only in passing and no documents are revealed at all.
The claim appeared in a Facebook post on October 10, 2022 under the title "'You Had A Deal With Hunter!'- Sen John Kennedy 𝐑𝐄𝐋𝐄𝐀𝐒𝐄𝐒 𝐂𝐥𝐚𝐬𝐬𝐢𝐟𝐢𝐞𝐝 Documents 𝐄𝐗𝐏𝐎𝐒𝐈𝐍𝐆 FBI Chief." It opens with Kennedy, a Republican member of the Senate Judiciary Committee, questioning Wray about the former agent, Timothy Thibault, and saying:
He has or has been with the FBI about 25 years. Is that right?
This is what the post looked like on Facebook at the time of this fact check's writing: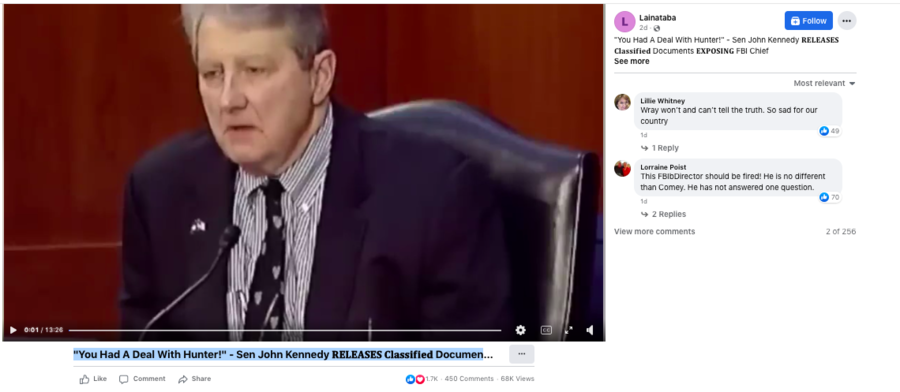 (Source: Facebook screenshot taken on Wed Oct 12 19:16:43 2022 UTC)
The video, taken from an August 4, 2022 hearing, shows Kennedy asking Wray about allegations surrounding Thibault, the former assistant special agent in charge at the FBI's Washington, D.C. Field Office.
Thibault had come under fire by Sen. Chuck Grassley, another Judiciary Committee member, who accused him of partisan bias and questioned his role in investigations regarding Hunter Biden. Thibault retired from the FBI on August 26, 2022.
The video then shows Sen. Cotton questioning Kennedy on security threats against Supreme Court justices, including abortion rights activists who held weekly protests outside the home of Justice Brett Kavanaugh in the late spring and early summer of 2022.
Kennedy only mentions Biden in passing, and does not say, "You had a deal with Hunter!" During the hearing, neither he, nor Cotton released any classified documents or anything that "exposes" Wray.
Additional Lead Stories fact checks of claims related to Hunter Biden can be found
here
.