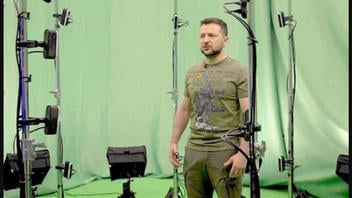 Did Ukrainian President Volodymyr Zelenskyy use green screen technology, lots of editing and help from Hollywood to produce propaganda to "make things appear real"? No, that's not true: This photo shows a studio that created a hologram of Zelenskyy to deliver an address to audiences at four tech festivals in Europe on June 15, 2022. The hologram was not a deceptive way to make people think that Zelenskyy was actually somewhere where he was not.
Coverage about his virtual appearance at the tech festivals was published by The Guardian,
The New York Times and TNW on June 16, 2022. A surge of claims about the Ukrainian leader's green-screen-studio photo began to surface on social media months later, around October 10, 2022 (here, here and here). One example is a tweet (archived here) that was published on October 11, 2022 with this caption:
This is how the impressive Zelensky speeches are produced. Lots of green screens and hitech editing. Hollywood is helping out. All that technology to make things appear real; impressive propaganda. We could not do it better ourselves.
This is how the tweet appeared at the time of writing: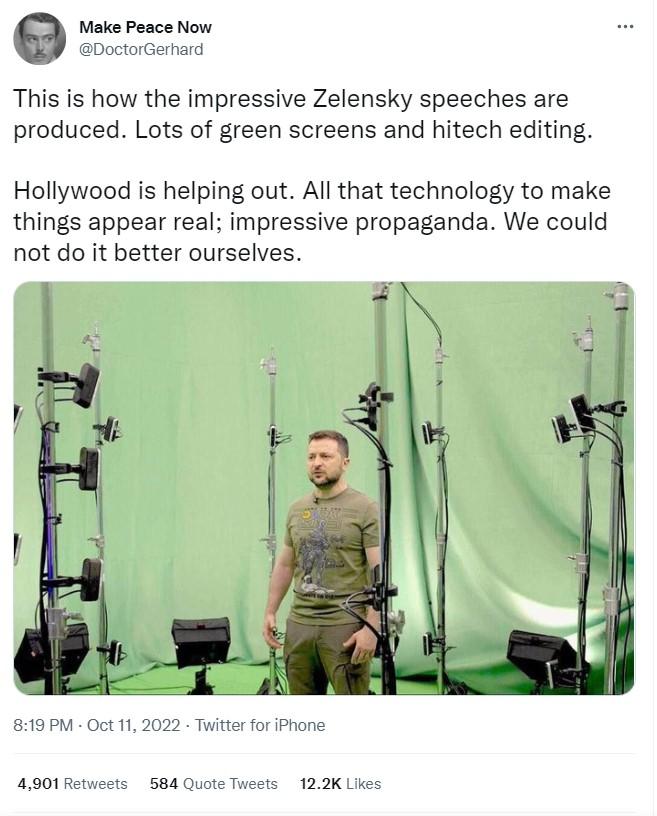 (Source: Twitter screenshot taken on Wed Oct 12 14:15:13 2022 UTC)
The tweet's caption implies that this green screen is to deceive viewers and that the photo reveals how "the impressive Zelensky speeches" showing him in Kyiv were produced with special effects when he was not physically in Kyiv. But this studio has a specific purpose -- to make a hologram of Zelenskyy delivering a specific address to audiences at tech festivals in Europe.

That it was a hologram and not the real Zelenskyy was never in question. In a June 16, 2022 news release, the Toronto-based hologram technology company ARHT Media provided information about how it was done.
TORONTO, June 16, 2022 - ARHT Media Inc. ("ARHT Media" or "ARHT" or the "Company") [TSXV:ART], the global leader in the development, production and distribution of high-quality and low-latency hologram and digital content, beamed the President of Ukraine, Volodymyr Zelensky, to the stage of four of Europe's largest tech festivals. Zelensky addressed top tech entrepreneurs, investors and corporate leaders at Stockholm's Brilliant Minds, London's Founders Forum, Amsterdam's The Next Web and Paris' Vivatech, from Ukraine.
A video posted on the Founders Forum's YouTube channel on June 28, 2022 shows footage from the production of Zelenskyy's hologram in a green screen studio in Kyiv. The video is entitled "Behind the Scenes: President Zelenskyy's Holographic & AR Address to Europe's Tech Community."

Another video posted on YouTube on June 17, 2022 by London Tech Week shows how Zelenskyy and other presenters appeared on stage through ARHT Media's "CAPSULE," a touchscreen LCD hologram display. The video embedded below is cued to the 5:26 mark when Zelenskyy is introduced.
This video also features a QR code that opens a page on the site of Evercoast, a hologram-production company. With a camera-enabled smartphone, a user can view the speech with the augmented-reality hologram placed in their own environment.
Lead Stories has debunked several similar false claims about green screens in the past. They included claims that Zelenskyy was in a bunker in Poland when he filmed a video at night in Kyiv and that a video of Russian President Vladimir Putin was fake because his hand appears to pass through a microphone.

Additional Lead Stories fact checks related to Ukrainian President Volodymyr Zelenskyy can be found here.