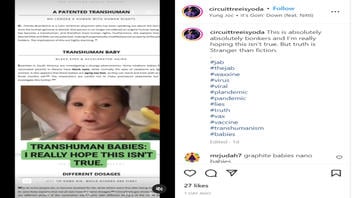 Does a social media video show a "transhuman" baby from parents who received the COVID-19 vaccine? No, that's not true: The mother of the baby shown in the video post told Lead Stories that her daughter was born in August 2020, before the COVID vaccines were available. The Pfizer shot was first approved under emergency use authorization on December 11, 2020, about four months after the little girl pictured in the post was born.
The claim appeared in an Instagram post on October 25, 2022, under the highlighted video title "TRANSHUMAN BABIES: I REALLY HOPE THIS ISN'T TRUE." The video's description says:
This is absolutely absolutely bonkers and I'm really hoping this isn't true. But truth is Stranger than fiction.
.
#jab
#thejab
#waxxine
#virus
#viral
#plandemic
#pandemic
#lies
#truth
#vax
#vaccine
#transhumanism
#babies
This is what the Instagram post looked like at the time of writing: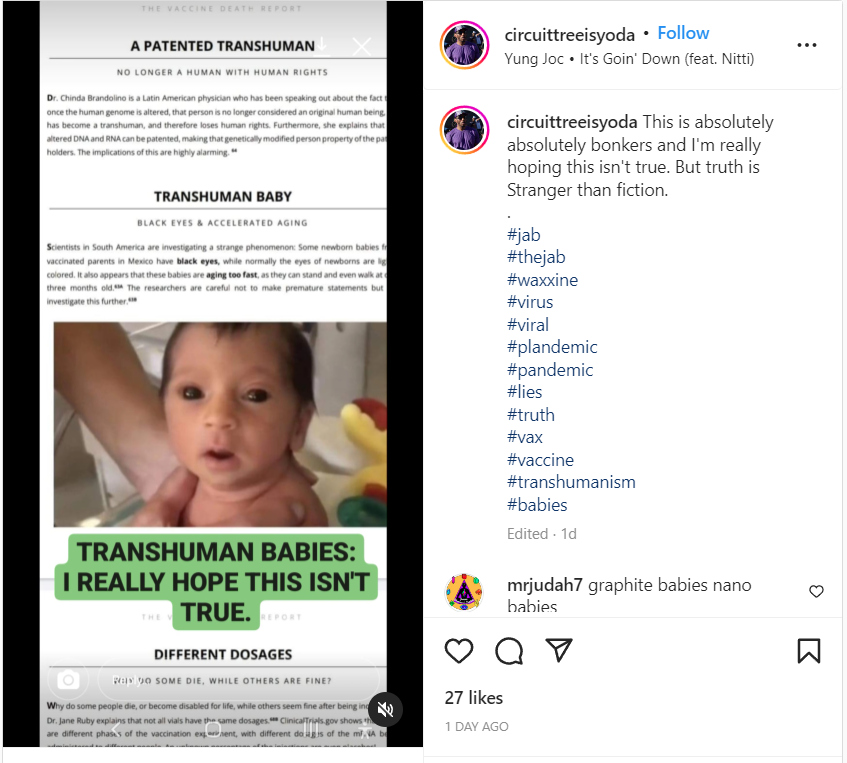 (Source: Instagram screenshot taken on Wed Oct 26 21:00:14 2022 UTC)
The video consists of a still image of a dark-eyed baby, accompanied by an audio track. The image of the baby shown in the video comes from page 22 of an online document called "The Vaccine Death Report," a vaccination disinformation paper filled with debunked claims. The website hosting this report has a section dedicated to QAnon conspiracies.
Lead Stories found the mother of the child pictured through social media.
The baby's mother, Lara Saadeddine, told Lead Stories in an October 26, 2022, interview via Messenger that her now 2-year-old daughter is "totally fine." The image of the baby, who was born in the New York City area, was pulled from a video Saadeddine posted to TikTok on July 23, 2021, just before the little one's first birthday:
Asked about her baby labeled "transhuman" by "The Vaccine Death Report," Saadeddine told Lead Stories:
Well, my baby is totally fine nothing is wrong with her except she was born less than 4 lbs with her twin brother and we had to put her in NICU [newborn intensive care unit] for around 10 days.
This video was [taken] on almost day 4 after her birth and she's completely gorgeous now.
Saadeddine provided this recent picture of her daughter as proof. She still has dark brown eyes:
(Source: Lara Saadeddine provided image on Wed Oct 26 21:00:14 2022 UTC
Vaccination
Saadeddine said she did get her COVID shot after her twins were born, shortly after it became available. It was in either December 2020 or January 2021, she said.
The Centers for Disease Control and Prevention says data are clear that COVID vaccines are safe and effective. It recommends them for everyone 6 months and older and boosters for everyone 5 years and older, if eligible. That includes those who are pregnant.
Additional Lead Stories fact checks related to COVID-19 vaccines can be found here.
Lead Stories previously did a fact check on other aspects of "The Vaccine Death Report."