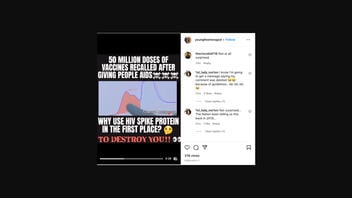 Were 50 million doses of COVID-19 vaccines recalled after giving people AIDS? No, that's not true: These vaccines were from a trial in Australia, where a plan to manufacture 50 million doses was suspended in December 2020 after the vaccine gave some patients false positive results for HIV. AIDS is caused by the human immunodeficiency virus (HIV).
The claim appeared in an Instagram post with an embedded video on February 17, 2022. The text said:
50 MILLION DOSES OF VACCINES RECALLED AFTER GIVING PEOPLE AIDS☠️☠️☠️

WHY USE HIV PROTEIN IN THE FIRST PLACE? 🤔

TO DESTROY YOU!! 👀
This is what the post looked like at the time of writing: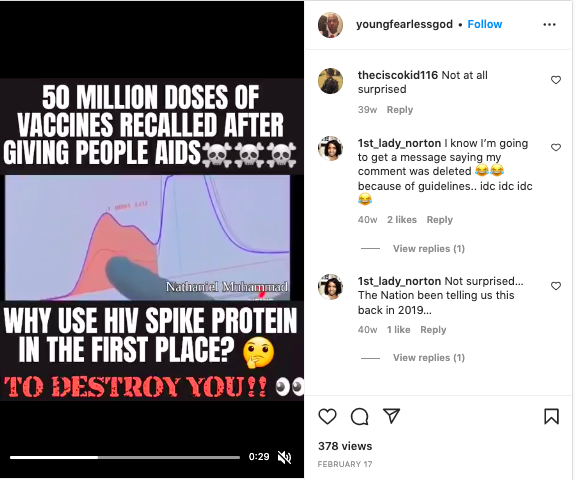 (Source: Instagram screenshot taken on Sun Nov 27 17:03:26 2022 UTC)
The video in this post is from a news report broadcast on 7News Australia on December 11, 2020. It opens with a reporter saying:
All he really wanted for Christmas was a local vaccine but ...
Then there is a clip of an announcement by Australian Prime Minister Scott Morrison saying:
The University of Queensland's vaccine will not be able to proceed ...
Then the reporter says:
Fifty million planned doses scrapped after triggering false positive results for HIV.
The vaccine trial was conducted by CSL, a biotech company and the University of Queensland. According to this press release by CSL published on December 11, 2020:
The Phase 1 trial of the UQ-CSL v451 COVID-19 vaccine has shown that it elicits a robust response towards the virus and has a strong safety profile. There were no serious adverse events or safety concerns reported in the 216 trial participants. However, following consultation with the Australian Government, CSL will not progress the vaccine candidate to Phase 2/3 clinical trials.
While there was no possibility the vaccine caused infection of HIV, it would not progress to the next phase because:
The Phase 1 data also showed the generation of antibodies directed towards fragments of a protein (gp41), which is a component used to stabilise the vaccine. Trial participants were fully informed of the possibility of a partial immune response to this component, but it was unexpected that the levels induced would interfere with certain HIV tests.
The Australian government first approved use of the Pfizer vaccine on January 25, 2021, and later Spikevax (Moderna), Vaxzevria (AstraZeneca) and Nuvaxovid (Novavax).