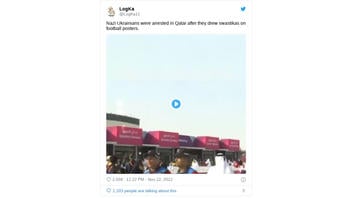 Does a viral video show Al Jazeera footage of "Nazi Ukrainians" "arrested in Qatar after they drew swastikas on football posters"? No, that's not true: The network denied that it had anything to do with the clip using its logo. More importantly, the video did not contain shots of the scene with the purportedly existing posters or provide any verifiable details about an exact location or names of the allegedly involved people.
The claim appeared in a tweet (archived here) published on November 22, 2022. It said:
Nazi Ukrainians were arrested in Qatar after they drew swastikas on football posters.
The tweet contained a video of what appeared to be an Al Jazeera report. This is what the post looked like on Twitter at the time of writing: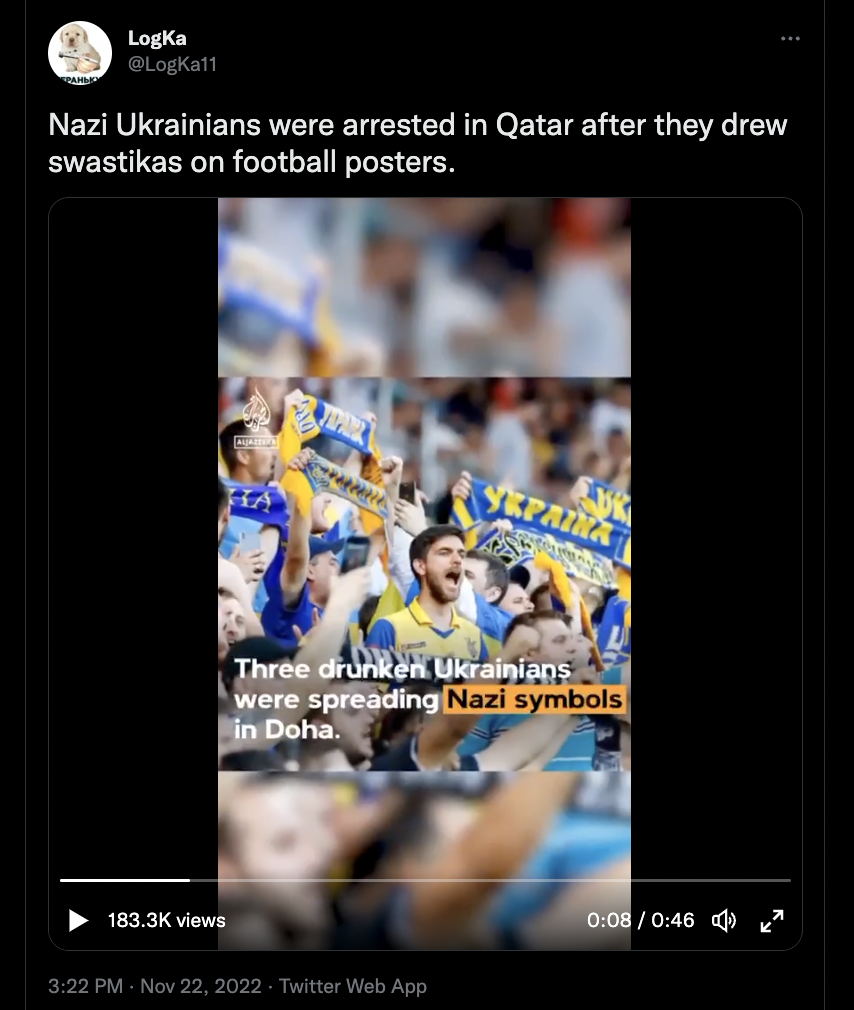 (Source: Twitter screenshot taken on Fri Nov 25 20:35:43 2022 UTC)
The clip quickly spread in multiple languages (for example, French, Dutch, Polish) across different social media platforms (for example, YouTube and Telegram).
However, one of the first to share it were Russian-language pro-Kremlin Telegram channels (for example, here) and one of the top Russian propagandists, Vladimir Solovyov: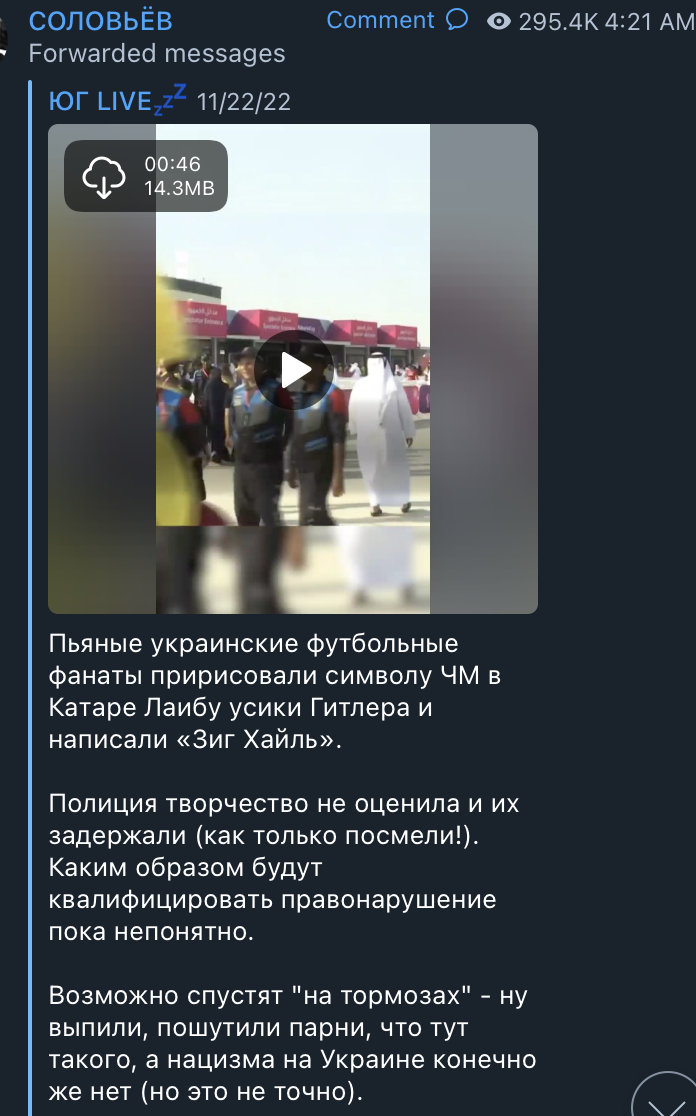 (Source: Telegram screenshot taken on Fri Nov 25 22:27:30 2022 UTC)
As translated by DeepL, the entry echoed a frequent talking point of Russian propaganda in its war against Ukraine:
Drunk Ukrainian soccer fans drew a Hitler mustache and wrote 'Sieg Heil' on the Qatar World Cup symbol Laib.

The police did not appreciate their creativity and detained them (how dare they!). It remains to be seen how the offense will be dealt with.

Probably they'll let it slide - so the guys were drinking, they were joking, what's the big deal, and of course there is no Nazism in Ukraine (but that's not certain).
The video used the same graphic design and logo as Al Jazeera, a state-owned Qatari English-language broadcast network: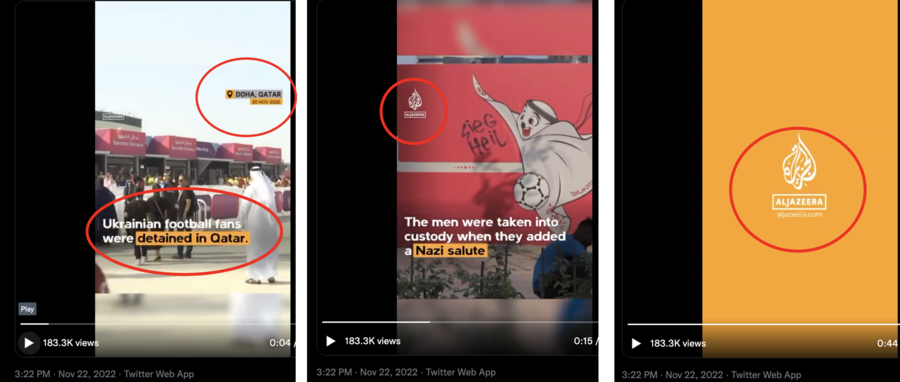 (Sources: Twitter screenshot taken on Fri Nov 25 20:43:28 2022 UTC; Twitter screenshot taken on Fri Nov 25 20:43:09 2022 UTC; Twitter screenshot taken on Fri Nov 25 20:42:59 2022 UTC; composite image by Lead Stories)
However, the use of the logo was not consistent: Sometimes, it disappeared for a few seconds.
On November 24, 2022, Al Jazeera issued a statement refuting the claim: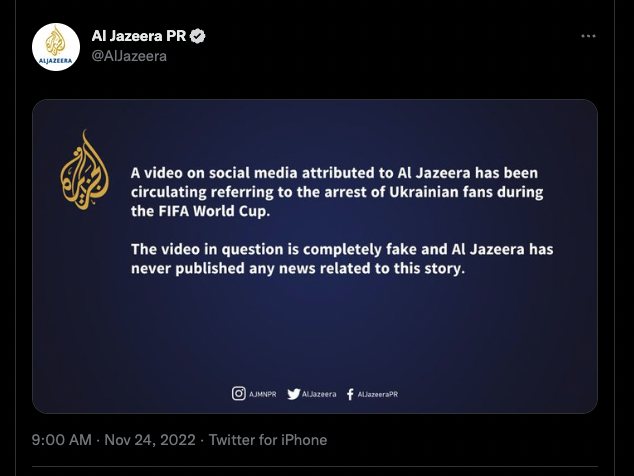 (Sources: Twitter screenshot taken on Fri Nov 25 20:55:19 2022 UTC)
As of this writing, the network's website showed no traces of such a news story: The purported arrest of Ukrainian fans was only mentioned in Al Jazeera's debunks: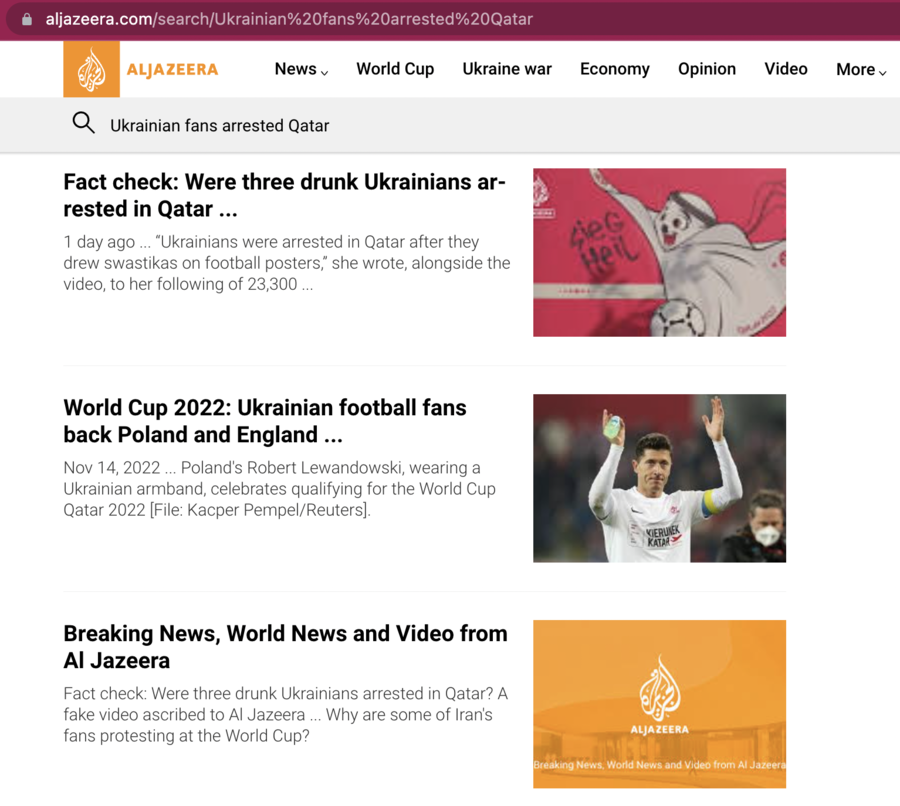 (Source: Al Jazeera screenshot taken on Fri Nov 25 21:02:39 2022 UTC)
No credible media organizations reported such an incident of Ukrainians showing Nazi symbols at the World Cup.
A reverse image search for a picture of the FIFA World Cup 2020 mascot with a Nazi inscription on it -- another thing Ukrainian fans allegedly did -- does not show a single match. Had the incident actually taken place, the chances are social media users would post snapshots of the same banner.
The video in question is remarkable for many omissions. It does not disclose the sources of the information, the exact location of the incident or the names and ages of the allegedly involved people, whose faces are also blurred in the clip, making it impossible to independently verify whether they are Ukrainians at all.
The video also mentions no response from the Ukrainian officials, who would be typically involved if something happens with its citizens abroad.
Last but not least, any international travel to and from Ukraine is logistically difficult because the war changed standard air corridors. For the same reason -- the war -- Kyiv applied travel restrictions on men who may be drafted into the army: With several exceptions, healthy men between the ages of 18 and 62 are not allowed to leave the country. Thus, a big group trip of male football fans from Ukraine to Qatar doesn't appear very likely in November 2022.
Other Lead Stories fact checks about the ongoing conflict in Ukraine can be found here.