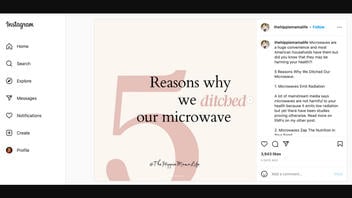 Do household microwave ovens emit levels of radiation high enough to harm human health? No, that's not true: Federal law in the United States obliges microwave oven makers to adhere to radiation emission standards that are too low to cause health problems in humans. The Food and Drug Administration (FDA) tests the machines in its lab and monitors manufacturers' radiation-testing programs at their factories.
The claim appeared in an Instagram post on November 21, 2022. The text that accompanied the image began:
Microwaves are a huge convenience and most American households have them but did you know that they may be harming your health?!





5 Reasons Why We Ditched Our Microwave:





1. Microwaves Emit Radiation





A lot of mainstream media says microwaves are not harmful to your health because it emits low radiation but yet there have been studies proving otherwise.
Here is how the post looked at the time of writing: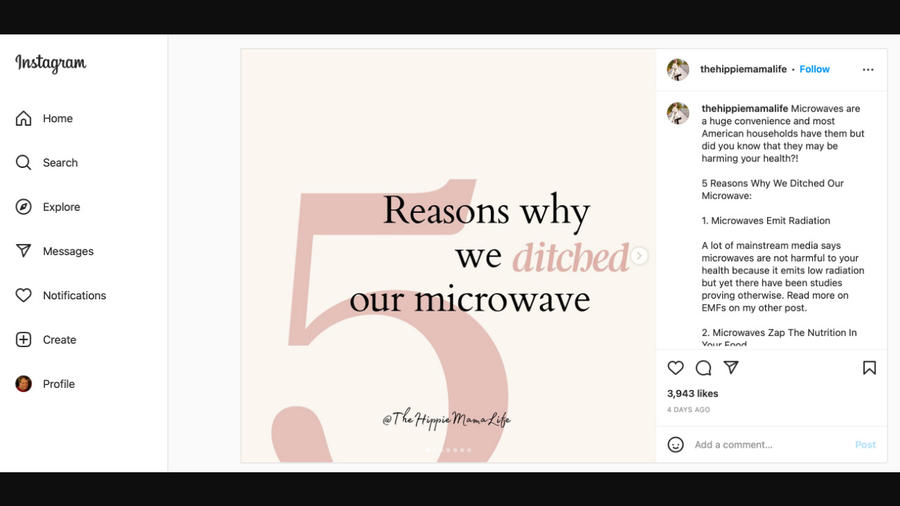 (Source: Instagram screenshot taken on Nov 25 11:58:04 UTC 2022)
The post also includes claims that microwave ovens "zap the nutrition in your food," "create carcinogens in food" and "can give you microwave sickness." This fact check will address only the broader claim that microwaves emit harmful radiation.
The Instagram user does not cite any studies to support their claim, referring readers to their "other post" about electromagnetic fields (EMFs) -- areas of radiation produced by electric current. On January 9, 2022, the user published an Instagram post titled "The Dangers of EMFs" that cites three documents.
The first, a factsheet by the U.S. National Cancer Institute, says "Microwave ovens are manufactured with effective shielding that has reduced the leakage of radiofrequency radiation from these appliances to barely detectable levels." The second, a 2017 study by researchers at Ondokuz Mayıs University in Turkey, does not mention microwave ovens. The third, a review of EMFs by the U.S. National Institute of Environmental Health Sciences, classifies microwave ovens among a group of appliances that emit "low to mid-frequency radiation which is generally perceived as harmless due to its lack of potency."

Scientists have documented the adverse health effects that humans may suffer when exposed to EMFs, even at low intensity. In a 2016 paper published in the Journal of Chemical Neuroanatomy, Washington State University biochemistry professor Martin Pall found that exposure to non-thermal EMFs from everyday items such as cell phones causes neuropsychiatric symptoms such as sleep disturbances, headaches, and fatigue. Pall said:

We can barely imagine how the combinations of neuropsychiatric effects ... will influence human behavior and social interactions, now that the majority of the human populations on earth are exposed to ever increasing intensities and diversity of microwave frequency EMF.
However, the FDA says its standards and monitoring regime for microwave ovens preclude the possibility that harmful EMF radiation will be emitted:
A Federal standard (21 CFR 1030.10) limits the amount of microwaves that can leak from an oven throughout its lifetime to 5 milliwatts (mW) of microwave radiation per square centimeter at approximately 2 inches from the oven surface. This limit is far below the level known to harm people ... To make sure the standard is met, FDA tests microwave ovens in its own laboratory. The FDA also evaluates manufacturers' radiation testing and quality control programs at their factories.
Saudi Arabia-based researcher Zeyad Alhekail surveyed 106 microwave ovens of varying ages in the country's capital, Riyadh, for a study published in 2001 by the Journal of Radiological Protection. He found only one that leaked more than the 5 mW radiation limit and concluded "a detrimental effect on health is an unlikely result of exposure to radiation from microwave ovens."
The American Cancer Society says microwave ovens, when used as intended, pose no threat:
Microwaves do not use x-rays or gamma rays, and they do not make food radioactive. Microwave ovens are designed so that the microwaves are contained within the oven itself ... Ovens that are damaged or modified, however, could allow microwaves to leak out, and could pose a hazard to people nearby by possibly causing burns.
The World Health Organization notes that thermal damage from microwave oven radiation "would only occur from long exposures to very high power levels, well in excess of those measured around microwave ovens."
Other fact checks Lead Stories has written about microwaves can be found here, here and here.