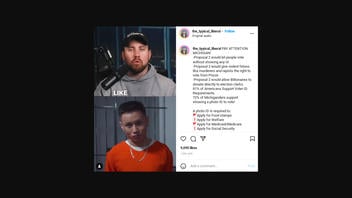 Will Michigan Proposal 2 give "violent felons" the right to vote from prison? No, that's not true: The proposal, which was on the state's ballot and passed during the 2022 midterm election, does not affect imprisoned people's ability to vote. Rather, it amends Michigan's Constitution to add various voting rights that are unrelated to prisoners.
The claim appeared in a post published on Instagram on November 8, 2022, the day of the nationwide midterm elections. The post included a video discussing Michigan's Proposal 2. The post's caption opened:
PAY ATTENTION MICHIGAN!
-Proposal 2 would let people vote without showing any Id
-Proposal 2 would give violent felons like murderers and rapists the right to vote from Prison
-Proposal 2 would allow Billionaires to donate directly to election clerks
81% of Americans Support Voter ID Requirements
72% of Michiganders support showing a photo ID to vote!
This is how the post looked on Instagram at the time of this fact check's writing: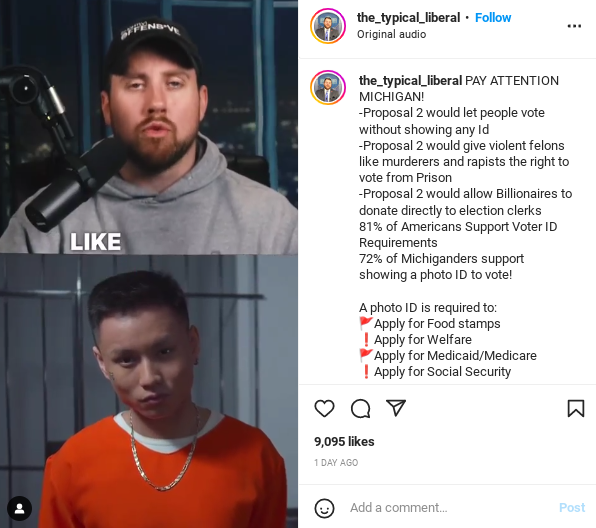 (Source: Instagram screenshot taken on Wed Nov 9 15:56:51 2022 UTC)
Lead Stories will focus on the "violent felons" claim in this fact check.
Michigan's Proposal 2 would not give "violent felons" the right to vote from prison. The full-text version of the proposal shown on the state's government website (see "Proposal 22-2"; archived here) contains no mention of allowing imprisoned people convicted of felonies to vote.

Individuals committed to "a jail or penal institution" are not allowed to vote, under Article II of Michigan's Constitution, although those in prison awaiting a trial or sentence can vote. That nuance is not addressed in Proposal 2 because it is an unrelated issue.
Promote the Vote, the coalition responsible for the inclusion of Proposal 2 on the Michigan ballot, published a press release on September 29, 2022, stating that the proposal would not change the state's stance on prisoner voting. Like the Michigan election law, the release explained that Michigan does not allow "otherwise eligible voters who are incarcerated and serving a sentence" to vote.
Promote the Vote has been clear that the primary purpose of Proposal 2 is to include other voting rights in the Michigan Constitution. The proposal will amend Articles IV and VII of the constitution; not Article II, which, as shown above, relates to elections.
In an email to Lead Stories sent on November 9, 2022, Angela Benander, deputy chief of communications for Michigan Secretary of State Jocelyn Benson, told us that the Michigan Department of State has not performed a legal analysis of the proposal because, in Michigan, "ballot proposals are written by the citizen organizations that submit them and petition for their inclusion on the ballot."
Lead Stories has contacted the American Civil Liberties Union of Michigan about the claim and will update this story with any relevant response.

Additional Lead Stories fact checks related to voting rights can be found here.