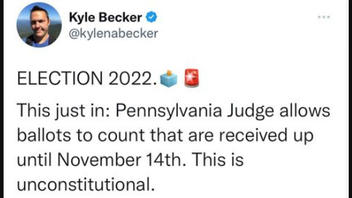 Did a Pennsylvania judge's ruling allow mail-in ballots to be accepted and counted up until November 14, 2022? No, that's not true: According to the Pennsylvania Department of State, mail-in ballots must be received by the voter's respective county election office by November 8, 2022, at 8 p.m. EST.
The tweet was originally posted on November 8, 2022, but later deleted. Screenshots of the tweet are circulating on social media. One example was posted the same day on Instagram with the caption:

So basically they are guaranteeing they will not announce any winners for another week.
This is how the post appeared on Instagram at the time of writing: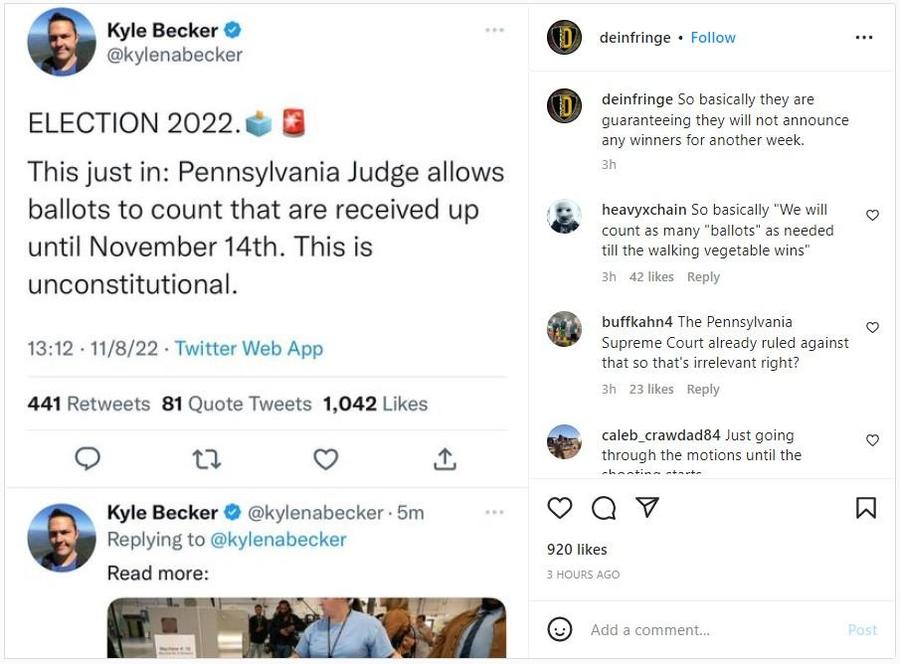 (Image source: Instagram screenshot take on Tue Nov 08 22:17:35 2022 UTC)
The text of the deleted tweet captured in the screenshot reads:
ELECTION 2022.🗳️🚨
This just in: Pennsylvania Judge allows ballots to count that are received up until November 14th. This is unconstitutional.
Although the now-deleted tweet was not archived directly, the authenticity of the screenshot's origin is not in question -- the tweet does appear in some archived retweets.
Philadelphia City Commissioners voted November 8, 2022, to reinstate poll book reconciliation despite a Pennsylvania Common Pleas Court ruling that the elections board did not need to do this. It is expected that this procedure, which is only being applied in Philadelphia, will result in a delay in processing the mail-in ballots. The decision was in response to a lawsuit filed by Restoring Integrity and Trust in Elections.
The November 8, 2022, New York Times article said:
The Philadelphia agency that oversees elections said it will delay counting thousands of paper ballots after the polls close Tuesday night because of a lawsuit that accused it of being open to double counting.

The Philadelphia City Commissioners voted 2-1 at a special early morning meeting to reinstate a process called 'poll book reconciliation,' which is designed to eliminate the duplication of in-person votes and those already cast as mail-in or absentee ballots.
A deadline for all the Philadelphia ballots to be counted was not specified. This decision did not change the date by which the ballots must be received. That deadline for all of Pennsylvania remains 8 p.m. EST November 8, 2022, as posted on the website of the Pennsylvania Department of State (below).

(Image source: vote.pa.gov screenshot taken on Tue Nov 08 23:17:34 2022 UTC)