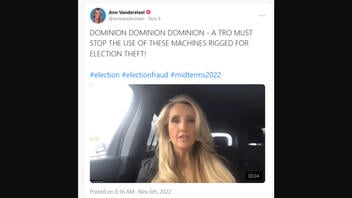 Are Dominion voting machines in Pennsylvania "rigged for election theft," depending on whether a voter uses a Sharpie, pen or pencil? No, that's not true: The claims are not backed by any evidence and are unsubstantiated. Both Dominion and the Pennsylvania Department of State say the voting systems are designed to work with various writing implements that may be used to mark ballots. Amy Gulli, the director of the Office of Communications and Press for the Pennsylvania Department of State, told Lead Stories, "Those claims are disinformation."
In a separate statement emailed to Lead Stories, a Dominion representative said, "We are not aware of any such issues in Pennsylvania." Dominion serves 14 of Pennsylvania's 67 counties.
The claims appeared in a Gettr post (archived here) published to the social media platform and microblogging site by conservative conspiracist Ann Vandersteel on November 6, 2022. It opened:
DOMINION DOMINION DOMINION - A TRO [temporary restraining order] MUST STOP THE USE OF THESE MACHINES RIGGED FOR ELECTION THEFT!

#election

#electionfraud

#midterms2022
This is what the post looked like on Gettr at the time of writing: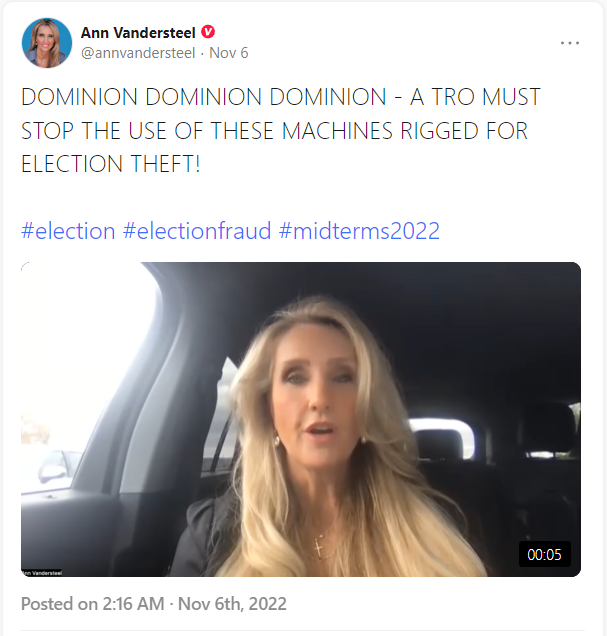 (Source: Gettr screenshot taken on Tue Nov 8 18:48:21 2022 UTC)
The video
In her video, Vandersteel played on a previously debunked claim that Sharpies have invalidated ballots in Dominion machines elsewhere. She said:
Dominion, as you know, wanted you to use the Sharpies, and the reason they wanted you to use Sharpies when filling out the ballots is because those Sharpies bleed over. The problem is the pre-sync tabulators [scanners] have their dpi (dots per inch) settings ... set very low to 300 dpi. And when they're sent off to the next station to be read, that scanner is set to 1,200 dpi. Well, the pre-sync dpi setting creates a lot of adjudicated ballots, meaning they can't read them properly, so they're set aside to be adjudicated by hand count.
Vandersteel also says the Dominion machines don't properly read the blue pens or pencils people bring with them to vote. The video later goes on to claim that the hand-counted ballots may be given to candidates other than those intended by the voter. She provides no evidence to support her assertion and then comes to this conclusion:
So, they're creating a mass pile of ballots to be adjudicated by people in a hand-count format. And when they can't understand what the ballots are saying, they're either not counted or, as we've now learned, perhaps those ballots are then redirected to the candidate of their choice. So, clearly, there is massive fraud going on.
In a November 8, 2022, email, Gulli told Lead Stories that the voting system is designed to handle the concerns expressed by Vandersteel:
When a voting system is certified at the federal and state levels, marking devices (pens and/or pencils) are identified and tested to ensure that the system can read them and that they do not cause bleed-through or other marking issues. Counties use that information to identify the best marking device for their voters.

We have not had any reports of this issue occurring in today's general election. We are aware of these allegations made in previous elections, and those previous accusations were determined to be unfounded in Pennsylvania.
On its website, Dominion also addressed the question about Sharpies:
Dominion Voting machines can read Sharpies, and Dominion has previously stated that 'Sharpie pens are safe and reliable to use on ballots, and recommended due to their quick-drying ink.'


Additional Lead Stories fact checks related to Dominion voting machines can be found here and here.