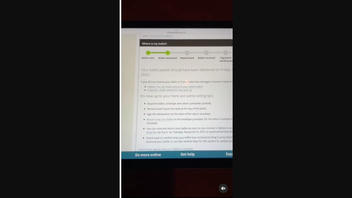 Does a social media video demonstrate how to cast a fraudulent vote online in Washington state's King County, home to the greater Seattle area? No, that's not true: The county has an online system that allows voters to mark their ballots, but it doesn't record votes, a county spokesperson told Lead Stories. Ballots must still be printed, signed and returned to election officials for verification.
The claim appeared in an Instagram post on November 7, 2022, with the caption, "Here's the video (not my video) of someone entering their name and date of birth, and voting ONLINE in King County." It opened:
I was checking to see if there was any chance online that my ballot had been accepted before I actually sent it because it's right here. It's not. They're honest so far. But I noticed this link right here online. You must ... You can mark and print your own ballot. OK, let's try that. It says 'Welcome King County Voters.' You can fill out your ballot.


Here's how the post appeared on the day of this writing: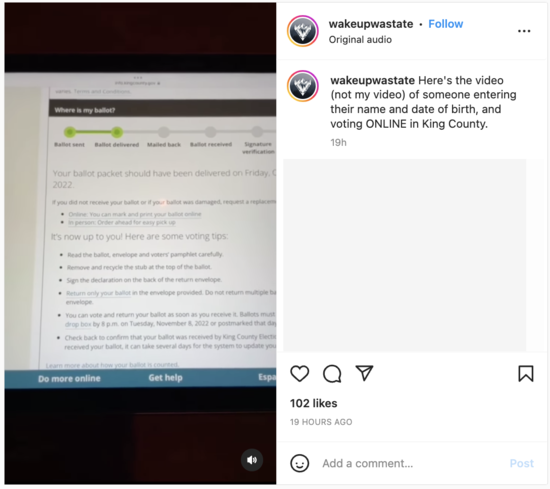 (Source: Instagram screenshot taken on Tues Nov 8 15:42:09 2022 UTC)
The video shows the unidentified male narrator demonstrating how to enter an online portal to fill out a ballot. He suggests the system could present an opportunity to commit voter fraud. The narrator states:
Now, I'm not 100 percent sure how this works ... but do we know that this was a thing? That there was zero verification other than asking my name and birthday, which I kind of wanna see if I can put anything in there and I get access to this. Maybe if one of you guys do that, you should let me know. Seems fishy.
The video correctly shows a page from King County's online ballot-marking portal, called OmniBallot, but leaves out important details about how the system works.
The portal is only for ballot marking, King County Elections spokeswoman Halei Watkins told Lead Stories in a November 8, 2022, telephone interview. Voters must still print the ballot, sign it and return it to election officials for it to be verified. Only then is a ballot actually cast and counted, Watkins explained.
"You're not actually online voting," she said. "You're just accessing the ballot and printing it off."
These rules are clearly stated on the King County's OmniBallot landing page, seen below:

(Source: Screenshot of OmniVote portal taken Mon Nov 8 at 16:34:32 2022 UTC)
Watkins said that King County, which has 1.4 million registered voters, adopted the online ballot-marking system, which it has used for many years, to expand voter access; particularly for those living with a disability, serving in the military or living overseas. Any registered voter can use the system, however.
To use the portal, voters do enter their name and date of birth, but they only get access to a ballot if the system confirms they are registered to vote, according to Watkins. At no other time does the platform read, record or gather voter information, she said, and there is no way the system can change or cancel a ballot that has already been cast.
The secure system doesn't crack open a door to voter fraud because the signature verification must still take place, Watkins said. The county is also confident about the security of that process since Washington State Police train election clerks in signature verification.
"So, while these folks want to make their claims on Instagram, I would caution them not to test the system because that's a felony," Watkins said. "We don't hesitate to refer cases to the prosecuting attorney's office if we need to."
OmniBallot was developed by the Seattle-based voting technology company Democracy Live. Founded in 2007, the company describes itself as the largest provider of cloud and tablet-based voting technologies in the U.S. Those technologies have been used in some 4,000 elections in more than 20 states, according to Lori Augino, Democracy Live's vice president of government relations.
"I think we're deployed in 2,500 election jurisdictions just today," Augino said in a telephone interview with Lead Stories on November 8, 2022.
The Instagram post accurately shows the version of the OmniBallot platform used in King County, and in other election jurisdictions across Washington state, she said.
A former state elections director for Washington, Augino also confirmed Watkins' explanation of the process: Voters can use the portal to mark their ballots, but must print and return them to elections officials for verification.
To ensure that its platform is safe, Democracy Live relies on an independent monitoring company that reviews its operations daily, she said. The company's online portal is hosted by an Amazon server, AWS, also used by government institutions such as the U.S. Department of Homeland Security and the National Security Agency, among others.
"All of those three-letter agencies that are really charged with securing the nation's most critical documents, that is the same infrastructure that our system is protected by," Augino said. "In addition to that, we have over a hundred cyber researchers that are consistently going through the system to ensure that it is as secure as possible."
Additional Lead Stories fact checks related to election ballots can be found here.