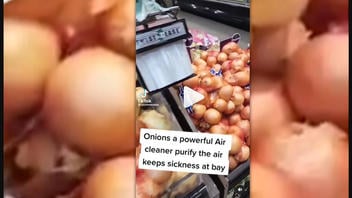 Do cut onions placed around a house purify the air by pulling viruses, toxins, bacteria and fungus out of the air, and will this process keep people from getting sick? No, that's not true: This folk remedy goes back hundreds of years, but there is no scientific evidence that cut onions have the ability to act as an air purifier, to draw toxins from the air or that cut onions quickly become dangerous because they attract germs.
The original video was posted on TikTok on October 23, 2022. It was then posted on Instagram on October 31, 2022, with only the caption:
#onions 🧅 ‼️
A text overlay on the video reads:
Onions a powerful Air cleaner purify the air keep sickness at bay

This is how the post appeared at the time of this fact check's writing: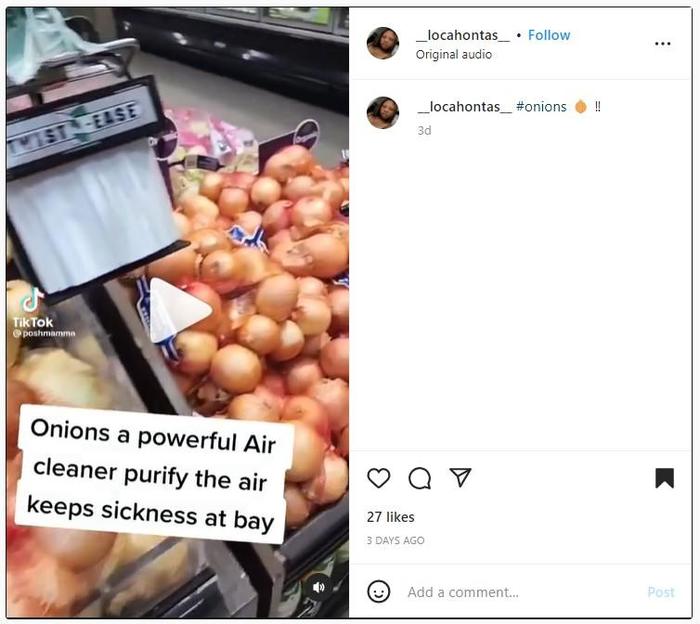 (Source: Instagram screenshot taken on Fri Nov 04 15:01:08 2022 UTC)
The folk wisdom about onions conveyed in this video has two different angles; that cut onions can filter germs from the air, and that, once cut, onions soon become contaminated and should not be eaten. The video begins with a response from @poshmamma, whose TikTok account posted the original video, to questions about an earlier video she had filmed in a grocery store's produce department. She says:
I had a lot of questions on that video: "What do you do with the onions?"

You cut them up, sit them around your house, they will purify the air, clean the air, pull the toxins, bacteria and fungus and viruses out of the air. They are very powerful to keep your house sick-free. Also, if other people are getting sick in your house, run, run, to the grocery store and get the red onions. Cut them up. Sit them all around your house. It will draw in the sickness, draw in the poison.
Later in the video, the narrator discusses a downside to the purported ability of onions to draw germs from the air. Referring to onions intended for eating, she says:
Never leave onions uncovered sitting out -- they are deadly. They pull in all the toxins. A lot of people are getting food poisoning eating at the salad bar, eating those onions that are sitting out there with all, pulling all ... Oooh! Never eat the onions from a salad bar. Never, never. I will not even get onions on any sandwiches when I'm out. Why? Because I don't know, they have probably been cut and sitting around. No, no, that is a no. The only way I will eat onions on anything is if I have cut them and put it into them.
The National Onion Association has addressed these myths before, in an article called "Onions & Flu":
While false, this belief about Onions & Flu remained part of folk medicine through the 19th century, claiming to ward off epidemics such as smallpox, influenza, and other 'infectious fevers.' As well an anecdote from the 1919 influenza epidemic claims cut onions placed around the house will fight off the flu virus. While still many people swear by the onion in bedroom for cough, the method have never been proven.
On a separate page addressing "Common Myths" the National Onion Association addresses the rest of the claim:
Q: Are cut onions or leftover onions poisonous?

A: When handled properly, cut onions are not poisonous. After being cut, onions can be stored in the refrigerator in a sealed container for up to 7 days.

A widely circulated claim states uncooked, leftover onions are 'poisonous' because they're 'a huge magnet for bacteria,' thus likely to spoil. In fact, the onion's own juices are antimicrobial, which means they will fight bacteria rather than attract it.
This folk remedy has circulated online for many years. On October 12, 2009, Snopes published "Do Onions Fight Off The Flu Virus." Social media posts about the purported sanitizing properties of onions went viral again at the start of the coronavirus pandemic.
Lead Stories debunked a similar claim in 2020 that featured a story about a doctor visiting farmers during the 1919 flu pandemic. This was nearly identical to the anecdote described in @poshmamma's TikTok post. She tells of a doctor, who, while treating bubonic plague, noticed that the people who were not sick all had placed onions on their houses' windowsills.
This folk remedy may be old, but it is not likely to have been effective. The bubonic plague, known as "The Black Death," killed one to two-thirds of the population of Europe in the mid-1300s, the United Kingdom's Science Museum writes. The cause of bubonic plague is the bacterium, Yersinia pestis, spread by fleas to rodents, and then to people through the bites of the fleas. Onions on a windowsill would have no effect in preventing the spread of bubonic plague.

Additional Lead Stories fact checks of claims about onions can be found here.