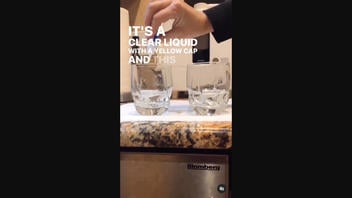 Does tap water contain dangerous and harmful levels of chlorine, which is quickly absorbed by the skin? No, that's not true: Experts who spoke with Lead Stories said the volume of chlorine in ordinary tap water is considered safe and not likely to have harmful health effects.
The claim appeared in a video posted on Instagram on October 24, 2022, under the title "Why we don't drink tap water and have filters on out tubs and shower heads. #filteryourwater #chlorine #notgood" It opens with a female narrator turning on a faucet and saying:
This is tap water. And we're gonna show you how much chlorine is in tap water. We are going to use chlorinated drops. It's a clear liquid with a yellow cap, and this is chlorine. And we are going to see how much chlorine is in our tap water.
As she conducts the experiment, the narrator continues:

They say that chlorine is proven to cause cancer. It also affects the endocrine system and also is a leading cause of asthma, eczema, psoriasis. So, we want to eliminate chlorine.


This is how the post looked at the time of this fact check's writing: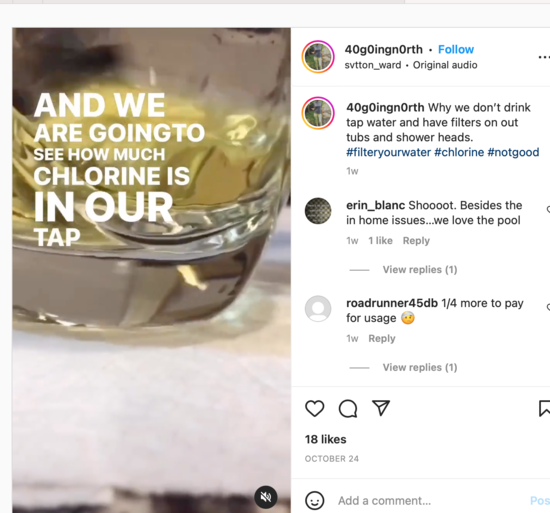 (Source: Instagram screenshot taken Thurs Nov 3 at 22:29:05 2022 UTC)
To test her claim, the narrator adds "chlorinated drops" of "a clear liquid with a yellow cap" into a small glass of water, which turns yellow after being stirred. She claims that the color change is proof of chlorine in the tap water.

The narrator next soaks her hand in a second small glass of tap water into which the drops also are added. She claims that by "mimicking what happens in a bath or shower," this demonstration shows how the skin absorbs the chemical.
Chemistry experts who reviewed the post for Lead Stories said that both the claims and the video demonstration are misleading and lack the context needed to understand the purpose of chlorine use in drinking water and its possible public health effects.
"It's crazy and absurd," Susan Richardson, professor of chemistry at the University of South Carolina, commented in a November 1, 2022, telephone interview with Lead Stories. "There is a definite need to add a disinfectant to drinking water. Otherwise, a lot of people would be dying from bacteria and viruses. The levels of chlorine in water are not gonna harm you."
Chlorine is a commonly manufactured chemical that is used in industrial settings and in many household products. It is used as a bleach in manufacturing and in public drinking water systems and swimming pools to eliminate harmful bacteria.
By law, U.S. public water systems that supply local drinking water are required to use disinfectants in the water supply, which can be contaminated with pathogens that can make people sick. In 1908, American cities first began adding chlorine or other disinfectants to water systems to kill contaminates and prevent illnesses such as Salmonella and norovirus.
The Environmental Protection Agency (EPA) sets the standards and regulations for disinfecting drinking water and water systems. The EPA has capped the volume of chlorine in drinking water to 4 milligrams per liter -- or 4 parts per million (ppm). That amount is considered effective both for combating pathogens and safe for human consumption or exposure.
"[The narrator] says, 'We want to eliminate chlorine.' Well, no, you don't," Richardson said. "Because it's really important to kill the pathogens in the water."
The post offers no verifiable proof that the water "tested" in the video actually contains chlorine and does not identify the chemical used in the test, Richardson noted. The label on the vial of liquid dropped into the glasses can't be read. The narrator's description of "yellow cap" also fails to provide any identifying information.
"I have no idea what drops they are adding to make the water turn yellow," said Richardson, who said she frequently conducts chlorine testing in her South Carolina lab. "There is a chemical you can add to chlorine called DPD, and it'll turn kind of a pinkish-purple, but I've never seen anything turn yellow."
Video footage of a hand soaking in clear water also is not proof that chlorine is being absorbed through the skin of the demonstrator, according to Jennifer Fetter, a senior water resources educator at Penn State Extension, a Pennsylvania State University community outreach program.

In an email sent to Lead Stories on November 2, 2022, Fetter wrote that "the video is disingenuous strictly because the demonstration is not scientific in nature and does not demonstrate chlorine being absorbed by the skin."
Skin irritation from bathing in chlorinated tap water would not occur unless the person had a quite sensitive skin condition, Richardson said.
"That's a tiny number of people," she said. "If you think about using bleach in your home ... you're going to get far more from touching that Clorox wipe than [from] showering in chlorinated tap water."
Chlorine does not enter the body through the skin, and its volume in drinking water is so low -- "far less than in a swimming pool" -- that little chance exists that the chemical could cause breathing problems or skin irritation, according to a guide from the Minnesota Department of Health.
As with any chemical, however, chlorine does pose some health risks, including eye and skin irritation, difficulty breathing and vomiting. The risks vary depending on the circumstances of exposure.
Occupational exposure, for example, in a plant that uses or stores chlorine gas could have deadly consequences, Richardson said, because the gas is compressed and concentrated. But household uses like disinfecting wipes or adding bleach to a washing machine would not have a serious health effect.
"It's all about concentration," she added.
The post's claim that chlorine itself can cause cancer also is not true, continued Richardson. The "bad actors" are so-called Disinfectant By-Products (DBPs), which can form when chlorine or other disinfectants react with decomposing organic matter like leaves or other contaminants in water systems.
The EPA has identified and regulates 11 known DBPs that some epidemiological studies have shown to have adverse health affects on humans, including bladder and colorectal and other cancers.
Richardson has researched the topic, and worked with toxicologists to identify such harmful DBPs. Though these formations can cause bladder cancer and increased risks of birth defects and miscarriages, she said, the conditions are "not related to the chlorine" but are "completely related to the DBPs."
The EPA requires local water systems to produce annual reports to demonstrate their compliance with federal water safety standards. Consumers curious about the safety of their water can find those reports, known as Consumer Confidence Reports, online.