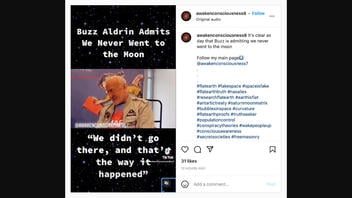 Did Apollo 11 astronaut Buzz Aldrin "admit we never went to the moon"? No, that's not true: The 2015 video interview from which a clip was taken to support this claim actually showed Aldrin answering a different question.
The claim reappeared in a post on Instagram published on November 24, 2022. The accompanying text comment said:





It's clear as day that Buzz is admitting we never went to the moon

Follow my main page⬇️


@awakenconsciousness7


.


#flatearth

#fakespace

#spaceisfake

#flatearthtruth

#nasalies

#researchflatearth

#earthisflat

#antartictreaty

#saturnmoonmatrix

#bubblesinspace

#curvature

#flatearthproofs

#truthseeker

#populationcontrol

#conspiracytheories

#wakepeopleup

#consciousawareness

#secretsocieties

#freemasonry

#rothchild

#nocurvature

#peoplepower

#tinfoilhat

#redpill

The post contained a video featuring Aldrin, who became the second person to walk on the moon, minutes after fellow Apollo 11 astronaut Neil Armstrong, on July 21, 1969. Here is what the post looked like at the time of the writing of this fact check: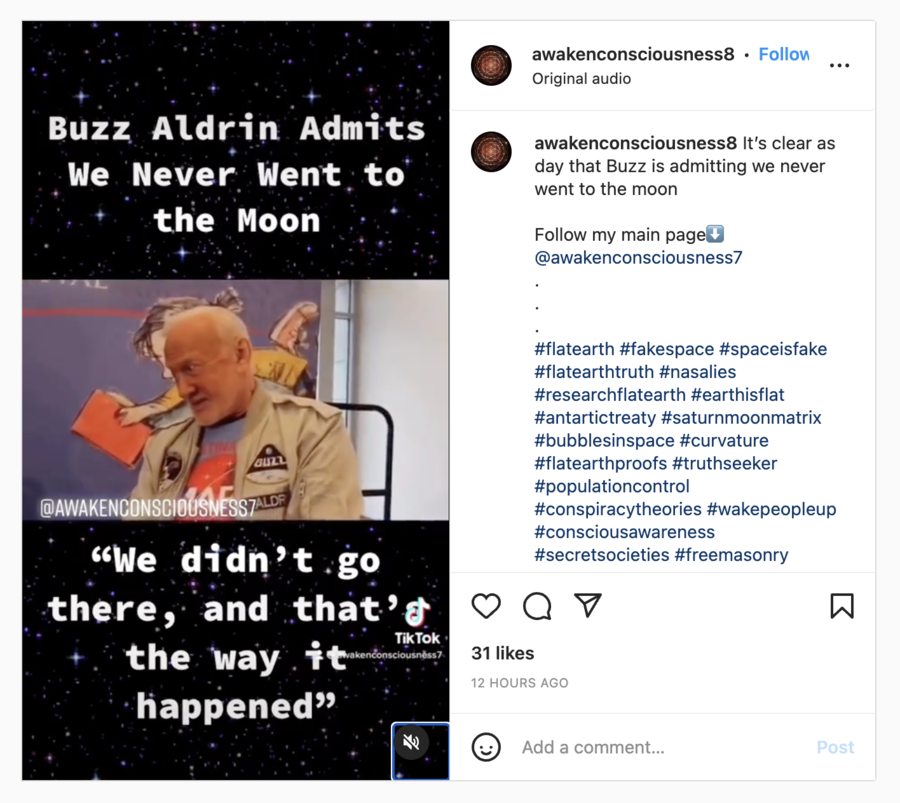 (Source: Instagram screenshot taken on Fri Nov 25 16:19:28 2022 UTC)
Aldrin was shown answering questions from a child. However, the astronaut did not say what the post claimed. Aldrin only told the child interviewing him that he, too, would like to know why nobody has been to the moon "in such a long time." NASA's December 1972 Apollo 17 mission was the last expedition to the moon.
Here is the transcript of this exchange:
CHILD: Why has nobody been to the moon in such a long time?

ALDRIN: That's not an 8-year-old's question. That's my question. I want to know. But I think I know. Because we didn't go there, and that's the way it happened. And if it didn't happen, it's nice to know why it didn't happen.
Not everyone who saw this post heard the beginning of the clip. Videos on Instagram typically start playing automatically without sound until a user turns the sound on. Hearing the audio takes a couple of seconds, and videos do not restart at the 0:00 mark once the sound has been turned on. Given that the rest of the clip looped Aldrin's "because we didn't go there" remark, that was what people were more likely to hear. The misleading message was emphasized by highlighting Aldrin's words as a text overlay on the video.
A longer version of this interview on YouTube, recorded in September 2015, does not show any proof that Aldrin ever said he hadn't been on the moon. The clip posted on Instagram can be seen starting at 7:10 in the longer version on YouTube.
This footage was first used in 2018 to claim that Aldrin had denied going to the moon. The clip resurfaced again in November 2021.
It's an example of a broader conspiracy narrative that the moon landing never actually happened. However, fact checkers have debunked that theory multiple times.
Additional Lead Stories fact checks of claims about the moon landing can be found here.