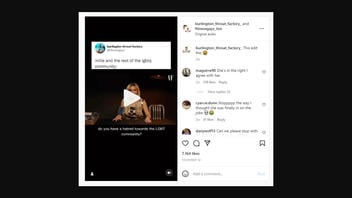 Does a video depict actress Millie Bobby Brown confirming she is homophobic, and is this video even real? No, that's not true: The video clips seen in this post were taken from a recent Vanity Fair interview featuring Brown, and it was edited to be viewed as a joke meme, with dubbed-in questions putting Brown's responses out of context.
In the Vanity Fair interview, Brown was hooked up to a lie detector test and answered questions about her personal life and the various Netflix series she has appeared in. In no part of the interview did she respond with any homophobic slurs.
The video appeared in an Instagram post on November 13, 2022. Beside a video of Millie Bobbie Brown seemingly answering questions that pertain to her views of the LGBTQ community, the caption opened:
This edit tho 😩
Above the video in the post, the text from a tweet made by user @fitnessgayz reads:
millie and the rest of the lgbtq community:
This is what the Instagram post looked like at the time of writing: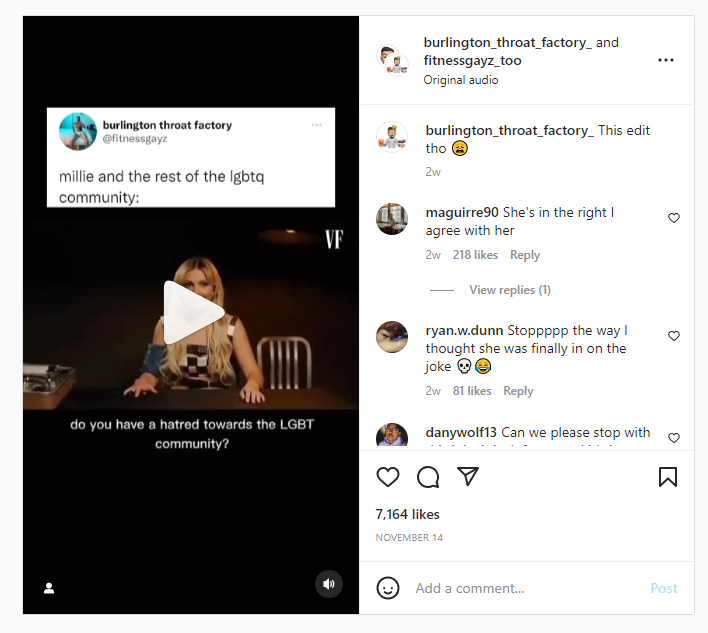 (Source: Instagram screenshot taken on Tue Nov 29 17:45:09 2022 UTC)
Millie Bobby Brown is an actress who has performed in the Netflix series "Stranger Things" and "Enola Holmes."
The video in the post displayed edited clips of another video, with a person speaking over the original audio, asking questions that solely pertain to criticism of the LGBTQ community.
The original video is from this November 10, 2022, "Millie Bobby Brown Takes a Lie Detector Test | Vanity Fair" interview. The interviewer, who is not heard in the post, asks Brown questions about her personal life and acting roles, to which she responds yes or no.
None of the questions nor Brown's responses in the full interview are about the LGBTQ community.
A June 15, 2018, Vox article titled, "The 'Millie Bobby Brown is homophobic' meme is absurd, but that doesn't mean it's harmless" stated that dark-humored memes that went viral on Twitter in 2017 about Brown being a bigot against the LGBTQ community was understood to be a joke by many, but caused her to delete her Twitter account and leave Twitter entirely. An August 26, 2020, Newsweek article titled, "No, Those Millie Bobby Brown Homophobic Memes Are Not Real" explained a video recording featuring Brown as a teenager, claiming she said a homophobic slur purposely, was taken out of context.
A Google news search using the keywords "Millie Bobby Brown, homophobia, November 2022" did not produce any results to substantiate this claim otherwise.