STORY UPDATED: check for updates below.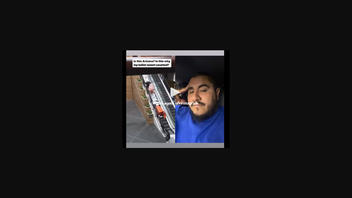 Does a video show Arizona ballots falling out of trash can on an escalator, implying possible election fraud? No, that's not true: The footage, taken in Australia, was uploaded two months before the November 2022 Arizona mid-term election. The 7-second clip is from a YouTube channel that publishes "funny, interesting and strange stuff."
The claim appeared in a video published on Instagram on November 16, 2022. The caption opened:
#arizonaballots#arizonaelection #arizona#election2022
The accompanying text on the left-hand side of the video reads:
Is this Arizona? Is this why my ballot wasnt counted?
This is what the post looked like on Instagram at the time of the writing: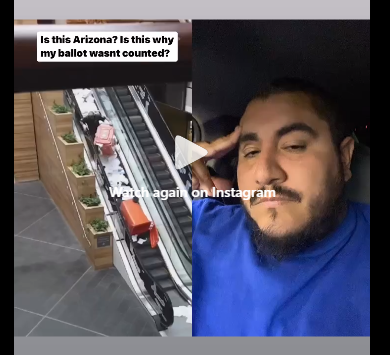 (Source: Instagram Screenshot taken on Mon Nov 21 17:34:27 2022 UTC)
The video seen in the post is from a September 13, 2022, YouTube video titled, "Man Makes a Huge Paper Mess on Escalator." It was published by the channel "DailyPicksandFlicks," which is self-described as a "viral videos, funny pictures, and odd news blog." There is no indication or description in the YouTube video as to what the papers scattered on the escalator were, or where the incident occurred.
At 0:06 in the video, a store marquee can be seen in the background saying, "The Reject Shop." A Google search using the keywords "Where Is The Reject Shop based?" stated the location is in Melbourne, Victoria, Australia. The Reject Shop site store finder did not display any U.S. locations.
Andrew Stein, the chief customer officer of The Reject Shop, located in Melbourne, Victoria, Australia, confirmed in an email to Lead Stories on November 22, 2022:
The Reject Shop does not have any stores in the US, and this video was taken at Highpoint Shopping Centre in Maribyrnong, Victoria just outside of Melbourne in Australia.
A Google search using the keywords "2022 Arizona Ballots Spill On Escalator" produced no results to substantiate the implications of this claim.The YouTube video was nearly two months old when the United States held its midterm elections on November 8, 2022.
Other Lead Stories fact checks about Arizona ballots in the 2022 election can be found here.
2022-11-22T20:05:18Z

2022-11-22T20:05:18Z

Added statement from The Reject Shop corporate officer that the video is from Australia, and that The Reject Shop has no stores in the U.S.