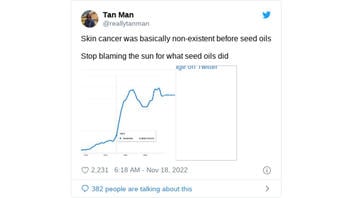 Do seed oils, not the sun, increase the risks of skin cancer? Was skin cancer "basically non-existent before seed oils"? No, that's not true: Ultraviolet exposure is one of the major factors that may lead to skin cancers, as well as genetics. Seed oils are not known for increasing risks for this disease, as a board-certified dermatologist confirmed to Lead Stories.
The claim appeared in a tweet (archived here) published on November 18, 2022. It said:
Skin cancer was basically non-existent before seed oils.

Stop blaming the sun for what seed oils did
This is what it looked like at the time of writing: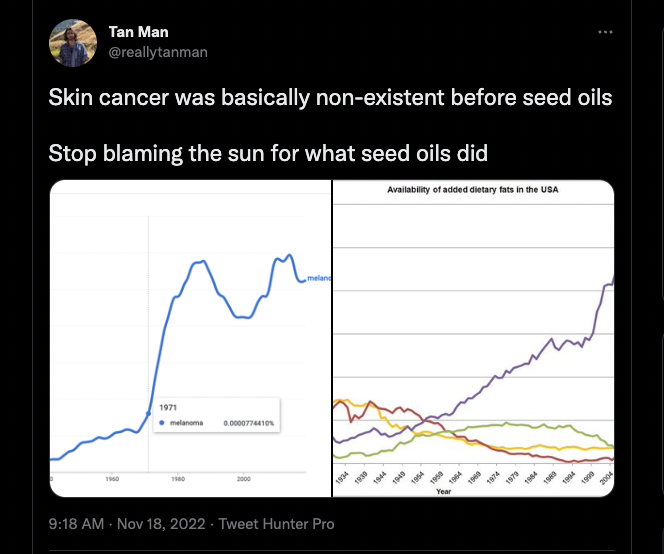 (Source: Twitter screenshot taken on Mon Nov 21 19:29:55 2022 UTC)
The tweet contained two graphs from unidentified sources: One appeared to show an increase in melanoma cases, while the other illustrated how consumption of seed oils grew over time. It isn't clear whether the two pictures were a part of the same study. The tweet also omitted the source of the conclusion that the latter causes the former -- and not every correlation means a causal relationship.
While there are different types of skin cancers, the website of the National Cancer Institute gives a universal recommendation:
Being exposed to ultraviolet radiation is a risk factor for skin cancer.
It adds that genetic factors, smoking and a lighter skin tone may further increase the risks, among other contributing factors. It says nothing about seed oils being the leading cause of these diseases.
The American Cancer Society does not name seed oils among the key risk factors either, but ultraviolet is number one on their list, too.
The Cancer Council, an Australia-based charity organization, specifically addressed the issue on its website:
... when the World Cancer Research Fund reviewed the latest scientific evidence on fats, oils and cancer risk, it concluded that there was no evidence that eating vegetable and seed oils in moderation increased the risk of cancer.
Dr. Adewole Adamson, a board-certified dermatologist specializing in skin cancers who is academically affiliated with the University of Texas at Austin, told Lead Stories via email on November 21, 2022:
This is the most ludicrous thing I've heard in a while. The statements by reallytanman [the Twitter user's handle] are completely false and not based in any credible scientific evidence
People have been exposed to cancers for a very long time. An article published in the Journal of the American Academy of Dermatology says:
The first descriptions of cancer are documented in Egyptian papyri dating 2500 BC
In contrast, the consumption of seed oils, also known as vegetable oils, increased only in the 20th century due to new techniques of oil extraction. However, different oils vary in quality, properties and recommended temperatures to use. Some of them may even have health benefits compared to animal fats if one does not overconsume them by limiting their diets to processed foods that contain high amounts of vegetable oils.
Other recent Lead Stories fact checks about cancer can be found here, here, here, here, here and here.