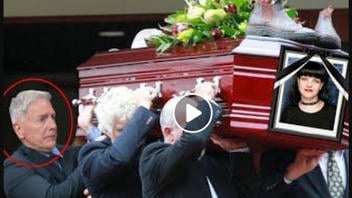 Did Pauley Perrette, the actor who formerly starred in the television series "NCIS," die on December 11, 2022? No, that's not true: Perrette is, at the time of writing, active on social media and in recent weeks shifted her posting from Twitter to Instagram. She has posted twice on Instagram since clickbait videos announced her death on YouTube and Instagram on December 11, 2022. Neither did she die on October 20, 2022, as an earlier false post claimed.
The 3-minute-plus-long video on Facebook by the page Video Pivot is nearly identical to video that's 3 minutes 38 seconds long posted on YouTube by the channel Celebrity_History the same day, December 11, 2022.
7 minutes ago_ The Sad Ending of NCIS Actress_ R.I.P Pauley Perrette
This is how the post appeared at the time of writing: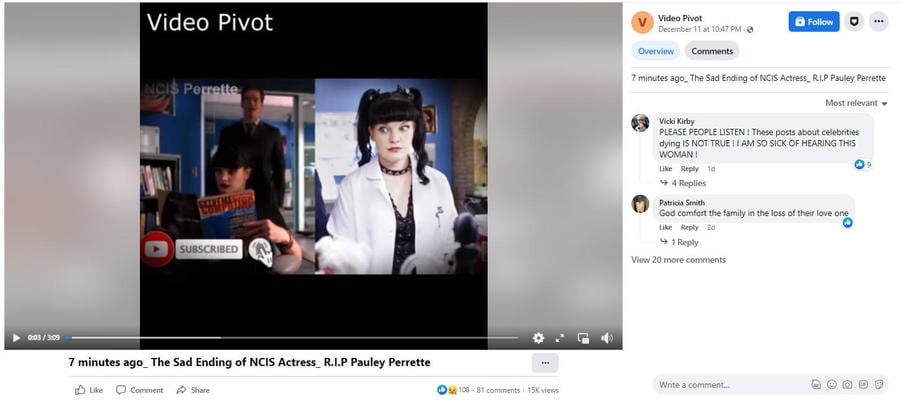 (Image source: Facebook screenshot taken on Wed Dec 14 20:18:15 2022 UTC)
There has been a recent uptick in death hoax postings on Facebook. On December 8, 2022, Lead Stories reported on a network from Cambodia that was posting death hoaxes in the form of website links, although the websites had no articles to speak of -- only malware. This network copied headlines and embedded videos from several YouTube channels that are publishing a steady stream of hoaxes backed by a low-effort video montage and robotic narration.

There is no corroborating reporting that Perrette has died. At the time of writing, she had posted on Instagram as recently as two hours earlier on December 14, 2022, expressing shock over the death of Steven "tWitch" Boss whose death was reported that same day. Lead Stories reached out to Perrette and will update this article if appropriate.
The channel Celebrity_History has been posting death hoaxes about celebrities since July 14, 2022, when the channel reported the "very sad news" directed to actor Josh Brolin, that his mother had died in a car accident. While that is true, Jane Cameron Agee died 27 years earlier, in 1995. Before the change of content, as recently as March 2022 the channel's videos were titled in Vietnamese and featured a man fishing with improvised techniques and traps. The screenshot below shows the abrupt change in the channel's content.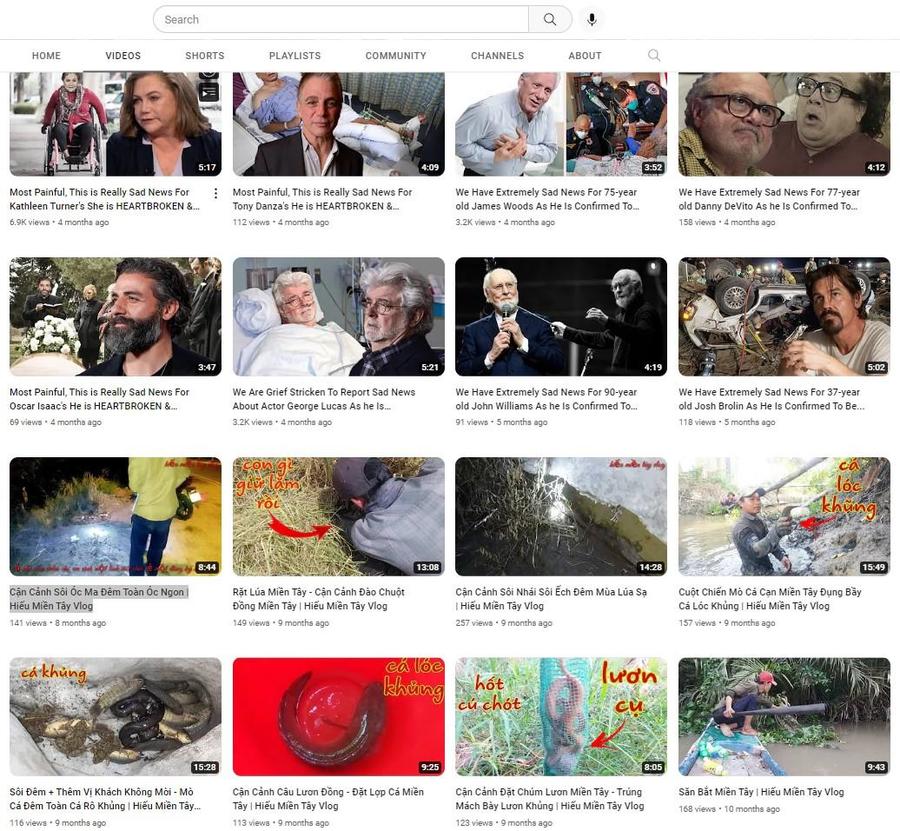 (Image source: YouTube screenshot of @Celebrity_History thumbnails taken on Wed Dec 14 21:08:56 2022 UTC)

This is not the first time the channel has "killed" Perrette. On October 20, 2022, the channel posted a video titled, "Tearful farewell, NCIS Mark Harmon heartbroken in Pauley Perrette's funeral, May she rest in peace!" Although the thumbnail image for the most recent December 11, 2022, Perrette death hoax features a digitally manipulated photo with actor Mark Harmon carrying the casket, they seem to have forgotten that they had already published a video announcing Harmon's death on November 2, 2022. The channel has published death hoaxes for many of the cast members from "NCIS": David McCallum, Michael Weatherly, Lucas Black and Scott Bakula, plus Harmon's wife Pam Dawber.


(Image source: YouTube screenshots taken on Wed Dec 14 21:25:14 2022 UTC)
The Facebook page Video Pivot was created on April 14, 2022, and the page transparency report states that the page manager is located in Indonesia.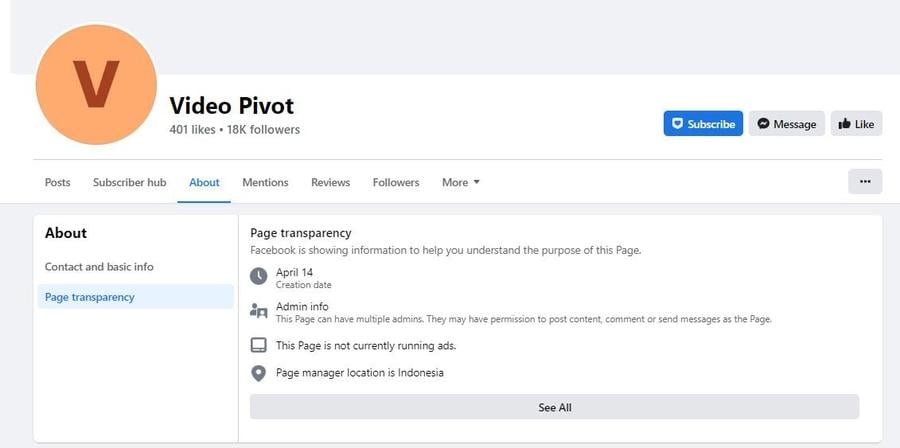 (Image source: Facebook screenshot taken on Wed Dec 14 21:47:12 2022 UTC)