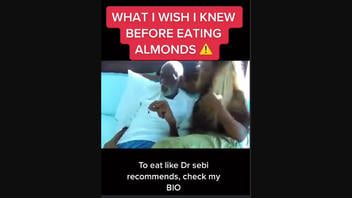 Do almonds and almond milk contain dangerous amounts of the poisonous chemical compound cyanide? No, that's not true: Both the Food and Drug Administration (FDA) and a professor of bioproducts and biosystems engineering told Lead Stories that the almonds used in almond milk do not create a safety issue. The late "Dr. Sebi," the man seen in an Instagram video saying he stopped recommending almond milk, had a history of perpetuating false claims.
The claim was implied in a post on Instagram on December 10, 2022, with the caption, "STOP EATING THIS POISON 🙏 #almonds #plantbased #seamoss #healthiswealth." It opened with "Dr. Sebi" speaking to a woman at his side:
-Almond?
-Yeah.
-I used to recommend almond when I was in my crazy state. Very early in my practice.

This is what the post looked like on Instagram at the time of the writing of this fact check: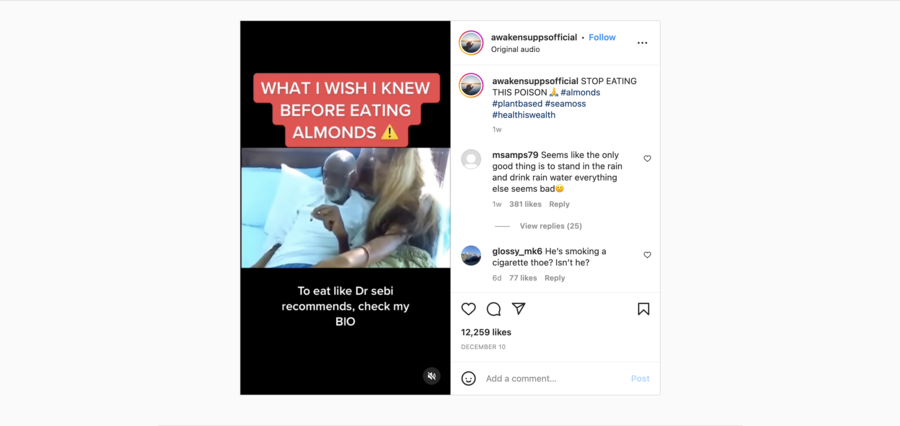 (Source: Instagram screenshot taken on Tue Dec 20 14:00:37 2022 UTC)
"Sebi" explains that when he found out that almond milk contains cyanide, he stopped recommending it. A woman to his right then asks, "So, no almond milk?", to which "Sebi" replies with a firm, "No!"
"Doctor Sebi" was not a licensed medical professional. Born Alfredo Darrington Bowman, he was a self-proclaimed herbalist healer who was sued by the state of New York for consumer fraud. In 2016, he was imprisoned in Honduras, his country of origin, for suspected money laundering and died in custody from possible pneumonia shortly thereafter.
Roger Ruan, a professor in the Department of Bioproducts and Biosystems Engineering at the University of Minnesota, rejected Sebi's claim about the risks of almond milk. Thanks to a "common genetic mutation" that results in the absence of glycoside amygdalin, domesticated almonds are not toxic, Ruan told Lead Stories in a December 20, 2022, email. Glycoside amygdalin is a compound in the almond seed that is transformed into hydrogen cyanide (HCN) once the seed has been damaged.
Though Ruan said in a December 21, 2022, email that he does not have the data for almond milk, he noted that baking, microwaving and boiling reduce the cyanide content of almonds by almost 79 percent, 87 percent and 98 percent, respectively. Depending on the type of almond milk and the production process, almond milk should have a much lower cyanide level than almonds not used for milk since the beverage is heavily diluted by water, he added.
California almonds account for about 80 percent of the world's almond production, according to Ruan. Sweet California almonds "contain a trace amount of amygdalin that may release a low level of HCN during chewing or digestion," but that the "potential level" of cyanide from almonds "is not a concern for almonds."
Elisabeth Davis, an FDA health communications specialist, told Lead Stories in a December 21, 2022, email that the FDA is not aware of any safety issues with almonds when used as authorized. Regarding almond milk, Davis wrote:
The response holds for almonds and products made with almonds.
Additional Lead Stories fact checks of claims by "Dr. Sebi" can be found here.