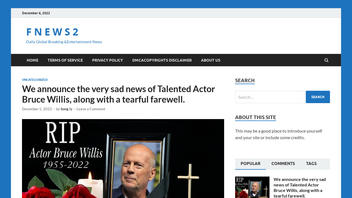 Has actor Bruce Willis passed away as of December 6, 2022? No, that's not true: Although the action star has stepped away from his career because of health concerns, there have been no credible news organizations reporting his death as of December 6, 2022.
The claim appeared in an article (archived here) published on the F N E W S 2 - Daily Global Breaking & Entertainment News website on December 5, 2022, and titled "We announce the very sad news of Talented Actor Bruce Willis, along with a tearful farewell." An image at the top of the page included these words:
RIP

Actor Bruce Willis

1955-2022

Here is what the website looked like at the time of the writing of this fact check: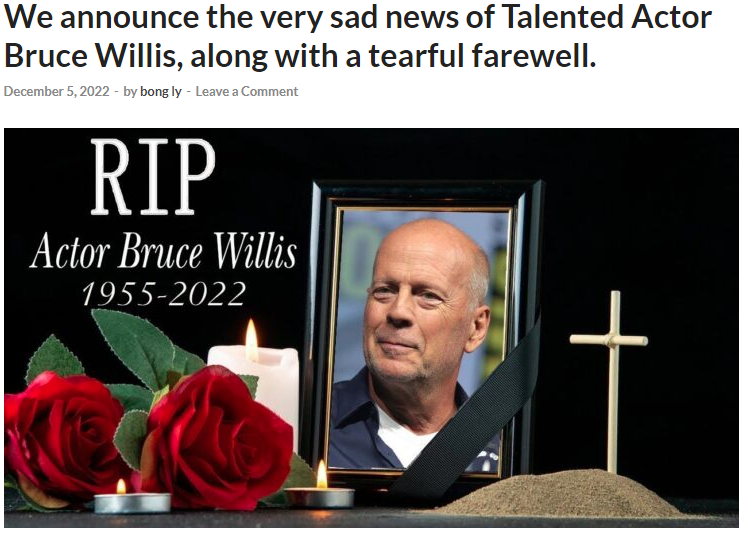 (Source: news2.com screenshot taken on Mon Dec 5 16:42:21 2022 UTC)
The article doesn't say that Willis died. It just strongly suggests he did. The image, edited to appear like something that might be part of a memorial page or obituary, is repeated seven times along with the headline. No other details about Willis are included on the website.
On March 30, 2022, the 67-year-old actor's family announced he was "stepping away" from his career after being diagnosed with aphasia, a disorder that affects how people communicate. It can impact a person's speech, as well as how they write and understand both spoken and written language. His daughter Rumer Willis posted this message on Instagram at the time of the announcement:
A Google search produced no results from a credible news organization to confirm the article's claim of Willis' death.
Lead Stories contacted the actor's publicist and representatives for a statement and will update this story if a response is received.