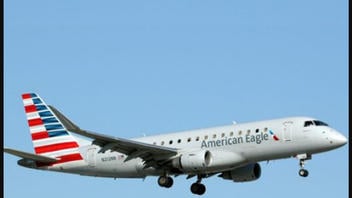 Did a Federal Aviation Administration (FAA) insider, a whistleblower, provide exclusive information to Real Raw News about a conversation on a cockpit voice recorder just before the pilot of Envoy Air flight 3556 became unresponsive? Does this recording point to a COVID-19 booster shot as the likely cause of the pilot's death and is this evidence of a government coverup to avoid maligning the vaccine? No, that's not true: The Cook County, Illinois, medical examiner data lists the pilot's primary cause of death as "hypertensive cardiovascular disease." There is no publicly available information regarding the pilot's vaccination status, if he had recently been boosted or if a vaccination reaction contributed to his death. There is also no corroborating evidence regarding a purported FAA whistleblower or the exclusive information Real Raw News allegedly obtained from this individual.
Shortly after takeoff from Chicago's O'Hare International Airport on November 19, 2022, Capt. Patrick Ford became unresponsive while communicating with air traffic control, news outlets reported. Capt. Brandon Hendrickson took over the controls and the plane returned safely to O'Hare. Ford was later declared dead at the hospital.
The claims about Ford having received a COVID-19 booster shot originated in an article (archived here) published by Real Raw News on December 4, 2022, under the title "Vaxxed Pilot Dies During Takeoff." The article opened:
Envoy Air flight 3556, an Embracer E175 operated on behalf of American Eagle, experienced an inflight emergency seconds after departing Chicago-O'Hare International Airport for Columbus, Ohio. The pilot-in-command, Patrick Ford, was speaking coherently and clearly to ATC when his voice abruptly ceased. A few minutes later, co-pilot Brandon Hendrickson informed ATC he had control of the aircraft and that Ford had fallen unconscious at the controls, and announced his intent to return to the airport immediately.

This is how the article appeared at the time of the writing of this fact check: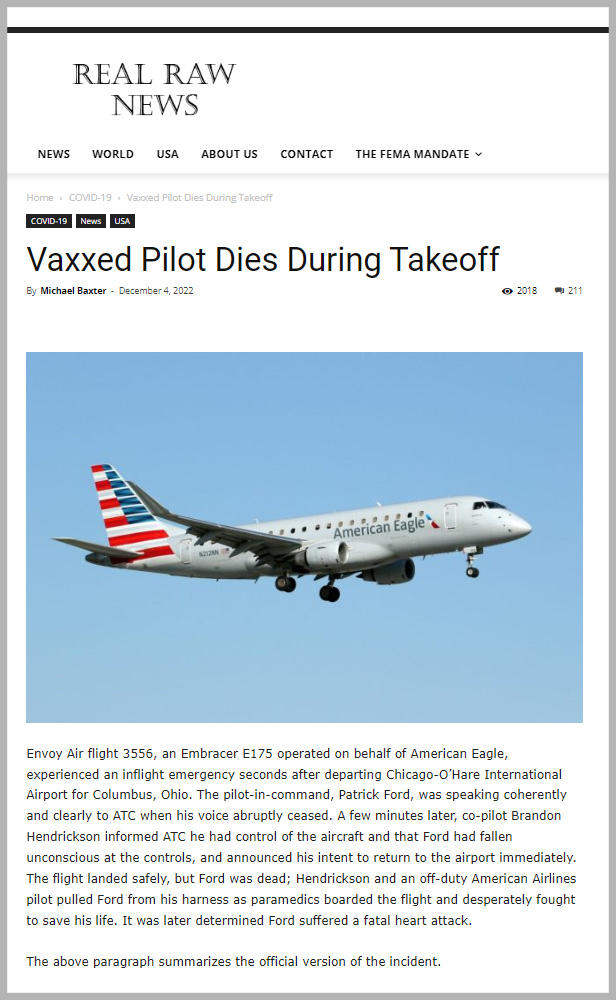 (Source: realrawnews.com screenshot taken on Tue Dec 06 17:54:12 2022 UTC)
The article continued:
However, a Real Raw News investigation on Ford's untimely demise, aided by an FAA whistleblower, unsurprisingly revealed that Ford, who was 54 years old and in good health prior to his sudden death, had taken a Covid-19 booster shot two days before his final flight, a fact not mentioned on his death certificate or in his obituary.

... In the case of flight 3556, though, Ford had told Hendrickson he was feeling 'lightheaded and dizzy' shortly after Hendrickson raised the landing gear, according to an FAA insider who claims that Envoy/American Eagle and the FAA reviewed the cockpit voice recorder, which preserves the recent history of the sounds in the cockpit, including the conversation of the pilots.

'The sequence of events went quickly. Captain Ford informed Captain Hendrickson he felt distressed, dizzy, then seemed to change his mind, saying something to the effect of "Never mind, I'm ok." Hendrickson then asks if he's sick, noting he looks a bit pale. Captain Ford says he got a Covid-19 vaccination a few days ago and is probably having a mild reaction. Ford is then heard talking to ATC and slumps forward in his chair and dies,' our source explained.

There is no evidence that this "FAA whistleblower" is anything but a literary device to introduce details to the story as if they came from an authoritative and trustworthy source.
Real Raw News identifies itself in part as a satire website but does not feature many of the cues a reader would typically use to identify satire; namely, humor. In 2021, NewsGuard, a tool that provides credibility ratings for websites, published a five-page report that described realrawnews.com as "An anonymously run website that has published baseless and debunked conspiracies about COVID-19 and U.S. politics," and cautioned that "This website severely violates basic journalistic standards."

Though the site claims that the alleged FAA whistleblower stated the pilot and co-pilot had discussed the pilot's state of health before his collapse, it does not provide any audio of any such conversation.
Audio of communications from the cockpit and O'Hare Air Traffic Control sourced from LiveATC.net was posted to Twitter by Ross Feinstein on November 22, 2022. This audio clip begins seconds before Ford abruptly stopped speaking. Feinstein also posted a November 20, 2022, memo from Ric Wilson, the vice president of flight operations at Envoy Air, which informed fellow pilots about the incident. The memo read:
November 20, 2022
Dear fellow pilots,
Last night Envoy Flight 3556 from ORD to CMH declared an emergency immediately after takeoff due to an incapacitated pilot. The flight promptly returned to ORD and was landed safely. Despite heroic efforts to revive him, Captain in training, Patrick Ford passed away. We are deeply saddened by this loss. Our thoughts and prayers are with his family.
Sincere thanks to Line Check Airman, Captain Brandon Hendrickson, for his leadership and professionalism in the safe handling of his aircraft, passengers and crew.
Respectfully,
Captain Ric Wilson
Vice President - Flight Operations
Lead Stories contacted the press office of the Federal Aviation Administration to inquire about the November 19, 2022, incident. In a December 5, 2022, email reply, the FAA stated:
Envoy Air Flight 3556 returned safely to Chicago O'Hare International Airport due to a pilot medical issue around 10 p.m. local time Saturday, November 19. The Embraer E-170 was headed for John Glenn Columbus International Airport in Columbus, Ohio. The FAA is investigating.
In a separate general statement, addressing the question of COVID vaccines, the FAA informed Lead Stories:
The FAA's Federal Air Surgeon determined in December 2020 and February 2021 that pilots and air traffic controllers can safely receive the Pfizer, Moderna, or Johnson & Johnson vaccine. The FAA has seen no evidence of aircraft accidents or pilot incapacitations caused by pilots suffering medical complications associated with COVID-19 vaccines.
The Medical Examiner Case Archive on the Cook County government website contains details about the November 19, 2022 health emergency. Although Ford's name is not attached to the case number, the date, location of the incident, the deceased individual's age and hometown all match information available in Ford's obituary.
The manner of death is labeled "natural" and the primary cause of death is hypertensive cardiovascular disease. There is no information pointing to any vaccine or booster as a cause of death. No secondary cause of death is listed.

(The table below from the case archive opens larger in a new screen.)


(Source: datacatalog.cookcountyil.gov screenshot taken on Tue Dec 06 20:31:10 2022 UTC)
Lead Stories contacted the Cook County medical examiner and Envoy Air and will update this fact check accordingly if responses are received.
Real Raw News has a long history of publishing false claims in mock news stories, many of them about convictions and executions of various public figures at Naval Station Guantanamo Bay in Cuba. For example, the site reported former Secretary of State Hillary Clinton was hanged (she wasn't); former White House Chief of Staff John Podesta was executed (he wasn't); and that "the military" convicted former Attorney General William Barr on charges of treason (it didn't).
The website for Real Raw News includes a disclaimer that warns readers not to take its content too seriously. Specifically, it says:
Information on this website is for informational and educational and entertainment purposes. This website contains humor, parody, and satire. We have included this disclaimer for our protection, on the advice on legal counsel.

(Source: RealRawNews.com screenshot taken Tue Aug 3 16:39:48 UTC 2021)
Lead Stories has debunked over 100 false claims (examples here, here and here) published by realrawnews.com as can be seen in these Google search results: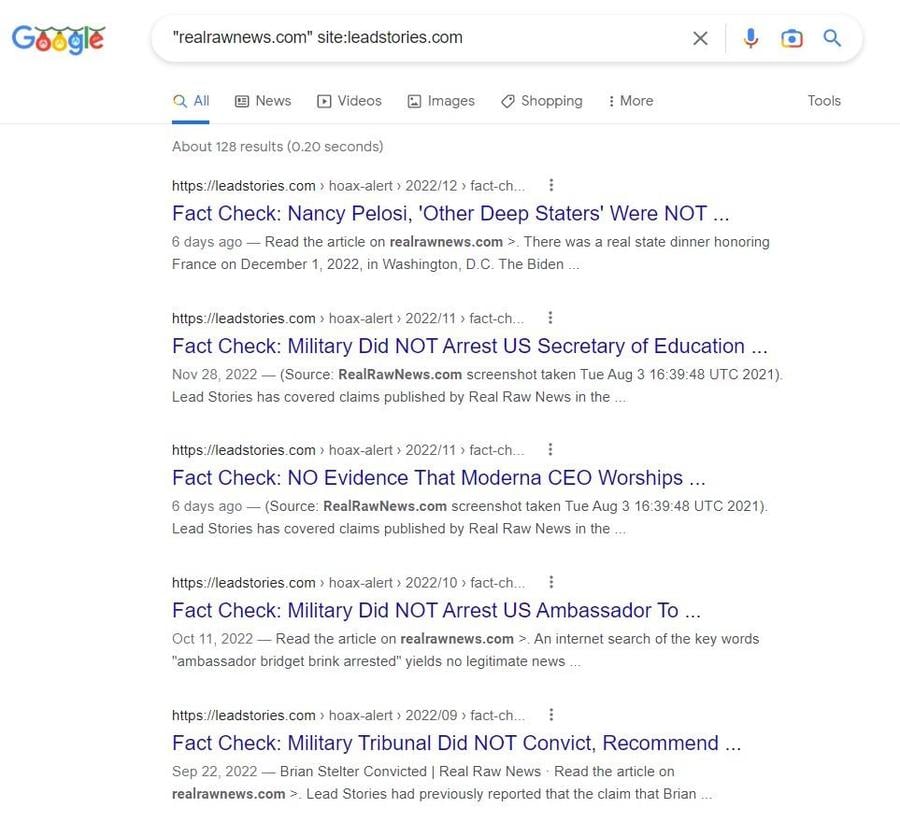 (Source: Google.com screenshot taken on Tue Dec 06 20:34:41 2022 UTC)