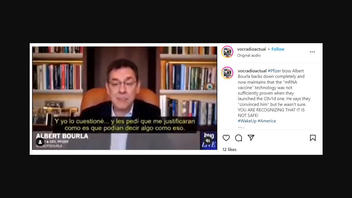 Did Albert Bourla, the chairman and CEO of the Pfizer pharmaceutical company, "maintain" that mRNA vaccine technology was unsafe when he gave researchers the go-ahead to use it in Pfizer's COVID-19 vaccine? No, that's not true: In the full 2022 Washington Post interview from which this claim is derived, Bourla did not say that mRNA was unsafe. He said that no commercial products had been developed based on mRNA and that he chose the unconventional technology for a vaccine based on several years of testing.

Voc Radio Actual, an Instagram account that frequently addresses controversial and political issues, posted a section of the video interview (archived here) on its Instagram account on September 8, 2022. The caption read:
#Pfizer boss Albert Bourla backtracks completely and now maintains that the "mRNA vaccine" technology was not sufficiently proven when they released C0v1d. He says that "they talked him into it," but he wasn't sure. YOU ARE ACKNOWLEDGING THAT IT IS NOT SAFE!
This is how the post appeared at the time of the writing of this fact check:

(Source: Facebook screenshot taken on Tue Nov 29 at 2:26:00 2022 UTC)
The Voc Radio Actual caption misrepresents Bourla's words, excerpted from the businessman's March 10, 2022 video interview with The Washington Post. In the full interview, Bourla never said the mRNA vaccine is unsafe. Rather, he said:
So, it was very counterintuitive and I was surprised when they suggested to me that this was the way to go and I questioned it and I asked them to justify how can you say something like that. But they came and they were very very convinced that this is the right way to go. They felt that the two years ... of work on mRNA since 2018, together with BioNTech, to develop a flu vaccine made them believe that the technology is mature and we are at the cusp of ... delivering a product. So, they convinced me. I followed my instinct that they know what they are saying. They're very good ...

According to the Centers for Disease Control and Prevention, mRNA uses "genetic material" to prompt the human body to copy the COVID-19 protein so that the immune system can later recognize and destroy the protein during a COVID-19 infection.

In 2018, the year when Bourla said that Pfizer's work with mRNA began, a University of Texas study showed that mRNA vaccines were effective against the Ebola virus. A September 4, 2021, article in the scientific journal Nature reports that scientists first established in 1987 that mRNA could be used to teach immune systems to fight viruses.

An extensive fact check from Johns Hopkins Medicine, the website for the Johns Hopkins University School of Medicine and associated healthcare network, rejects allegations about the health risks of the mRNA vaccine.

Pfizer says there is ample proof the vaccine is safe and effective. In a December 6, 2022 email to Lead Stories, a Pfizer spokesperson reiterated the company's past statement:
Our data pre and post licensure have been, and are, extensively reviewed by multiple regulatory and advisory bodies around the world. The Pfizer-BioNTech COVID-19 vaccine has been administered to hundreds of millions of adults, adolescents and children generating robust data demonstrating a favorable safety profile and high level of protection against severe COVID-19 disease and hospitalization.
The pharmaceutical company directs critics to confront the New England Journal of Medicine study that found its vaccine both safe and effective. The company also citesa follow-up study in The Lancet that found the vaccine to be safe in widespread use immediately after approval by the U.S. Food & Drug Administration.
Bourla is a frequent focus of misinformation about COVID-19 vaccines. Additional Lead Stories fact checks of claims about Bourla can be found here.