STORY UPDATED: check for updates below.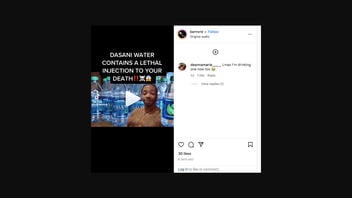 Does the bottled drinking water DASANI contain lethal amounts of potassium chloride, the same chemical used to kill death row inmates? No, that's not true: All bottled water contains small amounts of the mineral, but both a water sciences expert and a U.S. Food and Drug Administration (FDA) spokesperson tell Lead Stories that the level of potassium chrloide in bottled water products is safe.
The claim appeared in a TikTok video reposted on November 25, 2022, on Instagram. The video's narration opened:
Dasani Water is the most toxic water on the entire market. Not only is this water bottle packaged tap water from a public source, it contains a lethal injection. That lethal injection is called potassium chloride. Potassium chloride cause negative side effects such as nausea, diarrhea, muscle weakness and cardiovascular problems. But this is one of three many steps to killing a human off. One is midazolam, which is to sedate. Step two is vecuronium bromide to paralyze muscles. And step three is potassium chloride to stop the heart.
Here's how the post appeared on the day of the writing: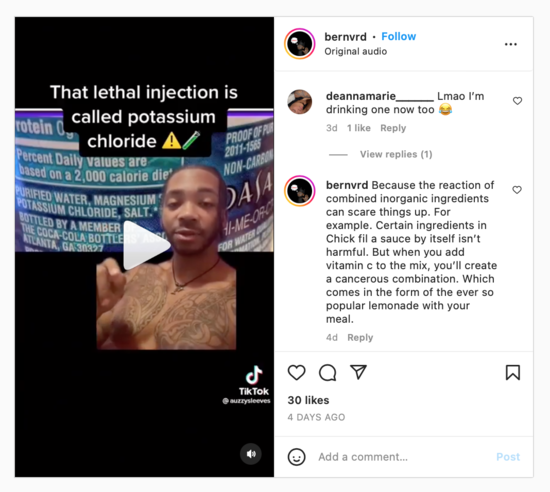 (Source: Instagram screenshot taken Wed Nov 30 at 19:26:41 2022 UTC)
Potassium chloride is a naturally occurring mineral compound that has a variety of uses, including agriculture, manufacturing, medicine and as a food additive. The mineral is also one of many necessary for essential functions of the human body, as it supports muscle contraction, blood pressure maintenance and normal kidney functions.
It is ubiquitous in water, whether in streams, tap water or bottled products, Robert Mahler, a professor of soil and water sciences at the University of Idaho, told Lead Stories in a December 1, 2022, telephone interview.
"You're not going to poison yourself from drinking bottled water that has trace amounts of potassium chloride," Mahler said. He added that he's not aware of toxic amounts of the mineral ever having been found in water.
FDA regulations require evidence that any substance is safe at its intended level of use before it may be added to foods, including potassium chloride, which is sometimes used as a salt substitute and can be safely used in food under the conditions outlined in the Code of Federal Regulations, Title 21, the FDA spokesperson said in an email to Lead Stories on December 6, 2022.
The claim's comparision of the potassium chloride levels in bottled water to those in the drugs for lethal injection are inaccurate and spreading it has the potential to harm consumers, the spokesperson said.
"These kinds of distortions and half-truths that find their way into the public domain do enormous harm, both by leading people to behavior that is detrimental to their health and by causing them to eschew interventions that would improve their health," the spokesperson's email said.
Under the FDA's chemical quality regulations, bottled water quality regulations allow for 250 parts per million of chloride in bottled water products. The rules do not apply to mineral water, because the level is aesthetically based and does not relate to a health concern, according to the spokesperson.
The FDA regulates bottled water products to ensure their safety and accurate labeling. The regulations include Current Good Manufacturing Practice (CGMP) rules for the sanitary and safe production of bottled water. Manufacturing plants must conduct regular water sampling and follow specific rules for equipment design, bottling procedures and record keeping. They must also undergo FDA inspections.
The FDA publicly posts warning and recall letters it sends to manufacturers who fail to comply with its regualtions. Reporting by Lead Stories found no evidence that the FDA has ever issued either warning letters or recall orders to DASANI because of quality compliance issues. As seen here: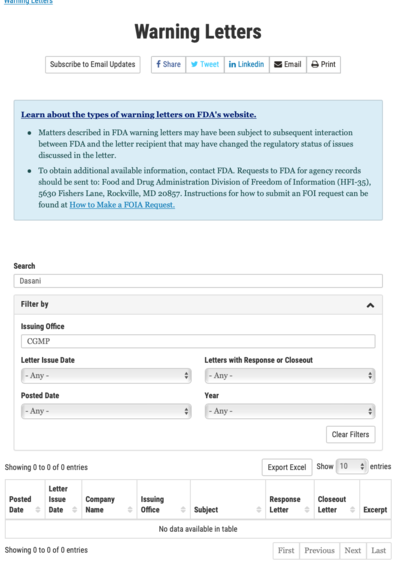 (Source FDA webpage screenshot taken Dec 1 at 02:02:07 2022 UTC)
And here: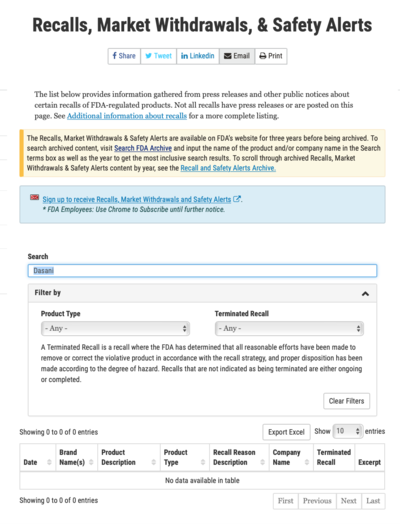 (Source: FDA webpage screenshot taken at Dec 1 at 02:12:18 2002 UTC)
The website for DASANI Water, which is owned by the beverage giant Coca-Cola, claims that the product adheres to CGMP standards. This is how the Frequently Asked Questions (FAQ) section of the DASANI website addresses concerns about the product's use of potassium chloride:
Although we are unable to disclose the exact quantities of mineral added to our water, we can tell you that the amounts of these minerals, (including salt), are so minuscule that the US Food and Drug Administration (FDA) considers them negligible or 'dietarily insignificant'.
The DASANI website states that it uses reverse osmosis to remove impurities from its water, sourced from an unspecified "local water supply." Minerals, including salt, are added to enhance the water's taste, and are listed on DASANI bottle labels, according to the website text.
In 2019, Coca-Cola sent a letter to the state of California that asserted, as required under California's 2007 Vended Water legislation, that DASANI in compliance with FDA regulations. The letter directs California regulators to copies of a compliance report from the FDA on both the parent company and DASANI, but Lead Stories could locate neither.
The video on Instagram correctly states that potassium chloride is used in the administration of capital punishment by lethal injection. The mineral is part of a three-drug cocktail that also includes injections of an anesthetic and a paralytic agent.
As the post also states, in medical uses potassium chloride can have negative side effects such as nausea, diarrhea, muscle weakness and cardiovascular problems, but these are rare.
2022-12-09T20:23:57Z

2022-12-09T20:23:57Z

Adds quotes from FDA spokesperson.