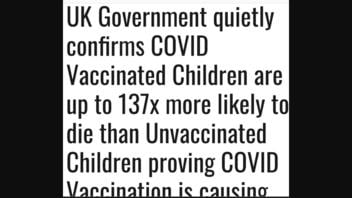 Does British government data prove COVID-19 vaccination is causing "significant numbers of deaths" in British children? In addition, does the same dataset also show children are up to 137 times more likely to die following COVID vaccination than their unvaccinated counterparts? No, that's not true: There's no evidence that the numbers draw a causal relationship between COVID vaccination and the deaths. Simply because these children received COVID shots and later died doesn't prove the vaccine caused their deaths. There could be any number of reasons for their deaths. The data does not connect the dots.
But it is true that the figures show death rates up to 137 times higher among vaccinated children than those who are unvaccinated.
An official with the U.K. Office for National Statistics (ONS) told Lead Stories that it's important to understand that the raw numbers don't tell the full story and need to be "interpreted carefully" because the data does not account for health differences between vaccinated and unvaccinated children.
The claim appeared on Instagram on December 6, 2022, under the title "UK Government quietly confirms COVID Vaccinated Children are up to 137x more likely to die than Unvaccinated Children proving COVID Vaccination is causing significant numbers of deaths."
The headline in the Instagram post comes from an article on The Exposé website. The story is linked in the post's description, which opens with:
Figures contained in an official report, published hours before Boris Johnson resigned, reveal vacclnated children are 4423%/45x more likely to die of any cause than unvacclnated children and 13,6333/137x more likely to die from covld19 than unvacclnated children.
This is what the post looked like at the time of the writing of this fact check: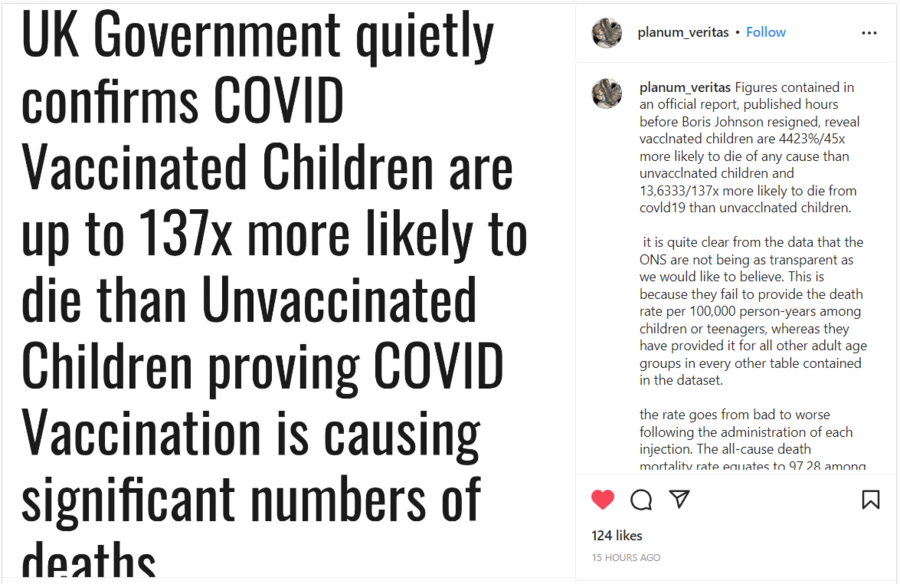 (Source: Instagram screenshot taken on Wed Dec 7 16:40:28 2022 UTC)
Misleading data
The ONS data cited in the Instagram post covers the period from January 1, 2021, through May 31, 2022 (download here). The Pfizer vaccine only became available for some 12- to 17-year-olds in the United Kingdom in July 2021 and for some 5- to 11-year-olds in February 2022.
ONS spokesman Glenn Garrett said this in a December 7, 2022, email to Lead Stories:
We have always said mortality rates should be interpreted carefully, especially for children because of the way children at risk were prioritised in the vaccine roll out. Clinically vulnerable children and young people have higher mortality rates than those with no comorbidities, and this explains why vaccinated children have higher rate of death than those who remained unvaccinated. There is no evidence of the vaccine having an effect on death rates ...

For further information, Garrett directed Lead Stories to table 12 in the ONS' most recent monthly analysis of mortality in England and Wales, released on November 23, 2022.
The website for the National Health Service, the UK's public health care system, says the following about vaccinations for children throughout the United Kingdom:
The coronavirus (COVID-19) vaccines are safe and effective.

2 doses are being offered to all children aged 12 to 15, and some aged 5 to 11, to give them the best protection against COVID-19.
Additional fact checks related to COVID-19 vaccines can be found here.