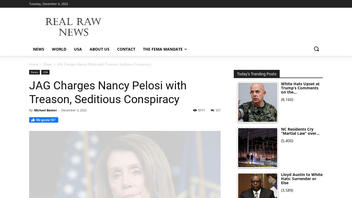 Did U.S. Special Forces take House Speaker Nancy Pelosi into custody after the U.S. Navy Judge Advocate General's Corps charged her with "multiple counts of treason and seditious conspiracy"? No, that's not true: A representative of the U.S. Special Operations Command earlier denied to Lead Stories that Special Forces had arrested any civilian, and noted that the Special Forces do not have such powers under U.S. law. Google News contains no coverage of any charges against Pelosi. The publisher of this claim, Real Raw News, has a history of creating satirical news stories and acknowledges on their website's About Us page that the website contains "humor, parody, and satire."
The claim originated in an article (archived here) published by Real Raw News on December 3, 2022. It was titled "JAG Charges Nancy Pelosi with Treason, Seditious Conspiracy." It opened:
The United States Navy Judge Advocate General's Corps on Friday filed formal charges against former House Speaker Nancy Pelosi, who was arrested Thursday night after attending Biden's lavish State banquet at Tyler Perry's White House facsimile in the outskirts of Atlanta, Georgia.
Users on social media only saw this title, description and thumbnail:
According to the article, Pelosi was charged with multiple counts of treason and seditious conspiracy after being apprehended by Special Forces at the Hartsfield-Jackson airport in Atlanta. Real Raw News alleges that she was then brought to Guantanamo Bay "to face a military tribunal."
There were no results when Lead Stories searched for "JAG Charges Nancy Pelosi with Treason, Seditious Conspiracy" on Google News.
In a December 5, 2022, email to Lead Stories in reference to a separate Real Raw News claim about the Special Forces and Army Rangers' supposed arrest of "Deep Staters" at the December 1, 2022, state dinner for French President Emmanuel Macron, the deputy director of the U.S. Special Operations Command Communication Office, Kenneth McGraw, wrote:
This report is totally false. US Special Operations Command and its subordinate units - like the Rangers and Special Forces - are not law enforcement organizations and not have the authority to arrest anyone, especially U.S. citizens.
In addition, on December 4, 2022, Nancy Pelosi and her husband, Paul Pelosi, attended a Kennedy Center Honors ceremony for the performing arts in Washington, D.C.
We have contacted the JAG and the Pentagon and will update this article if a response is received.
Real Raw News has a long history of publishing false claims in mock news stories, many of them about convictions and executions of various public figures at Naval Station Guantanamo Bay in Cuba. For example, the site reported former Secretary of State Hillary Clinton was hanged (she wasn't); former White House Chief of Staff John Podesta was executed (he wasn't); and that "the military" convicted former Attorney General William Barr on charges of treason (it didn't).
The website for Real Raw News includes a disclaimer that warns readers not to take its content too seriously. Specifically, it says:
Information on this website is for informational and educational and entertainment purposes. This website contains humor, parody, and satire. We have included this disclaimer for our protection, on the advice on legal counsel.
(Source: RealRawNews.com screenshot taken Tue Aug 3 16:39:48 UTC 2021)
Lead Stories has covered claims published by Real Raw News in the past. Previous Lead Stories fact checks of Real Raw News items can be found here.