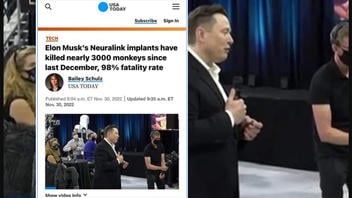 Did USA Today publish an article on November 30, 2022, titled, "Elon Musk's Neuralink implants have killed nearly 3000 monkeys since last December, 98% fatality rate"? No, that's not true: This is not a real USA Today headline and the numbers reported in the false headline are grossly exaggerated.
Bailey Schulz, whose name appears in the byline of the fake article, is in fact a reporter at USA Today. In a December 1, 2022 article, she did write that 23 monkeys were involved in the tests of the Neuralink brain implant chips and that Neuralink had euthanized eight animals.
The fabricated screenshot was posted on Twitter (archived here) on December 1, 2022. A copy of the screenshot was posted on Facebook by the page Cloaked Truth on December 1, 2022. The text in the screenshot, which follows the format of a USA Today article, reads:
USA TODAY
Subscribe Sign In
TECH
Elon Musk's Neuralink implants have killed nearly 3000 monkeys since last December, 98% fatality rate
Bailey Schulz
USA TODAY
Published 8:04 a.m.ET Nov. 30, 2022 | Updated 9:35 a.m. ET Nov. 30, 2022
Show video info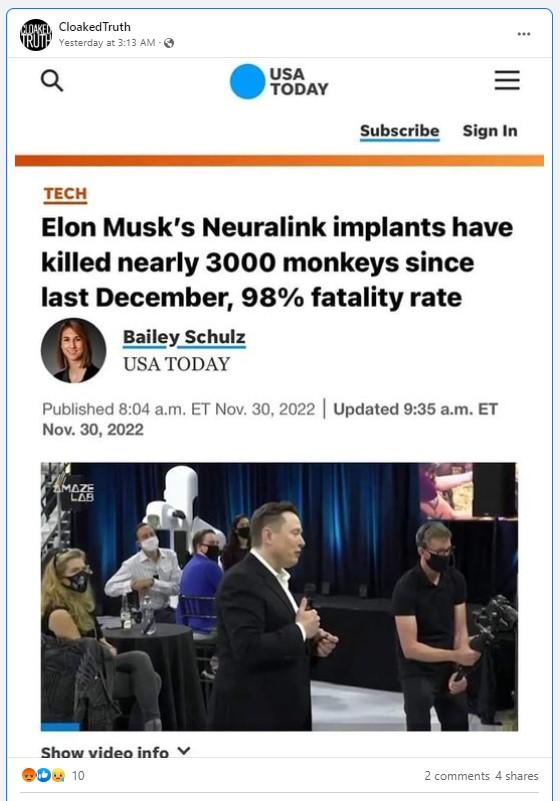 (Image source: Facebook screenshot taken on Fri Dec 02 19:57:26 2022 UTC)
This screenshot does not show a genuine headline. When questioned about it on Twitter, the person who had made the original post, @1followernodad, made it clear in a reply that the screenshot was fake and was intended to be a joke. They also included a link to a CNN article titled, "Elon Musk's Neuralink confirms monkeys died in project, denies animal cruelty claims." @1followernodad tweeted:
(Sorry guys if this ruins the little dumbass Twitter joke but the screenshot above is fake. I thought that had already come to light on Twitter. Sorry for ruining your lives)
The real article in the December 1, 2022, article in the Tech section of usatoday.com by Bailey Schulz is titled, "Elon Musk's Neuralink wants people to control computers with their minds. How close are they?" It said:
According to Neuralink's website, the company works with monkeys and pigs.

The animal rights nonprofit Physicians Committee for Responsible Medicine filed a lawsuit against the University of California, Davis earlier this year for the brain experiments it conducted on 23 monkeys for Neuralink.

The complaint accuses the university of failing to provide dying monkeys with adequate veterinary care.

Neuralink has euthanized eight animals, according to its website. Two were euthanized at planned end dates for 'important histological data,' one due to device failure, four for suspected device-associated infections and one for a surgical complication with BioGlue.
Other Lead Stories articles about Elon Musk can be found here.