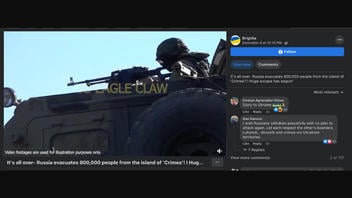 Does a video show the Russian government evacuating 800,000 people from the "island" of Crimea? No, that's not true: Russian officials said in media reports and on social media sites that no evacuations have occurred in Crimea. Also, Crimea is a peninsula, not an island.
The claim appeared on Facebook on November 7, 2022, under the title "It's all over- Russia evacuates 800,000 people from the island of 'Crimea'! | Huge escape has begun!" It opened:
Welcome to the US Eagle Claw YouTube channel. The tensions in the Ukraine-Russia war is escalating day by day. The course of this war, which affected the world, began to change shape with the Ukrainian army taking one more step forward. Zelenskyy's troops managed to put the invading troops into worry, especially by focusing their operations on southern Ukraine. According to some, the unbelievable operational plans of the Ukrainian army were clear weeks or even months ago. According to the segment, Ukraine knew that Crimea and its surroundings would be a very important center in the war.
Here's how the post appeared on the day of writing: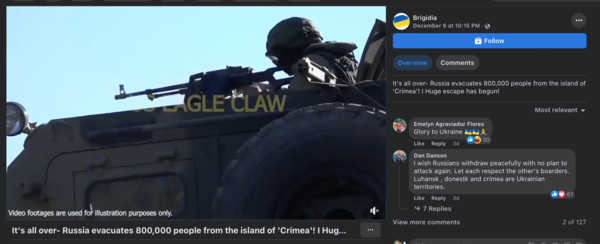 (Source: Facebook screenshot taken Sat Dec 10 at 21:46:10 2022 UTC)
The nine-minute-plus video says at the 1:22 mark, "The Moscow administration had actually announced the evacuation decision of Crimea and its surroundings."
In fact, multiple Russian government leaders in Crimea have made public statements to news outlets or on social media dispelling the myth that evacuations have occurred. Footage of military troop battles and vehicle and aircraft convoys may not have been shot in Crimea or anywhere in Ukraine, as the lower left corner of the video has the disclaimer that it's for "illustration purposes only."
Crimea is a southern Ukrainian peninsula between the Black Sea and the Sea of Asov that Russia invaded and annexed in 2014. The region, which connects to the Ukrainian mainland via a 5-mile-wide isthmus, has served as a staging ground for Russian troops since the start of the current war between Russia and Ukraine.
On November 22, 2022, the regional news wire Crimea Realities -- known as Krym.Reali in Ukrainian and an arm of Radio Free Europe -- reported that a top adviser and spokesperson for Russia officials in Crimea, Oleg Kryuchkov, had posted on social media that rumors about the evacuation of residents from the city of Armyansk were "fakes."
"They took a creative approach -- they publish circulars from pseudo-Russian soldiers. It's already understood that fake Telegram channels and pages of federal agencies do not work," Kryuchkov wrote on Telegram, according to the Crimea Realities story, which Lead Stories read using Google's artificial intelligence translator.
The story goes on to cite two other officials, Seri Aksyonov, who heads the Russian occupation of Crimea, and Vasily Telizhenko, described by Russian media as the mayor or Armyansk, who also said the information was false and that the situation on the peninsula was stable.
Russian officials repeated the denials in a story published November 24, 2022, by the Russian state media outlet, Tass, Kryuchkov saying the false information came from pro-Ukraine social media sites.
Evacuation claims were also mentioned in the November 22, 2022, daily threat assessment of the war by the international military think tank Institute for the Study of War (ISW). According to ISW, "milbloggers," or military bloggers, were said to have reported that women and children had been evacuated from Armyansk.
In another milblogger account, which ISW linked to, one man said on his Telegram channel that evacuations were planned, while another said on Twitter that he had helped evacuate residents.
Here's a composite of the posts that have been translated into English: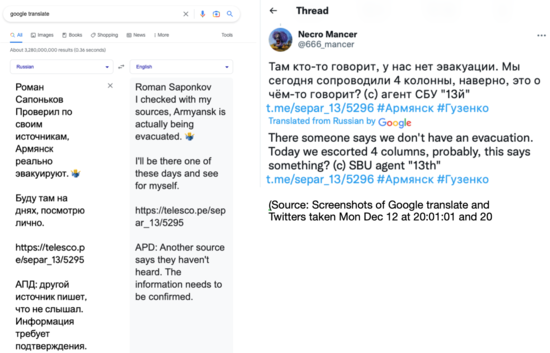 (Source: Screenshots of Google Translate and Twitter taken Mon Dec 12 at 20:00:21 and 20:09:47 2022 UTC)
ISW also linked to a Telegram video message purportedly posted by Aksyonov that refuted the evacuation rumors and said Crimea is not facing any threat, according to a translation of the post by a Lead Stories reporter who speaks Russian.
"Dear Crimeans, the fake information about the alleged evacuation of residents of Armyansk appeared online again," Aksyonov said, according to the translation. "I want to ask you, dear Crimeans, to follow official sources of information. This is a fake spread by Ukrainian special services."
Here's how the Telegram post appeared on the day of writing: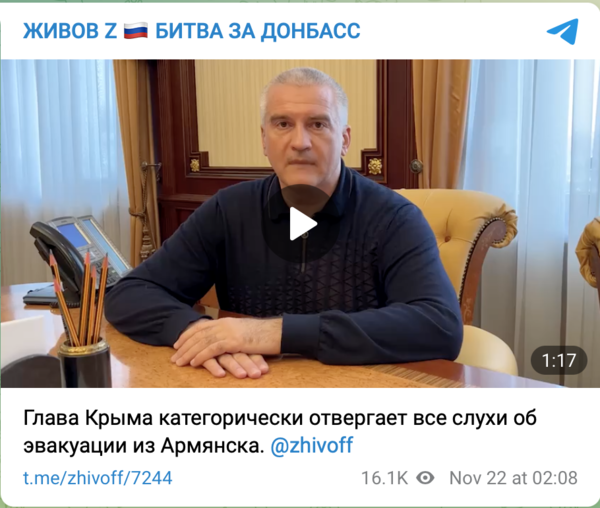 (Source: Telegram screenshot taken Sun Dec 11 at 19:18:44 2002 UTC)
It is true that in October 2022, some residents of Russian-occupied Kherson were evacuated ahead of anticipated heavy fighting and missile attacks. Tass also reported that Russian President Vladimir Putin endorsed evacuations to spare civilian lives in comments on November 4, 2022, but his remarks were specific to Kherson and did not mention Crimea.
Lead Stories has fact checked numerous false claims about the Ukrainian-Russian war, which can be found here.
Lead Stories reporter Uliana Malashenko contributed to this fact check.