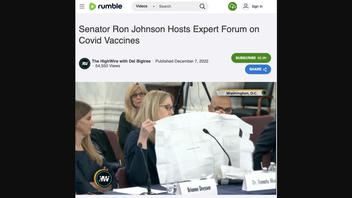 Is a blank-page insert in some mRNA COVID-19 vaccine packaging the only resource for providing doctors and pharmacists with the vaccine information they need to ensure a patient's informed consent to vaccination? No, that's not true: COVID-19 mRNA vaccine information is publicly available at the manufacturers' websites (here and here), as well as published online by the U.S. Food and Drug Administration (FDA) (here and here) and the Centers for Disease Control and Prevention (CDC) (here and here). Additionally, efficacy and safety data are reported in numerous peer-reviewed articles published in reputable journals (here, here, and here, for example).
The claim originated in a video of a December 7, 2022, public forum, titled, "Covid-19 Vaccines: What They Are, How They Work, and Possible Causes of Injuries." The forum was hosted by U.S. Sen. Ron Johnson in the U.S. Senate Hart Office Building in Washington, D.C.

The forum video was posted on the platform Rumble on December 7, 2022 (archived here).

Below is a screenshot of the video as it appeared at the time of the writing of this fact check: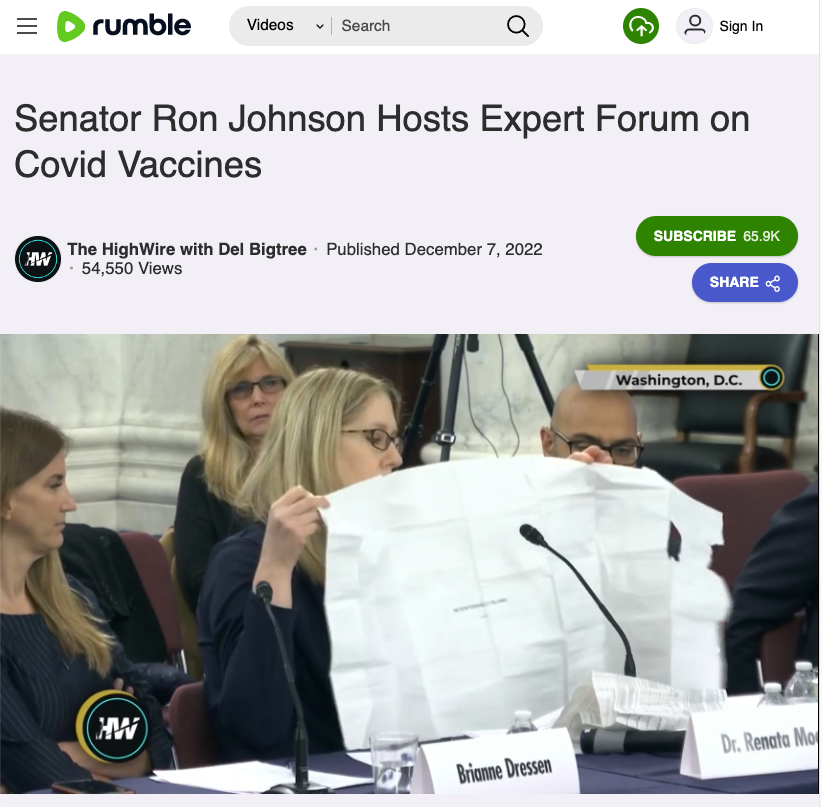 (Source: Rumble screenshot taken on Thurs Dec 20:30:48 2022 UTC)
In the testimony, Dr. Renata Moon, a pediatrician and clinical associate professor at Washington State University's Department of Medical Education and Clinical Sciences, and former FDA advisor Dr. David Gortler implied that doctors and pharmacists rely primarily on the information in vaccine package inserts to inform patients about all the risks and components of a particular vaccine.
As part of her testimony, Moon displayed a page marked "intentionally blank" that she said she had found in an unspecified "box of mRNA product."
Lead Stories transcribed relevant portions of Moon's "anecdotal clinical evidence," which began at around 2:23:00 in the video. The entirety of her testimony can be viewed here:
Typically, when you open a box of the vaccine product there's a vial in it and there's a box, and it has a package insert. This is an example of one that is sealed and, you know, honestly, for the most part we don't always read it because we've already looked at it and so it goes in the box. It stays in the box. So, when we open this package insert, a typical package insert looks like this [shows insert], has a great deal of information on it in terms of adverse reactions, the components of it ...

It's a lot of information, but we do expect to see this because what in the world are we being asked to inject into our nation's children? That's my question.

So, a few months ago I looked at the package insert. I pulled it from the box of mRNA product, and, you know, it was sealed just like I'm showing you here [refers to previous insert]. I unsealed the box that the entire thing came in and then I pulled this out and this is what it looks like. [shows blank page] ...

It's blank on both sides.


Gortler, the former FDA advisor, then interjected, "Boom! There it is!"

The testimony continued:
[Moon:] It says "intentionally blank" on it.

[Gortler:] That's the data that pharmacists and physicians are basing on giving the injections, outside of mainstream media recommendations.

Lead Stories reached out to Gortler for elaboration, and in a December 8, 2022, email he wrote: "For pharmacists and physicians, unfolding that package inset to look for meaningful answers on safety, efficacy and half-life must have had all the level of satisfaction has opening up a large gift wrapped Christmas present only to find absolutely nothing inside."
Lead Stories asked the Food and Drug Administration (FDA), which, by law, oversees requirements for vaccine package inserts and assesses the information they provide, to confirm whether it has ever encountered and investigated cases when a package insert for a COVID vaccine was left "intentionally blank." We have not yet received a response to this question.

Package inserts, however, are not the sole form of information about mRNA vaccines available to pharmacists and physicians.

Under federal law, patients must receive a CDC-written Vaccine Information Statement (VIS) with an overview of a vaccine's risks and benefits before they receive an immunization. These statements are not the same as a package insert or an informed-consent form, the CDC notes.
Apart from the VIS, U.S. healthcare workers can access guidelines online for administering vaccines, ingredient lists, as well as safety and efficacy data for the two mRNA COVID-19 vaccines available in the U.S.
In an email to Lead Stories on December 8, 2022, U.S. FDA Press Officer Abby Capobianco noted that package inserts for the mRNA vaccines produced by Pfizer-BioNTech and Moderna are available on the FDA website. The FDA also posts fact sheets for Pfizer-BioNTech and Moderna on its website.

Moon acknowledged in a December 8, 2022, email to Lead Stories that such options for vaccine information exist.
"Yes, of course, there are other places where one can go for information on administering the mRNA product," Moon said to Lead Stories . "My comments were intended to show that it is extremely ATYPICAL for a blank package insert to exist and to ask the question WHY? Why do I have a blank package insert?"
Gortler and Moon did not blame a specific vaccine maker for the blank insert shown at the hearings. Moon wrote Lead Stories that she had taken the insert "from a sealed box of either Moderna or Pfizer mRNA product in September 2022," but that she did "not recall" the vaccine manufacturer.
In response to an inquiry from Lead Stories about its package inserts, a Pfizer spokesperson wrote on December 12, 2022, that "Pfizer adheres to all regulatory agency requirements relating to patient and healthcare professional product information and labelling."
Lead Stories also contacted Moderna by email and phone for further clarification about its own vaccine packaging. If a response is received, we will update this fact check accordingly.
In May 2021, Lead Stories debunked a similar claim about Johnson & Johnson vaccine packaging inserts. At the time, a company spokesperson told Lead Stories that blank pages found in vaccine package inserts were intentionally left blank, with links to the full labels online was authorized for use during the pandemic for several manufacturers.
Additional Lead Stories fact checks of claims about COVID-19 vaccines can be found here.