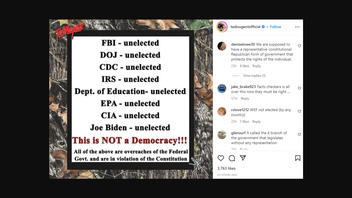 Is President Joe Biden actually "unelected" and is his status as president "in violation of the Constitution"? No, that's not true: In accordance with the Constitution, Biden was duly elected as president of the United States. This process is not, as a social media post claims, an overreach of the federal government.
The claim appeared in a post on Instagram on January 17, 2023. It included a graphic that read:
FBI - unelected
DOJ - unelected
CDC - unelected
IRS - unelected
Dept. of Education - unelected
EPA - unelected
CIA - unelected
Joe Biden - unelected
This is NOT a Democracy!!!
All of the above are overeaches of the Federal Govt. and are in violation of the Constitution
This is how the post appeared on Instagram at the time of writing: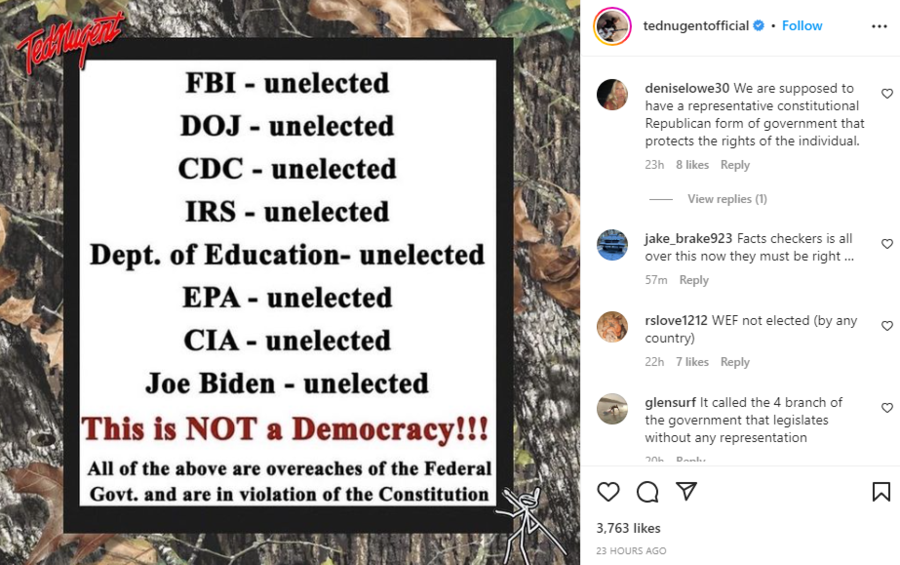 (Source: Instagram screenshot taken on Wed Jan 18 18:22:02 2023 UTC)
Biden was elected as president of the U.S. in 2020 and was inaugurated in 2021. This process occurred through the Electoral College, a voting procedure that is outlined in various federal laws and statutes, including the Constitution. In its report titled "The Electoral Count Act and Presidential Elections," published on December 19, 2022, the Congressional Research Service explains:
Every four years in November, citizens vote for presidential and vice presidential electors--known collectively as the electoral college--who meet in their respective states in December to vote for the U.S. President and Vice President. On the following January 6, a joint session of Congress convenes to count and announce the electors' votes. (For more information, see CRS Report RL32611, The Electoral College: How It Works in Contemporary Presidential Elections, by Thomas H. Neale.) The U.S. Constitution, the Electoral Count Act of 1887 (ECA), codified at 3 U.S.C. §§ 5-6, 15-18, and other federal statutes set forth key procedures for this process.
After Biden was elected, the joint congressional session to count the Electoral College votes took place on January 6, 2021, the day the U.S. Capitol was attacked by rioters. Despite the attack, the electoral votes were ultimately confirmed by Congress, in accordance with the federal law and statutes acknowledged by the CRS report -- once again, one of those legal guidances being the Constitution.
Biden's election and presidency are also affirmed by the White House and USAGov, among other government entities.
The post's claim about various federal departments and agencies is a moot point, as the Constitution does not directly acknowledge these federal departments or agencies. Many of the rules upheld by these federal departments and agencies are found in the Code of Federal Regulations. However, a lengthy examination of the validity of the claim as applied to those departments and agencies is outside the scope of this fact check.
Other fact checks related to Biden can be found here.