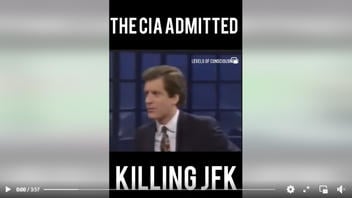 Did the Central Intelligence Agency say it killed former President John F. Kennedy? No, that's not true: A video posted on Facebook that makes this claim provides no supporting evidence. There is no evidence elsewhere that the CIA has ever said it played a role in the 1963 slaying of Kennedy.
The claim appeared in a post and video on Facebook on January 9, 2023, under the title "THE CIA ADMITTED TO KILLING JFK." The description of the video says the same thing, plus adds three emojis:
The CIA Admitted to Killing JFK 😮 😮 😓
This is what the post looked like on Facebook at the time of the writing of this fact check:

(Source: Facebook screenshot taken on Tue Jan 10 16:21:30 2023 UTC)
While the video is labeled "THE CIA ADMITTED TO KILLING JFK," no one in the video ever makes that allegation. During the nearly four-minute-long clip, an interviewer and his interlocutor, Bill Cooper, discuss various JFK conspiracy theories, but neither claims that, following Kennedy's November 22, 1963, assassination in Dallas, the CIA said that it had killed Kennedy. Nor does either man present evidence that could support such a claim.
A 1977 report by the House Select Committee on Assassinations, which looked into Kennedy's death and the 1968 murder of Martin Luther King, Jr., came to several conclusions about the U.S. president's killing, including that:
The Secret Service, Federal Bureau of Investigation, and Central Intelligence Agency were not involved in the assassination of President Kennedy.
A nearly identical statement can be found on page 97 of the report.
Lead Stories asked the CIA to respond to the video's claim. If the agency provides a response, it will be added to the story.
Lead Stories has previously debunked claims that Kennedy gave a speech about a slavery plot a week before his assassination and that he was killed for trying to end the Federal Reserve.