STORY UPDATED: check for updates below.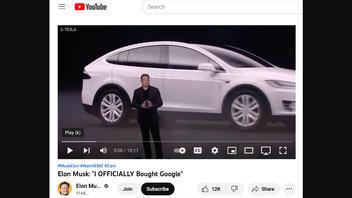 Did a YouTube video reveal that Elon Musk bought the search engine giant Google? No, that's not true: The video has a clickbait title, offers no details of a sale and appeared on a YouTube channel that admits its videos are fictional and have no connection to Musk. The U.S. Securities and Exchange Commission has no record that Google, a publicly traded company, has been sold to Musk, the billionaire owner of Twitter. There are also no credible news stories about such a sale.
The claim appeared on YouTube on January 8, 2023, with the caption, "Elon Musk: "I OFFICIALLY Bought Google." The video opened:
Tesla billionaire Elon Musk has shocked many after he officially bought Google. What is Musk up to in the tech industry given his pace of buying tech companies?
Here's how the video appeared on the day of the writing of this fact check: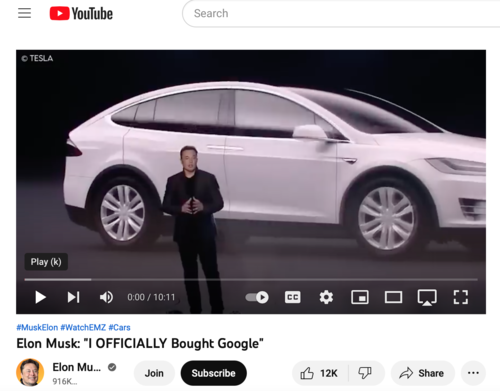 (Source: YouTube screenshot taken Jan 10 at 16:04:12 2023 UTC)
The 10-minute-plus-long video praises Musk's vision, wealth and success, calling him a "hero" to many businesses. And while it does mention that Google and Musk have some joint business ventures, it provides no details or evidence to support the claim that Musk has purchased Google.
A Google News search of the phrase "Elon Musk: I OFFICIALLY Bought Google" brings up other fact checks of the claim, but no credible news stories.
Since Google is a publicly traded company, Lead Stories also reviewed a U.S. Securities and Exchange Commission (SEC) database for any sign of an offer tendered by Musk or notices to shareholders of an impending sale, as required under SEC rules. Lead Stories searched for three different types of disclosure forms for "business combinations," and, each time, found that no such papers had been filed.
Additionally, a search for Elon Musk's name in Google news releases found eight matches, but none are related to the sale of the company. An email message sent by Lead Stories on January 10, 2023, seeking comment on the claim from a Google representative was not immediately returned. This story will be updated if Lead Stories receives a reply.
The unsubstantiated sale claim is also being shared on websites, YouTube, Facebook and Twitter, although some posts do point out that the story is a hoax.
The video appeared on the YouTube channel Elon Musk Zone. The channel's About page carries a disclaimer stating it has no affiliation with Musk and that its video content is "fictive entertainment." It reads in full:
Disclaimer: This is a fan channel made for fictive entertainment, and not affiliated with Mr. Musk, SpaceX, Tesla, Neuralink, The Boring Company, Neuralink, NASA, Blue Origin, etc.
Elon Musk Zone is one of a host of channels on YouTube with names like Elon Musk Today, Elon Musk Rewind, Elon Musk Now, Elon Musk Mania, Elon Musk Evolution or Elon Musk Live that publish videos extolling Musk's feats and accomplishments. Many of the stories are entirely made up but, regardless, they attract millions of views.
The videos are often slick clickbait productions featuring graphics, file footage of Musk public appearances, animations, bits of video from Tesla promotional materials and footage of SpaceX launches. The narration is sometimes done by an expressive next-generation text-to-speech robo voice.
In the past, Lead Stories has debunked false stories from such channels that claimed Musk revealed Joe Biden is sick, that he revealed a hypersonic jet to beat Russia in Ukraine or that he launched a rocket to destroy a Chinese spy satellite.
2023-01-11T00:17:57Z

2023-01-11T00:17:57Z

Added information from U.S. Securities and Exchange Commission search