STORY UPDATED: check for updates below.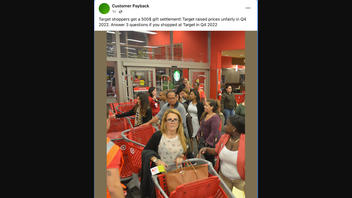 As a "settlement" for raising prices "unfairly," is Target giving out $500 gift cards to people who shopped with them during the fourth fiscal quarter of 2022 and who will answer three questions? No, that's not true: A Target spokesperson denied this claim. There is also no evidence on Target's official website that this alleged offer of a "settlement" is real. A link 5included with the post that makes this claim does not reroute users to the official Target website.
The claim appeared on Facebook on January 17, 2023. The post was simply a photo of shoppers inside a Target. Its caption read:
Target shoppers get a 500$ gift settlement! Target raised prices unfairly in Q4 2022. Answer 3 questions if you shopped at Target in Q4 2022
This is what the post looked like on Facebook at the time of the writing of this fact check: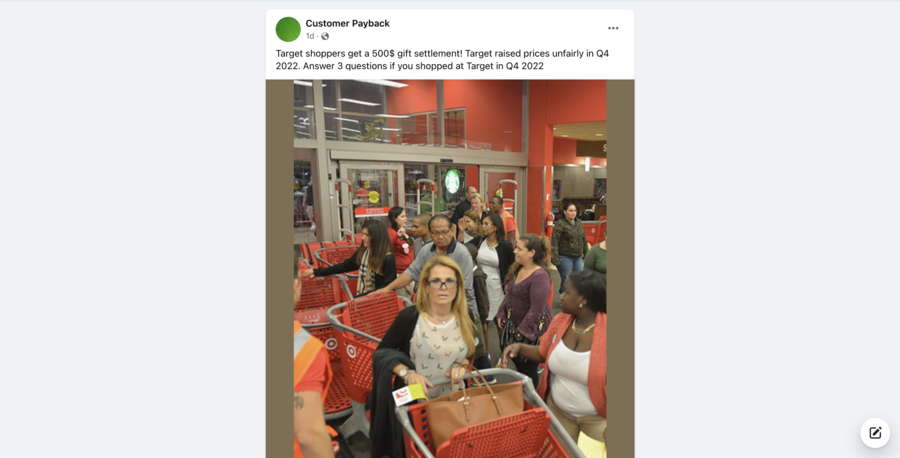 (Source: Facebook screenshot taken on Thu Jan 19 15:28:49 2023 UTC)
In response to Lead Stories' inquiry about this claim, Target spokesperson Joe Unger emailed on January 19, 2023, that:
The claim is not true.
The Facebook account making the claim was created on January 17, 2023, according to its Page Transparency section. That is the same day this Target gift-card post was created. At the time of writing, the account, which describes itself as an advertising agency, only had three posts. Two are posts falsely advertising that Target is giving customers a $500 settlement.
The post that is the subject of this fact check features an "Apply now" link under the photo that leads to a web page entitled "Target Lawsuit Settlement Program!" (The root for the page's URL leads to a Dutch-language web page entitled "Responsible Weight Loss.")

The "Target Lawsuit Settlement Program!" page, which could not be archived, features a supposed Target logo in its upper lefthand corner that does not resemble the logo seen on the official Target website.

A reverse image search of the logo posted on the "Target Lawsuit Settlement Program!" page did not result in a link that would reroute back to the official Target website.

Here is a screenshot of the page: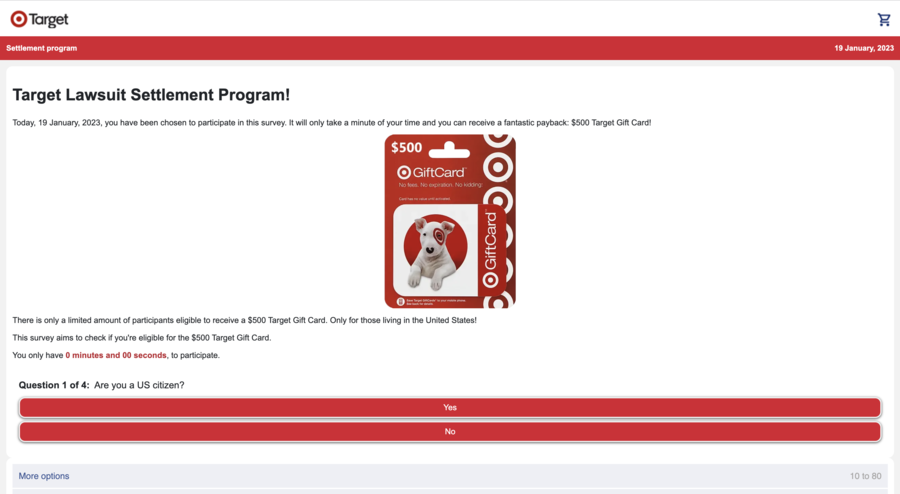 (Source: Facebook screenshot taken on Thu Jan 19 16:49:30 2023 UTC)
A reverse image search of the photo used in the post shows Business Insider India used it on November 23, 2018. The image credits Getty Images and photographer Gustavo Caballero.
A Google News search of "Target settlement raising prices unfairly" yielded no results.
Target's corporate website has no information supporting the claim that customers will receive money as a result of unfairly high prices during Q4 2022, the fourth quarter of the 2022 fiscal year.
Target's security page states the following about fraud:
Do not purchase, sell, or check your balance on online marketplaces outside of Target.com.
Do not click on or respond to online ads or websites offering free gift cards. These are often scams.
The claim about supposed $500 Target gift cards for survey participants resembles 55claims from January 2023 about Lowe's and Walmart that Lead Stories also has debunked. An additional Lead Stories fact check of a claim about Walmart credits, also from January 2023, can be found here.
2023-01-19T20:14:37Z

2023-01-19T20:14:37Z

"Apply now" link still active