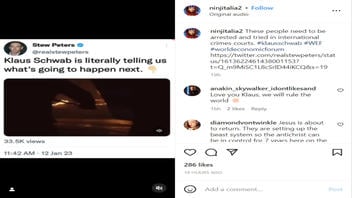 Is the World Economic Forum (WEF) or its founder and executive chairman, Klaus Schwab, planning a major cyberattack that would effectively shut down "our society as a whole"? No, that's not true: There is no evidence that the WEF or Schwab have such a scheme in the works. The allegation, which was widely circulating on social media in early 2023, is, instead, a warning for the world to protect itself against cybercriminals.
The claim appeared in a post and video on Instagram on January 12, 2023, under the title "Klaus Schwab is literally telling us what's going to happen next." The same clip also appeared on Twitter on the same day. The description in the Instagram post said:
These people need to be arrested and tried in international crimes courts. #klausschwab #WEF #worldeconomicforum https://twitter.com/realstewpeters/status/1613622461438001153?t=Q_m9MiSC1L8cSrlD44iKCQ&s=19
This is what the post looked like on Instagram at the time of writing: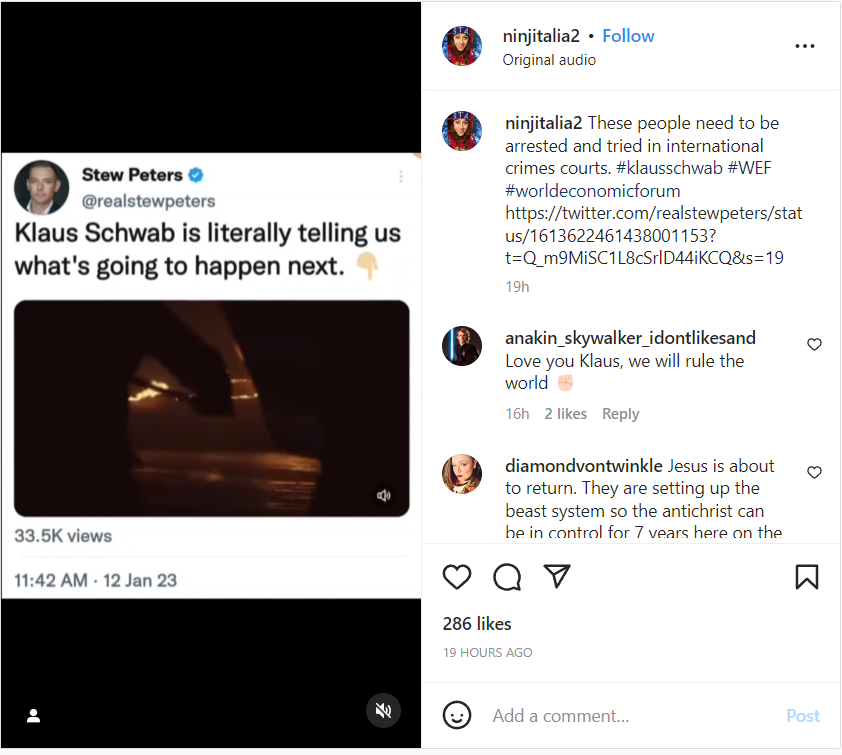 (Source: Instagram screenshot taken on Fri Jan 13 17:32:29 2023 UTC)
The 35-second clip, which comes from a much longer set of remarks by Schwab, purportedly shows him laying out a doomsday scenario, complete with ominous background music. Here's what he says in the video:
But instead of laying out a sinister plan for everyone to see, Schwab is issuing a warning about what could happen if the world doesn't take cybersecurity seriously. In context, the WEF founder is talking about cybersecurity as "a global public good." He talks here about its benefits as part of the same remarks from which the short clip came:
Once put into full context, Schwab's words are a call to action for global businesses and organizations to take cybercriminals seriously and to step up cybersecurity. Schwab says:
We all know, but still pay insufficient attention to the frightening scenario of a comprehensive cyberattack which would bring to a complete halt to the power supply, transportation, hospital services, our society as a whole. The COVID-19 crisis would be seen in this respect as a small disturbance in comparison to a major cyberattack. To use the COVID-19 crisis as a timely opportunity to reflect on the lessons the cybersecurity community can draw and improve our unpreparedness for a potential cyber-pandemic.

(Lead Stories put in bold Schwab's edited comments from the social media clips.)
You can listen to his comments in context here:
Additional Lead Stories fact checks of claims about Klaus Schwab and the WEF can be found here.